YaY Card provides various benefits to its users amid growth of non-face-to-face consumption-oriented economy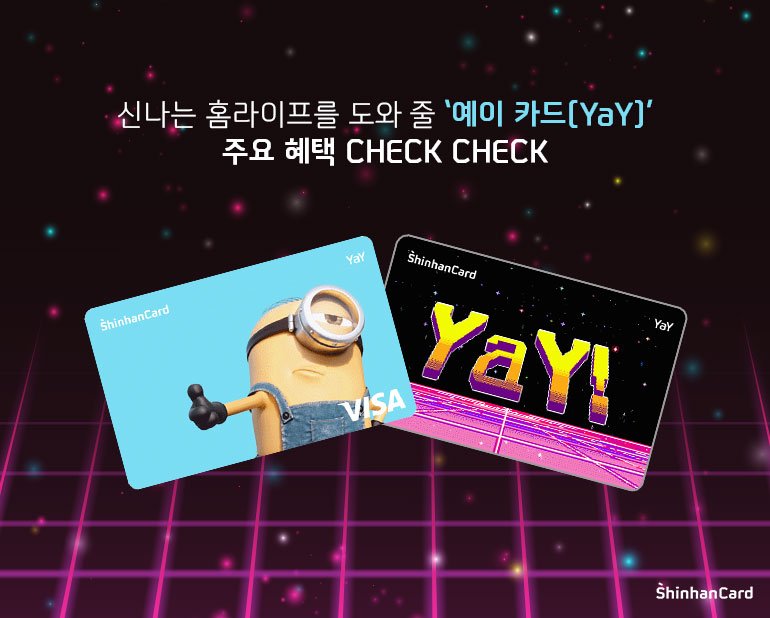 A PR image of Shinhan Card's mobile credit card "YaY" (Photo: Shinhan Card)
Shinhan Card has launched "Shinhan YaY Card" where the entire process from its application for issuance to its use is non-face-to-face. The card features a Minion's picture that expresses the card's features as a digital card.

Shinhan Card announced on June 26 that it released a mobile card named "Shinhan Card YaY." The card is optimized for those who prepare to stay at home and the growing untact consumer market in preparation for a "post-coronavirus" era.

YaY Card is a 100 percent digital product, so its entire process goes untact from its application to its use. It takes less than 30 minutes for the card to be sent to Shinhan PayFAN immediately after an application.

From the stage of product service planning, YaY Card was designed to offer benefits specialized for those who prefer online shopping and untact commerce in consideration of a boom in untact consumption, which promotes the growth of a non-face-to-face consumption-oriented economy.

First of all, YaY Card offers Mariage Service, which provides additional benefits by linking over-the-top (OTT) services with food delivery services.

Thirty percent of payments will be accumulated as points for OTT services such as Netflix, YouTube Premium, Watcha Play, and 15 percent for food delivery services such as the Nation of Delivery, Yogiyo, CJ Cookit, and HyFresh.
An additional 15 percent will be added when a YaY Card holder uses both an OTT service and a food delivery service in a month.

Unlike ordinary credit cards, which give users benefits in accordance with the amount of use, this service links different areas for the first time in the Korean credit card industry.

YaY Card is based on paying for shipping costs for online shopping essential for those who like to stay at home.
2,500 points will be accumulated per online order (up to five times a month) if more than 50,000 won is used per online order at large online shopping malls such as LotteON, SSG.com, G Market, 11th Street, Coupang, and food-specialized online shopping malls such as Market Curly and Oasis Market.

Points will also be given to YaY Card users when they use a wide array of trendy services popular among people who enjoy leisure time at home.
Under the concept of a home game room, 10 percent of the amount of use will be set aside as points by each franchise for customers looking for hobbies to enjoy at home such as app stores, games, and Lego Online Stores.

Customers who take care of their laundry in Laundry Go under a home and interior concept and purchase furniture and interior design at Today's House can also accumulate 10 percent as points, respectively.
The 10 percent system also applies to the use of Wine & More for customers enjoy drinking alone at home and Starbucks Siren Order which allows customers to order coffee and more in a non-face-to-face manner.

These benefits are provided if an amount used in the previous month crosses 500,000 won. The annual membership fee of YaY Card is 23,000 won for domestic use and 26,000 won for international use (Visa).

YaY Card introduced a card plate that moves with 100 percent digital card characteristics. Unlike current card plates with static design, it has a moving Minion image (a short animation like a GIF file).

Meanwhile, Shinhan Card has been strengthening its position as a leader in the era of untact activities and commerce as it launched its own mobile card following the launch of its 100 percent digital membership service called "D-Cub" on May 7.
Shinhan Card's website (www.shinhancard.com) and the Shinhan PayFan application offer more information about YaY Card.

"YaY Card is a product that takes into account consumption in a change in people's lifestyles to prefer to stay at home due to concerns over novel coronavirus infections and a recent increase in non-face-to-face consumption in the aftermath of the COVID-19 and even the fun of watching a moving Minion animation," a Shinhan Card official explained.