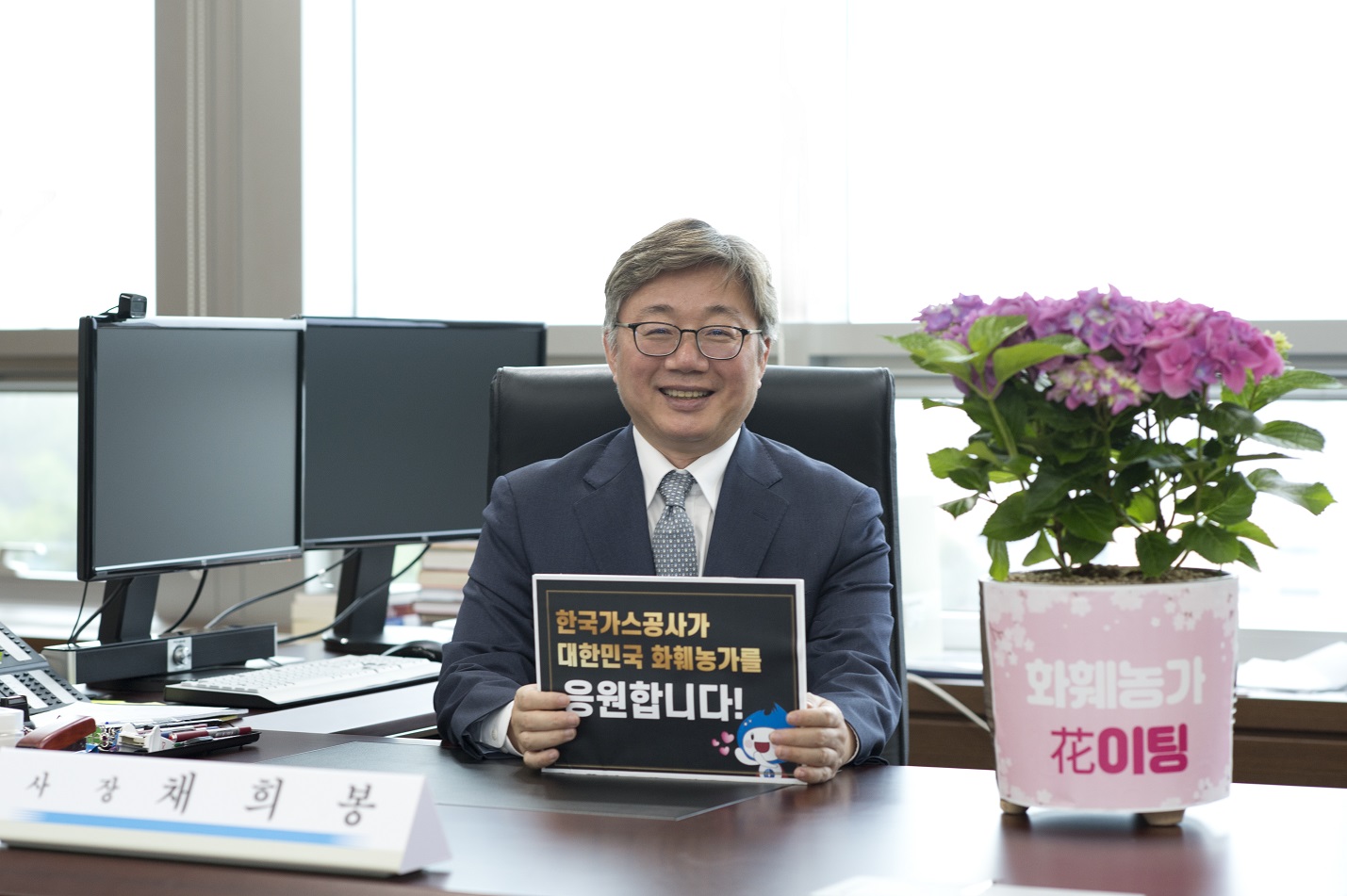 President Chae Hee-bong of Korea Gas Corp. joins in a drive to extend a helping hand to farmers grappling with hardships, caused by COVID-19.
Korea Gas Corp. (KOGAS), boasting natural gas buying expertise it accumulated for the past 36 years, is pursuing shared growth with Korean shipbuilders to revive the shipbuilding industry.

Korea's Big Three shipbuilders recently struck deals with Qatar to build a record number of LNG carriers.

KOGAS has cemented a partnership in the LNG bunkering business, a new business related to natural gas. The LNG bunkering business is expected to get a boost as the International Maritime Organization has reinforced restrictions on sulfur content.
The corporation has led investment into infrastructure to invigorate the LNG bunkering business, which will contribute to shipyards' winning LNG carrier orders and creating jobs in shipping and shipbuilding industries.

KOGAS built "SM JEJU LNG No. 2," the 29th national flag-carrying LNG ship, along with Korean shipbuilders. SM JEJU LNG No. 2, Asia's first LNG carrier equipped with ship-to-ship bunkering capabilities, plies between LNG centers in Tongyeong, Gyeongsangnam-do, and Jeju Island.
The LNG carrier and ship-to-ship bunkering ship, built with homegrown technologies of the three Korean shipbuilders, is expected to boost the LNG bunkering business.

KOGAS's joint efforts to explore overseas businesses with Korean shipbuilders have paid off. KOGAS and Korea Line have joined forces in participating in a LNG bunkering ship chartering project to supply clean energy for ship to Shell. KOGAS has pursued shared growth with Korean entities by establishing negotiations strategies based on ship order and operation experiences. The corporation has led the Korean LNG bunkering business.
Dignitaries, including KOGAS President Chae Hee-bong, attend a ceremony to name "SM JEJU LNG No. 2" at the Geojae Shipyard of Samsung Heavy Industries last Jan. 10.

KOGAS Works on Exploitation of Thermal Energy Released during Regasification

By reusing throw-away energy, KOGAS is doubling down on implementing new energy businesses to protect the environment and contribute to economic development.
One of the new energy businesses is one related to the exploitation of the thermal energy released during the regasification process.
The LNG thermal energy can be reused in diverse industries as an eco-friendly energy, particularly effective in the frozen logistics business.

KOGAS Nimbler in Preparation for Onset of Hydrogen Economy Era

Korea Gas Corp. (KOGAS) is putting out all the stops to brace for the launch of an era lead by the hydrogen economy.

KOGAS is doing its best to make the nation a hydrogen industry leader. The government has selected hydrogen as one of the nation's top three strategic investment sectors.
It announced a roadmap to boost the hydrogen economy in January 2019. In accordance with the government's policies on the hydrogen economy, KOGAS is getting nimbler to make preparations for the onset of the hydrogen economy era.

Energy experts predict that hydrogen, produced by natural gas reforming, will play a leading role in the initial era of hydrogen economy.

In April 2019, KOGAS announced a hydrogen business master plan. Its vision is to lead investment into the pump-priming of the national hydrogen industry. KOGAS plans to aggressively participate in the whole cycle of the hydrogen industry, including hydrogen production, supply, distribution and technology development.
To this end, the company plans to plunk down 4.7 trillion won by 2030.