Expected to boost productivity and reduce raw material costs compared to conventional furnace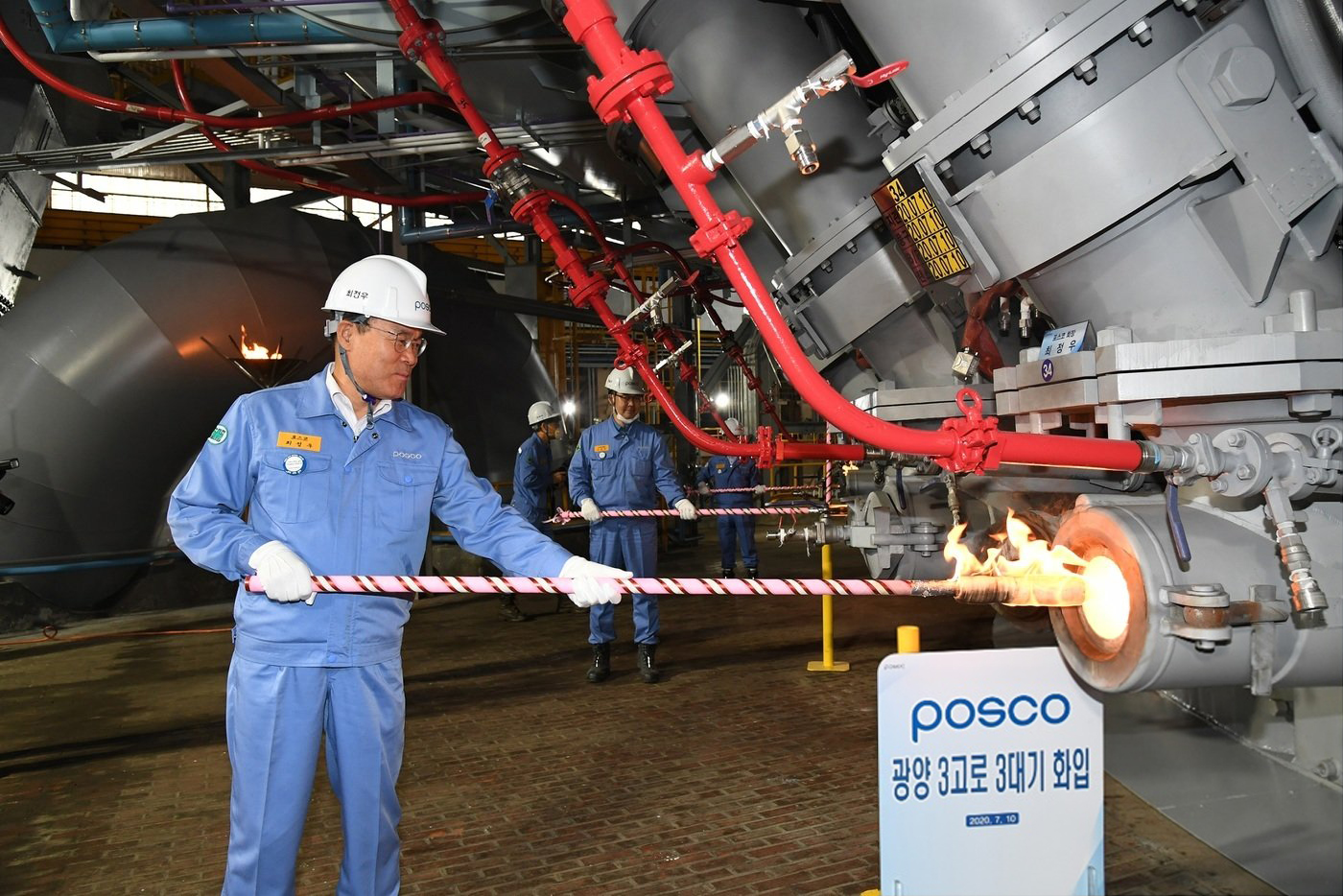 POSCO Chairman Choi Jeong-woo jounces other executives in igniting a fire on the furnace at Gwangyang Steelworks in Jeollanam-do on July 10 at a ceremony after finishing its repair work. (Photo: POSCO)
A third furnace at POSCO's Gwangyang Steelworks has been revamped into an eco-friendly, smart unit following one year and eight months of repair.
The revamped furnace is expected to improve productivity and reduce raw material costs compared to a conventional furnace, POSCO officials said.

Despite the sagging steel industry caused by the spread of COVID-19, POSCO plans to enhance productivity and efficiency by improving equipment and facilities.

POSCO Chairman Choi Jeong-woo and executives of POSCO group subsidiaries each ignited a fire on the furnace at Gwangyang Steelworks in Jeollanam-do on July 10 at a ceremony after finishing its repair work.
It took one year and eight months to finish the work. The period included five months for which crude steel production was stopped.

It costed 400 billion won. Repair work involved the replacement of firebricks and some related equipment. It was first time that Chairman Choi participated in a ceremony to ignite a fire on a furnace.
With the repair, the inside space of the 3rd furnace increased from 4,600 sq. meters to 5,500 sq. meters. The furnace has seen production capacity surging 25 percent to 4.6 million tons per annum.

Crude steel production per furnace space unit has improved, the life span of facilities has been lengthened, and a reduction in raw material costs is expected, a POSCO official said.
The improving of eco-friendly equipment and slag-related facilities has efficiently removed dust from the furnace and enhanced eco-friendliness such as a rising rate of retrieving byproduct energies, the official said. Smart technologies using AI have been introduced to upgrade the operation of the furnace and quality stability.

There are 15 super-size furnaces whose size stands at 5,500 sq. meters or more in operation around the world. Out of the total, POSCO has six super-size furnaces, including the first furnace of Gwangyang Steelworks.

Chairman Choi said at a fire-igniting ceremony, "The 3rd furnace of Gwangyang Steelworks has served as a foundation for POSCO's growth and the development of the demand industry by producing crude steel of a combined 97 million tons for 29 years and three month after the furnace set on fire in December 1990," Chairman Choi said.

The furnace, a facility producing crude steel, the main staple of the industry, is a symbol of harmony, integration and challenge, he said. The reigniting of the revamped furnace is hoped to fire a flare under POSCO and Korea drive to overcome the COVID-19 pandemic and revive the Korean manufacturing industry, Chairman Choi added.

The resumption of the revamped 3rd furnace of Gwangyang Steelworks came one month later than planned. The belated resumption of the furnace, reflecting declining steel demand, buffeted by the spread of COVID-19, had an effect of reducing crude production.

POSCO has so far employed a flexible production regime designed to adjust product production instead of the stopping of a furnace.
Global competitors such as ArceloMittal of Europe, U.S. Steel of the United States and Japan Steel Works of Japan have reduced production.

But steelmakers are reluctant to stop the operation of a furnace, which takes three months to six months to prepare its resumption, causing a sales vacuum.
POSCO officials said orders necessary for the operation of the furnace have been already secured, and POSCO plans to make its utmost to return its operation to normal without interruption of production and sales to customer companies.

Chairman Choi extended thanks for making the repairing of the furnace a success without a single major industrial disaster during the period and POSCO's possessing six furnaces, which ranked within 10th in terms of space in the world has raised its global standing.