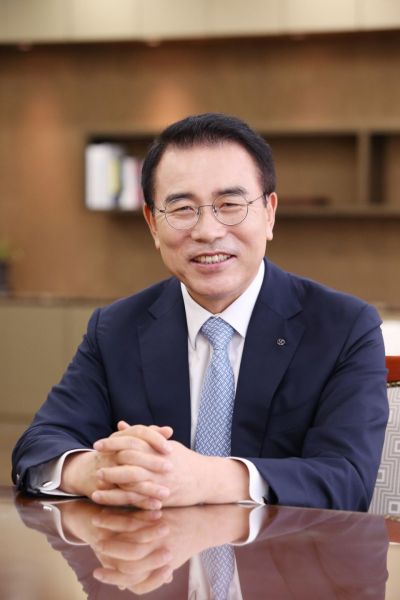 Chairman Cho Yong-byoung of Shinhan Financial Group. (Photo: Shinhan Financial Group)
Shinhan Financial Group chalked up 1.144.7 trillion won in net profit for the third quarter of the year, the best-ever three-month period for the company.
Shinhan Financial Group saw cumulating net profit swell to 2.950.2 trillion won in the first nine months of the year to restore its standing as the nation's leading financial group.

The banking unit saw its contribution improve while the non-banking units, centered around securities and capital, achieved a remarkable rebound.

In particular, global and investment banking businesses, a focus for Chairman Cho Yong-byoung, achieved better business performances.

Shinhan Financial Group said on Oct. 27 it posted the best quarter among financial groups in terms of cumulative net profits for the January-September period, as it surpassed the 1 trillion won milestone in operating profit.
The financial group suffered a setback as it logged its 2020 Q2 net profit about 100 billion won lower than KB Financial Group, but the former came back to top by realizing the best-ever achievement in Q3.

KB Financial Group saw Q3 net profit stand at 1.666 trillion won, 20 billion won more than Shinhan Financial.
The former's net profit included 145 billion won in transient revenues related to bargain purchase of Prudential Life Insurance. Shinhan Financial Group logged 2.950.2 trillion won in cumulative net profit for the three quarters of the year, 72.3 billion won more than KB Financial Group's.

Expectations are mounting that Shinhan Financial Group will achieve the best-ever business performance during the whole of the year. The financial group posted 3.4 trillion won in net profit last year.

The financial group will have to achieve more than 500 billion in upcoming Q4 net profit to surpass last year's best ever achievement. Shinhan Financial Group is expected to renew the annual best-ever achievement this year since the financial group posted 500 billion won in 2019 Q4 net profit if there were no variables.

The business community sees that Shinhan Financial Group's latest business performance, achieved against the unfavorable situation of low interest rate and low growth, is regarded as a kind of earnings surprise, business.
Shinan Financial's effort to strengthen the non-banking business sector's portfolios and improve profit matrix has been assessed to bear fruits.

Non-banking units of the financial group saw the portion net profit shoot up from 33.6 percent in 2019 S3 to 41.3 percent in 2020 Q3.

The financial group saw the global investment banking (GIB), global multi-strategy (GMS) and global business sectors lead the group's core growth revenues.

The GIB, GMS and global business sectors, a focus for Chairman Cho since his inauguration, achieved qualitative growth once again despite a crisis, caused by the COVID-19 pandemic.

The GIB segment saw Q3 operating profit surge to 649.4 billion won, 127.3 billion won more than that for 2019 Q3.
The GMS sector of the group's banking, financial investment and life insurance units saw Q3 operating profit shoot up to 472.5 billion won, a year-on-year surge of 264.9 billion won.

A Shinhan Financial Group official said the financial group will establish the GMS sector as one of core revenue resources by continuing a stable debenture-oriented management and creating revenue opportunities through diversifying investment assets.
The financial group realized a stable growth in a crisis by employing strategies tailored to meet growth of overseas branches in the global business, the group's core business sector and strengthening the global non-banking businesses such as card and financial investment.