Announces strategies to implement carbon neutrality by 2050 in the forestry sector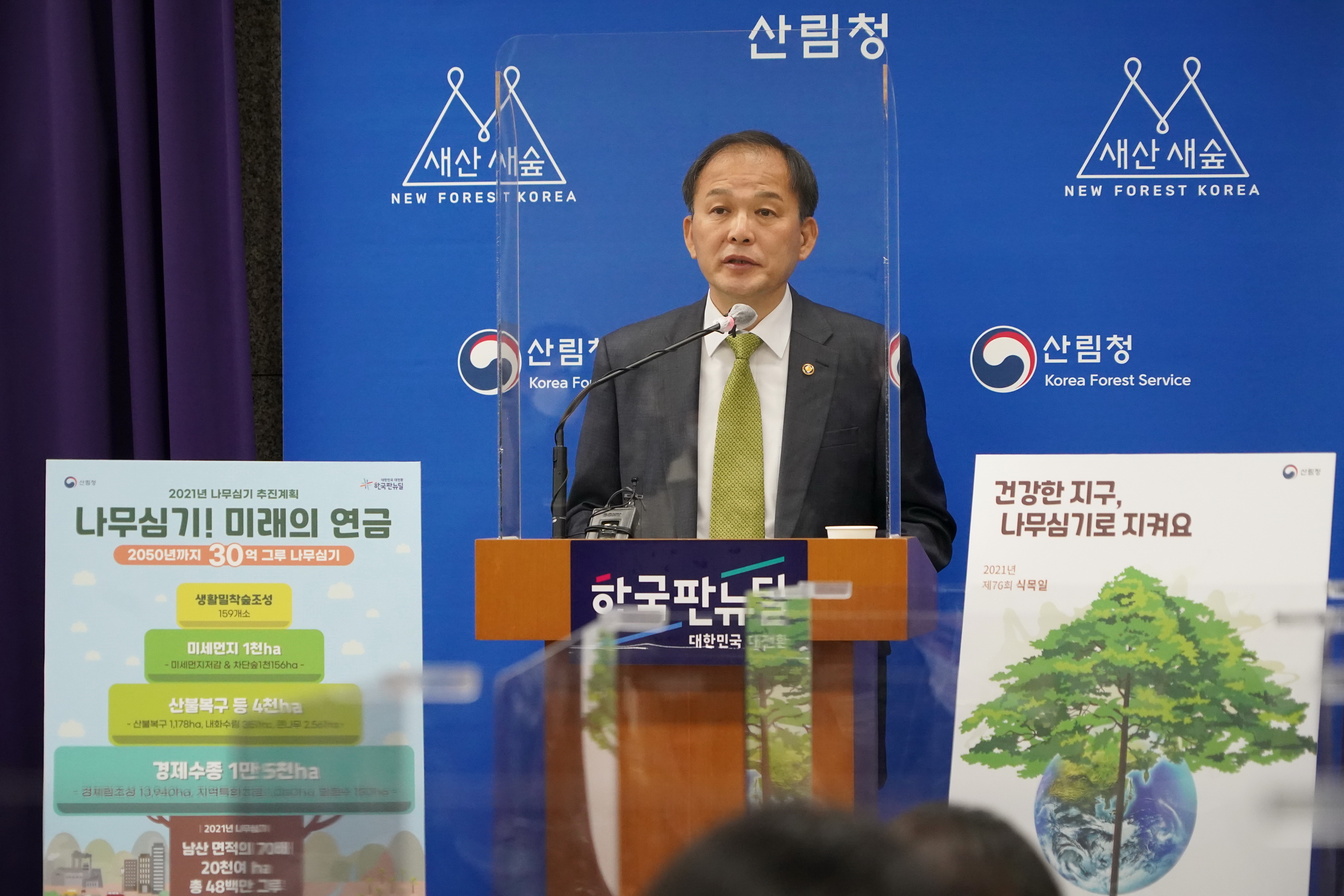 Minister Park Jong-ho of Korea Forest Service (KFS) announces a plan to plant 3 billion trees in Korea and abroad with the goal of reducing 34 million tons of carbon during the 76th Arbor Day. (Photos: KFS)
Korea Forest Service (KFS) is working on a long-term project to plant 3 billion trees in Korea and abroad with the goal of reducing some 34 million tons of carbon from the atmosphere.

The plan is part of the strategy to implement carbon neutrality by 2050 in the forestry sector, announced by KFS on Feb. 20.

Korea's forests, intensively planted during the 1970s and 1980s, are considered to be In an aging stage. The function of forests as a means to absorb greenhouse gases is dramatically declining.
Carbon neutrality is a concept in which an equal amount of carbon is absorbed as is emitted.

KFS, recognizing forests and trees as an optimal solution to cope with climate change, has set the goal of reducing 34 million tons of carbon by planting 3 billion trees in Korea and abroad by 2050.

How will the goal be achieved by then?

KFS will adjust the timber harvest period to give leeway for more felling to make aging forests younger and healthier.
The deforested areas will be planted with trees capable of absorbing greenhouse gases, like Pinus taeda, Liriodendron tulipifera and thornbushes.

Timber and felled trees may be used as a biomass energy. Korean-produced timber is recognized as a carbon store and forest biomass, replacing fossil energies.
That has the ultimate effect of reducing greenhouse gas emissions. Plants will be transplanted in areas such as urban leftover lots, idle land and areas along streams.

Forests near living quarters not only serve as a source to absorb greenhouse gas emissions, but also play a part of reducing emissions by using less energy.

Just planting trees across the nation is insufficient to address a global issue of climate change. In this regard, KFS is contemplating a project to restore forests in North Korea.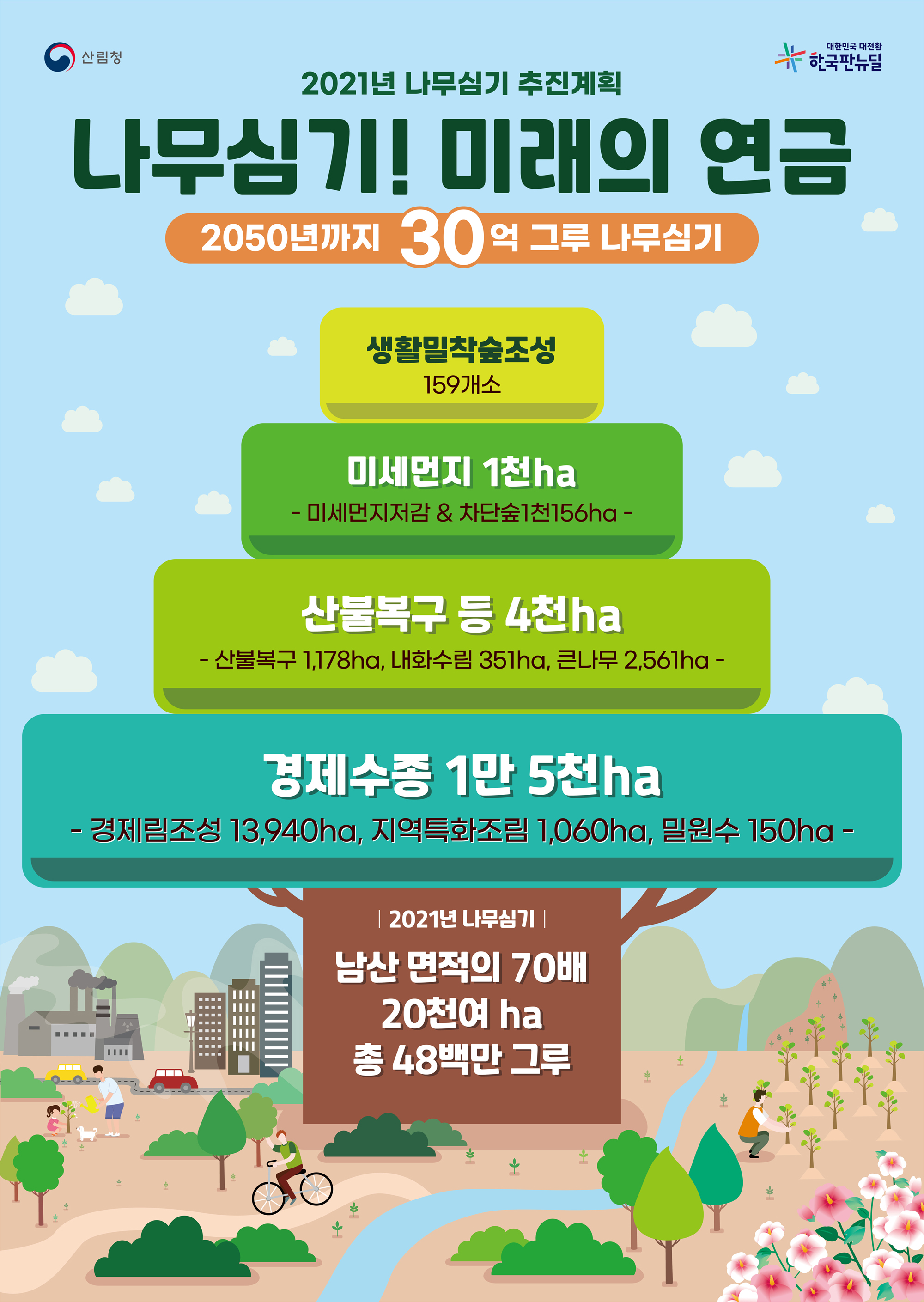 Korea Forest Service's poster designed to publicize benefits from the planting of trees.
North Korea's forest area covers 8.24 million ha, 1.47 million ha of which is obsolete. KFS, plans to implement an afforestation project by making the most of South Korea's successful afforestation.
The North Korean project is designed to pump-prime the establishment of an inter-Korean peace regime on the Korean Peninsula.

KFS plans to support developing countries' responses to climate change. The move is one of KFS's strategies to achieve carbon neutrality.
Korea, which has achieved industrialization through greenhouse gas emissions, needs to support developing countries' responses to climate change through technology assistance.

KFS plans to expand international cooperation to cope with climate change in order to clear the nation's bad image of being a heavy greenhouse gas emitter.
Korea ranked 11th in terms of greenhouse gas emissions in 2016. KFS plans to expand the strategy to reduce emissions stemming from deforestation and forest degradation (REDD+). REDD+ is a mechanism developed by Parties to the United Nations Framework Convention on Climate Change (UNFCCC).

It creates financial value for the carbon stored in forests by offering incentives for developing countries to reduce emissions from forested lands and investing in low-carbon paths to sustainable development.

Developing countries would receive results-based payments for results-based actions. REDD+ goes beyond simply deforestation and forest degradation and includes the role of conservation, sustainable management of forests and enhancement of forest carbon stocks.

KFS Minister Park Jong-ho said, "Our successful afforestation has been made with the people's voluntary participation."

He said the same level of support will be needed to implement the challenging task of carbon neutrality and transplanting 3 billion trees, he added.