Takes place at Paradise Hotel in Incheon and on-line via its official site (www.kite2021.com) for two weeks from June 29 to July 13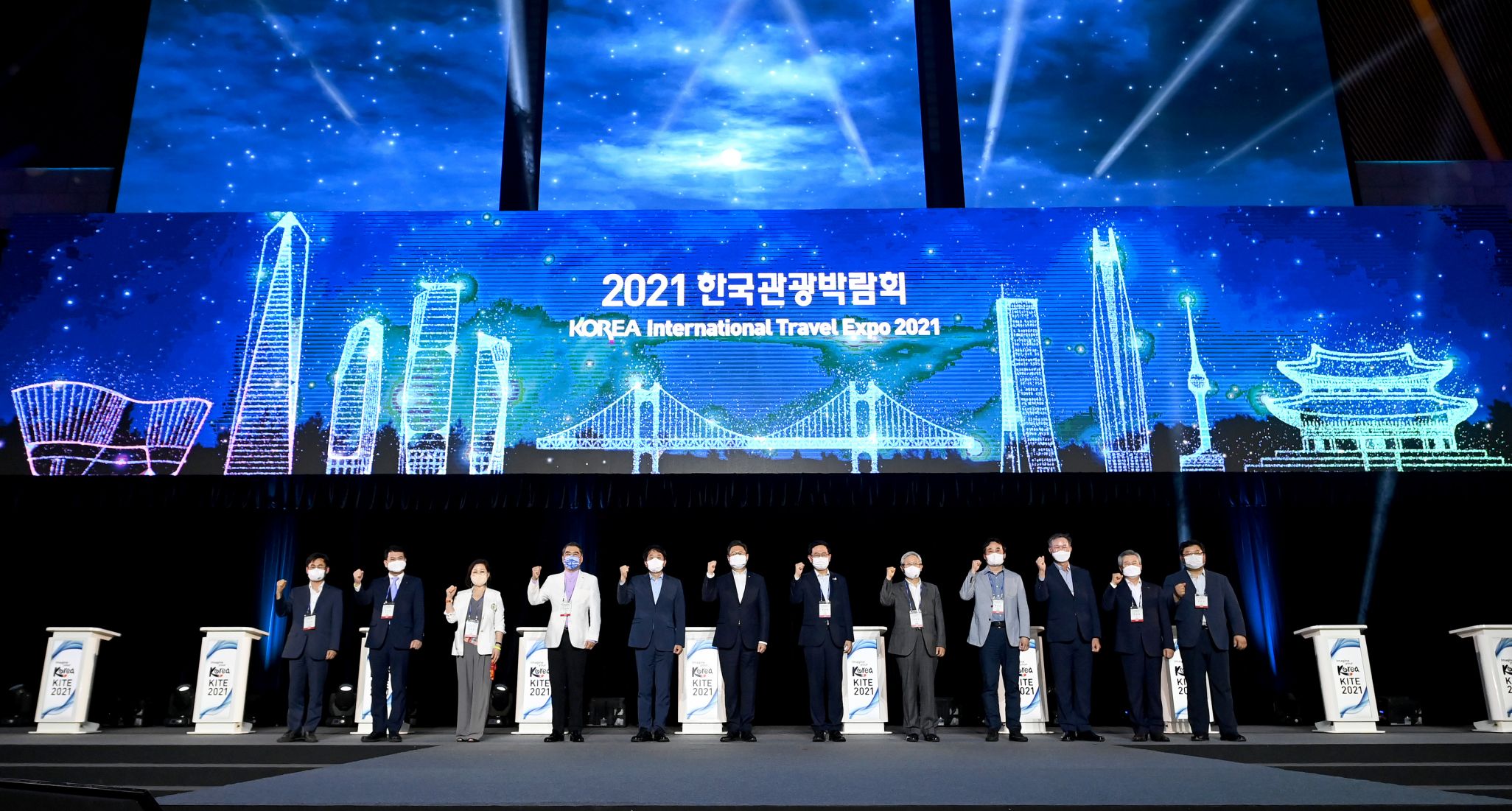 Minister Hwang Hee of the Ministry of Culture, Sports and Tourism (MCST), Incheon Mayor Park Nam-chun, President Ahn Young-bae of the Korea Tourism Organization (KTO), Park Jung-ha, head of the International tourism Division at the Korea Tourism Organization and President Min Min-hong of the Incheon Tourism Organization,attend a ceremony to open Korea International Travel Expo 2021 (KITE 2021) at Paradise City in Yeongjong, Incheon. (Photo: Incheon Metropolitan City)
Korea International Travel Expo 2021 (KITE 2021) was held at Paradise Hotel in Incheon and on-line via its official site (www.kite2021.com) for two weeks from June 29 to July 13 to become a "one-stop travel expo," designed to promote the revitalization of the domestic tourism industry by supporting the industry's survival and providing jobs amid the prolonged global COVID-19 pandemic.
KITE 2021 was hosted by the Ministry of Culture, Sports and Tourism (MCST) and organized by the Korea Tourism Organization (KTO) and the Incheon Tourism Organization (ITO).

MCST Minister Hwang Hee said, "I expect KITE 2021 to not only have the nation's tourism appeal known in Korea and abroad, but also fire a flare to signal the resuming of the tourism industry through the earlier selling of tourism products."

"Of late, MCST will seek travel bubbles with nations trustworthy of disinfection and closely cooperate with the tourism industry and related organizations to help Korea lead the international tourism industry in keeping with changed tourism demand, caused by the COVID-19 pandemic on top of the renewal of the "Year of Visit Korea and Spain," Minister Hwang said.

KITE 2021 was a convergence event of exhibitions, which had been held separately in the past under four themes: MICE (meetings, incentives, conventions and exhibitions), traveling Korea, luxury travel and medical & wellness.

KITE 2021 served as an opportunity in which all things related to the Korean tourism industry were experienced at one go.
Starting with an opening ceremony at the Paradise City in Yeongjong, Incheon, on June 29, MICE, traveling Korea, luxury and medical & wellness exhibitions took place in that order.

During the expo, about 1,000 exhibitors, including local governments, travel agencies, airliners, accommodation firms and medical institutions, set up their positions at online exhibition halls.
About 2,000 foreign buyers from 40 countries held one-on-one business negotiations with Korean business partners.
KITE 2021 also coincided with conferences of international standing and other diverse events.

On an opening ceremony, which was broadcast live around the world on-line, key-note speakers like Assistant Chief Executive Chang Chee Pey of the Singapore Tourism Board and Joana Lumley, a British actress, appeared on an advanced holographic teleconference and spoke with Korean and international participants on ways of promoting the global tourism industry.
A drone show and media fa?ade on Korean tourism highlighted Korea's night attractions.

The first event following the opening ceremony was Korea MICE Expo,which took place from June 30 to July 2.
Korea MICE Expo brought together Korean PCO, PEO, MICE services, Incentive travel Agencies, CVB, RTO, Convention Centers, unique venues, meeting technology businesses as well as overseas buyers such as international associations & societies, corporate Meetings & conference, PCO, incentive travel Agencies, event Agencies, and overseas MICE businesses.

A meeting technology forum introduced Korea's meeting technologies.

Second, the Korea Travel Mart was held form July 5 to July 7. The travel mart showcased Korean travel products such as Korea's LAN products and early birds' air tickets, the K-pop boy group ATEEZ's live talk show on traveling Korea.
Safe and contactless travel destinations were introduced while on-line familiarization tours targeting travel agencies around the world were conducted.

Third, the Korea Luxury Travel Mart took place form July 8 to July 9. A luxury travel conference and a live tour introduced luxury tourism facilities and new content foreigners can experience only in Korea. Luxury travel contents, such as Korea's traditional culture and cuisine, were unveiled in a high-quality and high-definition format for the first time.

Fourth, the Korea Medical & Wellness Tourism Fair took place from July 12 to July 13. A conference on medical wellness and a real-time medical consultation session were held on top of yoga and meditation classes.

Director Park Jung-ha, the head of the International Tourism Division at the Korea Tourism Organization (KTO), said the KITE 2021 in which the biggest-ever number of Korean and foreign travel agencies are expected to participate will serve as opportunities for the Korean travel industry to explore overseas marketing channels and lead the nation's resumption of the international tourism.

KTO plans to implement each stage's strategies to secure an upper hand in the international tourism market in advance in the post-COVID-19 pandemic era, he added.