Launches e-sports marketing in order to attract young customers by creating Liiv Sandbox with Sandbox Gaming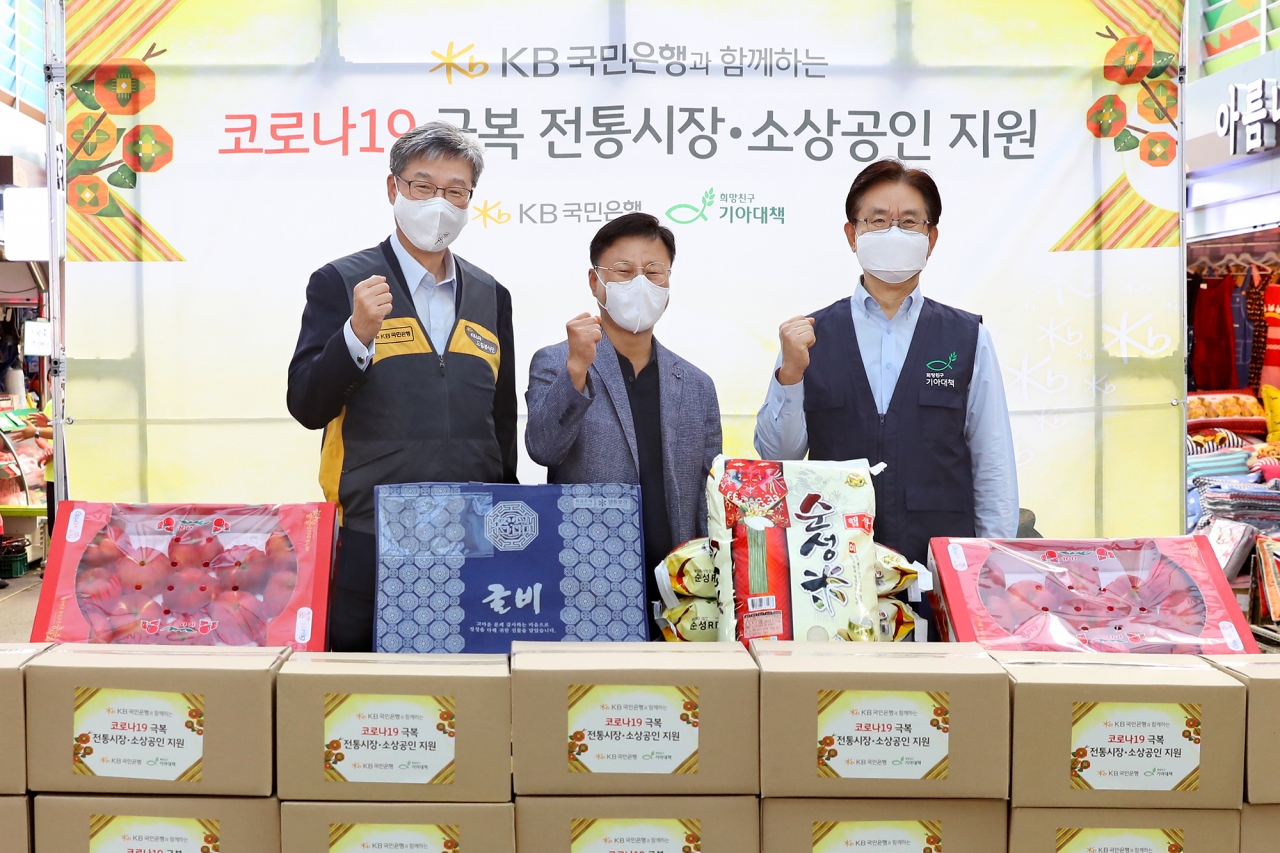 KB Kookmin Bank President Huh In, Chairman Kim Tae-won of the Yeongdeungpo Traditional Korean Merchants' Association and KFHI Chairman Yoo Won-shik attend an event at Yeongdeungpo Market on Sept. 15 to purchase food products and deliver them to neighbors to help traditional Korean markets and merchants overcome a crisis caused by the COVID-19 pandemic.

KB Kookmin Bank continues to penetrate the global market by actively ramping up its investment in overseas subsidiaries in Southeast Asia.

Recently, with the opening of a branch in Singapore, KB Kookmin Bank began acquiring the remaining stake in Prasac Microfinance in Cambodia which the bank took over a 70 percent stake last year after making an additional massive investment in Indonesia's Bank KB Bukopin.

KB Kookmin Bank announced on August 19 that it decided to acquire the remaining 30 percent stake in Prasac Microfinance, a microlender in Cambodia in which it already held a 70 percent stake on Aug. 18.
The remaining 30 percent stake is 378.4 billion won. By taking the remaining stake, KB Kookmin Bank will secure a 100 percent in Prasac Microfinance.

Earlier in 2020, KB Kookmin Bank acquired a 70 percent stake in Prasac Microfinance from its shareholders for US$630 million.
At the time, through a shareholder agreement, the former shareholders secured the right to put options on the remaining shares so they can exercise the right within six months from the date of issuance of an audit report at the end of 2021 and the confirmation of an adjusted carrying amount.

In addition, Kookmin Bank had a call option that allows the purchase of the remaining stake within six months after the end of the put option exercise period if the put option is not exercised.
This means that KB Kookmin Bank will take over the remaining stake earlier than scheduled.

A KB Kookmin Bank official explained that it was a transaction to acquire the remaining stake for the early execution of options according to an interim agreement and not a transaction to acquire the remaining stake after the exercise of the option exercise.

KB Kookmin Bank had Prasac Microfinance in Cambodia along with Kookmin Bank Cambodia engaging in banking and foreign exchange businesses.
So this investment will enable KB Kookmin Bank to secure 100 percent stakes in both banks so put a spur to expand their presences in the market.

Prasac Microfinance is giving small general loans and SOHO loans to local residents. At the end of the first half of this year, its equity capital stood at 650.3 billion won.

It racked up 401.4 billion won in operating profit and 90.6 billion won in net profit in the first half of this year.
Its operating revenue and net profit hit 222.3 billion won and 35.1 billion won, respectively, in the first half of last year by nearly doubling from one year earlier.

Earlier, KB Kookmin Bank also decided to increase the capital of Bank KB Bukopin. The size of its equity investment amounted to 400 billion won, a 67 percent stake.

KB Kookmin Bank acquired a 22 percent stake in the predecessor bank of Bank KB Bukopin in July 2018, becoming the second largest shareholder.
In September of 2020, KB Kookmin Bank became the largest shareholder of the bank and seized the management right by securing a 67 percent in the bank .

KB Kookmin Bank further strengthened its management right to Bank KB Bukopin by appointing four executives.
Recently the second largest shareholder dropped a 1.6 trillion won lawsuit for damages, allowing KB Kookmin Bank to exercise its management right.
KB Kookmin Bank is spurring its advancement into Southeast Asian financial markets by obtaining preliminary approval for the establishment of its branch in Singapore May.

In the meantime, KB Kookmin Bank is promoting e-sports marketing. It is targeting the MZ generation.
The bank is employing a strategy to break away from its old and conservative image and preoccupy young customers for the future.

KB Kookmin Bank signed a naming sponsorship agreement with the League of Legends (LOL) Game Team of Sandbox Gaming in December in 2020.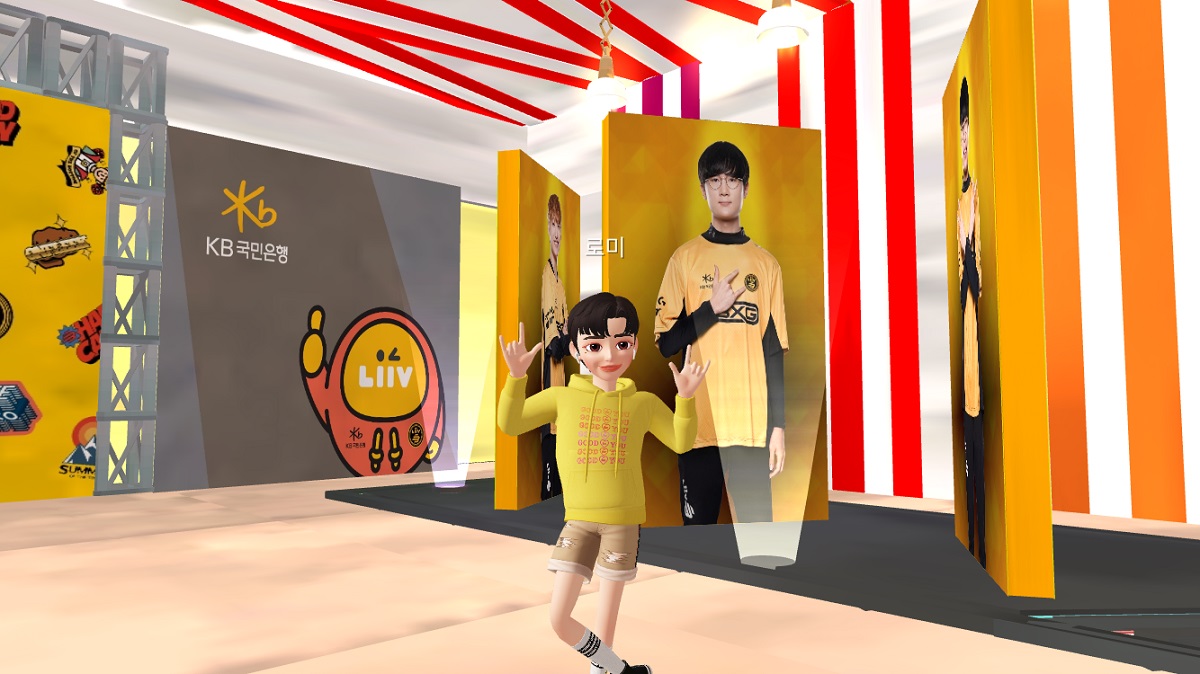 KB Kookmin Bank has opened the "Liiv SANDBOX Arena" on the metaverse platform "ZEPETO," a window designed to communicate with fans of 2021 League of Legends Champions Korea Summer Spirit, being held without spectators due to the COVID-19 pandemic. (Photos: KB Kookmin Bank)
This year, its sponsorship expanded to all e-sports teams of Sandbox Gaming. Now, all of the Sandbox Gaming e-sports teams are active under the official name of Liiv Sandbox.

Liiv Sandbox is a combination of KB Kookmin Bank's mobile platform brand Liiv and Sandbox Gaming.
Through this sponsorship agreement, KB Kookmin Bank plans to contribute to the development of e-sports which has become a mainstream culture of the MZ generation, and take the lead in active communications with fans through marketing collaborations.