Chairman Koh Seung-beom of the Financial Services Commission (FSC) meets with Chairman Jeong Eun-bo of the Financial Supervisory Service (FSS) to discuss pending issues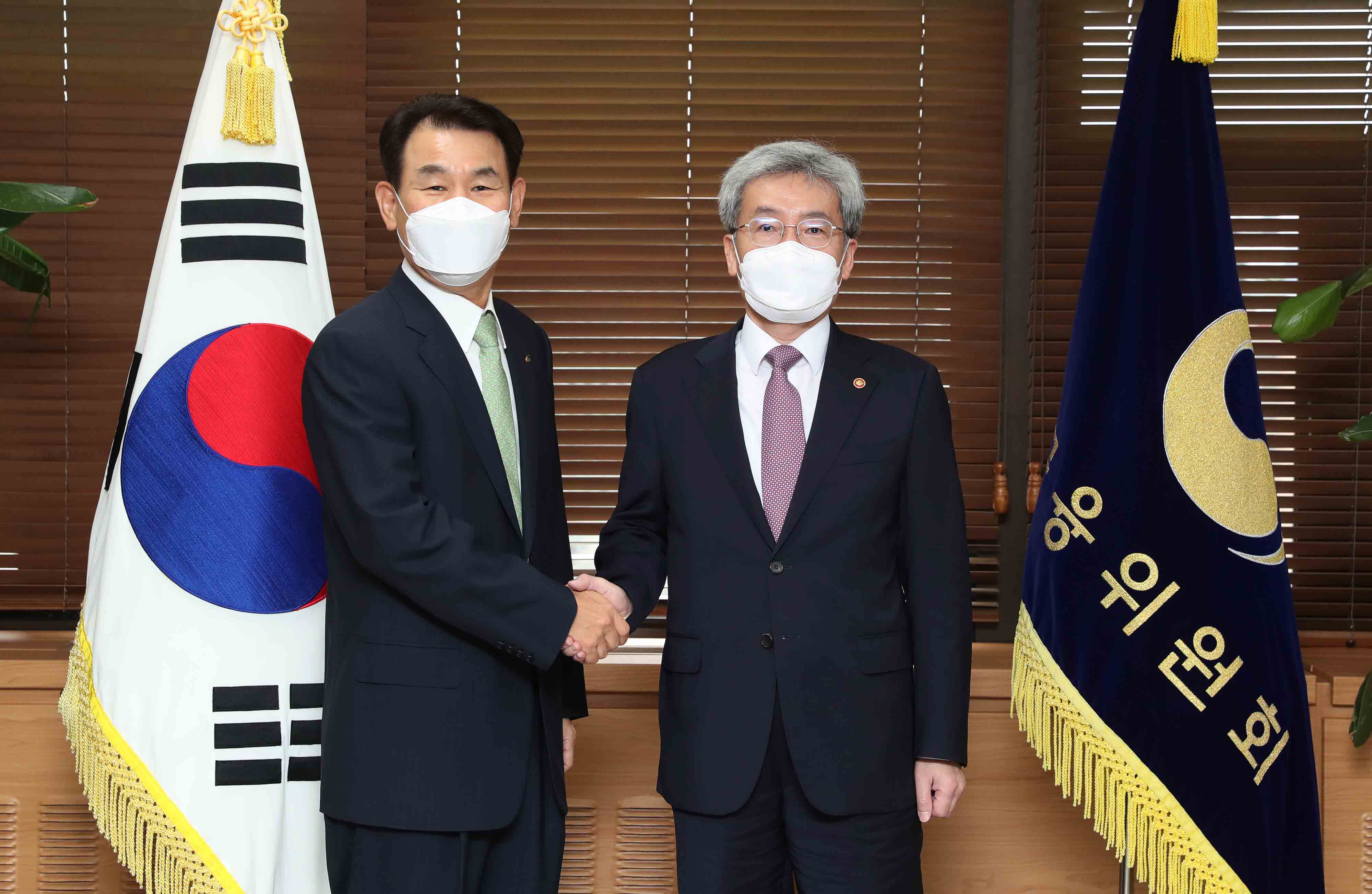 Chairman Koh Seung-beom of the Financial Services Commission (FSC) meets with Chairman Jeong Eun-bo of the Financial Supervisory Service (FSS) to discuss pending financial issues at the Seoul Government Complex on Sept. 2 for the first time since they took office. (Photo: FSC)
Chairman Koh Seung-beom of the Financial Services Commission (FSC) met with Chairman Jeong Eun-bo of the Financial Supervisory Service (FSS) at the Seoul Government Complex on Sept. 2 for the first time since they took office.
They agreed to collaborate on pending issues, such as household debt and the reporting of virtual asset service providers.

"Join forces in Financial Reform" was the catchphrase contained in a calligraphic work, delivered by the former FSC chairman Lim Jong-yong to the ex-FSS chairman Jin Eung-sup.
It was a symbol of collaboration between the two institutions. Five years later, the heads of FSC and FSS now see eye to eye.

FSC Chairman Koh said, "I congratulate FSS Chairman Jeong's inauguration and I want to cooperate as a one-body, one-voice between FSC and FSS."

"FSC will provide full organizational and budgetary support so that heavy workload can be handled efficiently," he said.

In return, FSS Chairman Jeong said, "FSS will be on the same wavelength with FSC regarding policies and supervision."

They exchanged views on key issues such as household debt and how to supervise financial institutions and virtual asset service providers.

In his inaugural speech, FSC Chairman Koh said, "We'll mobilize all means to remove dangerous factors of surging household debts and focus on policy capabilities." FSC and FSS have to join forces in managing household debt in an effective fashion, he said.

FSC may send signals on the control of total debt amounts, but FSS receives reports on the status of debt and shares related information.
As the non-banking financial sector saw household debt balance show signs of rising in August, FSS has ramped up surveillance over the sector by changing monthly reports on the current status to a weekly one.

The two financial institutions' collaboration is essential to take on issues related to virtual asset service providers.
The Virtual Asset Inspection Department of the Korea Financial Intelligence Unit under the umbrella of FSC is responsible for managing and supervising them.
A job of certifying virtual asset service providers' reports is handled by the Anti-Money Laundering Office of FSS.

The heads of the two institutions plan to meet frequently down the road. Chances are high that both sides will walk in step in the pending issues, including the penalizing of executives of financial institutions.
Chairman Son Tae-seung of Woori Financial Group won an administrative case against the Financial Supervisory Service (FSS), which penalized him the improper selling of high-risk derivative-linked funds (DLFs).

Financial sources said there is a possibility the punishment of executives of financial institutions might change its conventional pattern.
They shared the view that conflicts between the two institutions might be reduced down the road. FSC and FSS have so far classed over the direction of managing and supervising financial institutions.
The two have been quarrelling over the responsibility of private equity scandals. FSS has demanded for budgetary autonomy from FSC.

FSS Chairman Jeong said as FSS carries out inspection and supervision near the spot, it will provide full support to FSC's determining and pushing of policies.

Meanwhile, FSC Koh was scheduled to meet with Gov. Lee Ju-yeol of the Bank of Korea on Sept. 3.