Shinhan Financial Group Unveils New Vision of Easier, More Convenient and Newer Finance
ESG management takes center stage in Shinhan Financial Group's corporate philosophy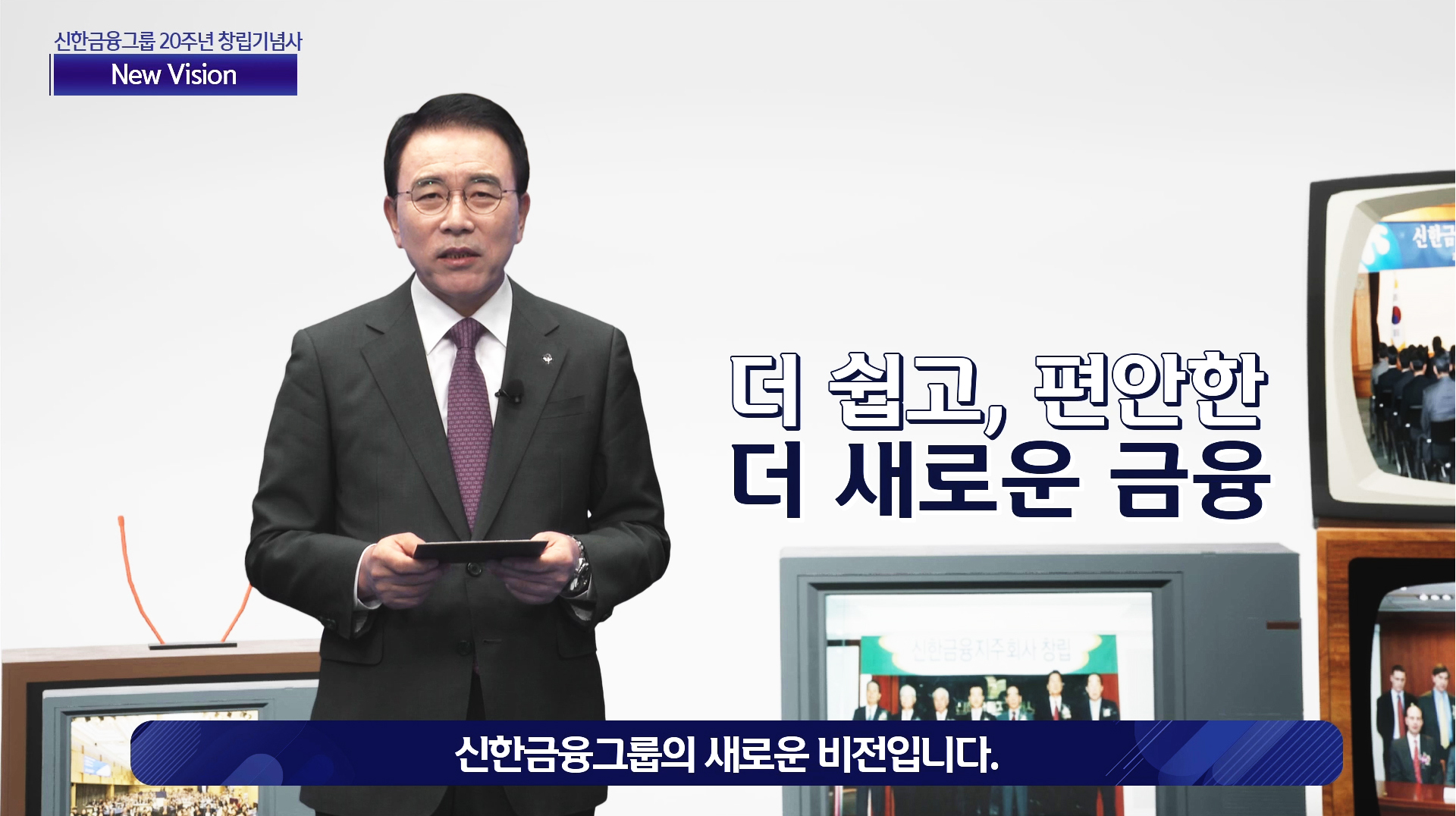 Shinhan Financial Group held an online ceremony to celebrate the 20th anniversary of the group's foundation on Sept. 1. Chairman Cho Yong-byoung delivers a commemorative speech online. (Photo: Shinhan Financial Group)
Shinhan Financial Group declared a new vision on the occasion of the group's 20th anniversary.

Shinhan Financial Group held a ceremony online on Sept. 1 and announced that it was pursuing "easier, more convenient and newer finance." The financial group drew up a plan for the direction of the Shinhan culture through the Shinhan Culture Forum held in July.

This time, to commemorate the 20th anniversary of its founding, Shinhan Financial Group carried out the Group Vision RE:BOOT Project to create a vision that contains customer value.
The group finally came up with the new vision by collecting various opinions, including the results of a survey of about 500 customers, executives and employees, as well as interviews with external experts.

The group's new vision, "easier, more convenient, and new finance" contains all three of the most important values — convenience, safety and innovation — that customers demand from financial services.
In particular, the expression shows Shinhan's will to provide Shinhan's own differentiated solutions while stepping up efforts for customers.

First of all, "easier finance" means connecting finance to customers' everyday lives and business through innovative digital services encompassing online and offline, so that customers will be able to use financial services more easily and conveniently.

"More convenient finance" shows Shinhan's promise to enable customers to use financial services more conveniently by providing safe, reliable and right finance.

Finally, "newer finance" means Shinhan will keep up the end of the bargain in providing better value to customers through novel and original top-notch financial services that creatively combine innovative digital technologies.

"It is time to redefine Shinhan's future dreams to meet the true nature of finance that customers want," Chairman Cho Yong-byoung said in a speech in honor of the 20th anniversary. "Let's achieve our new vision together on the first day of starting our future."

In a related development, Shinhan Financial Group declared the group's new ESG brand slogan "Do the Right Thing for a Wonderful World," in commemoration of its 20th anniversary.

Shinhan Financial Group announced a new slogan on Sept. 2 at Lotte Hotel in downtown Seoul, while holding the ESG-Digital International Conference with the Institute for Global Economics in honor of the 20th anniversary of the group's foundation.

The slogan sets Shinhan's ESG value standard as the "Right Thing," and expresses Shinhan's will to join customers to create a "wonderful world," a better future which Shinhan wants to achieve through ESG management.

In order to easily convey the meaning of the ESG brand slogan to customers, Shinhan Financial Group will also launch a new advertising campaign through the group's social media brand channel, "Production to Discover Opportunities for Korea."

In addition, scholars and global corporate experts from domestic and foreign ESG and digital sectors participated in the conference under the theme of "Smart Preparations for Post-Pandemic Era: Beyond ESG Management and Digital Convergence."

"Innovation toward sustainable growth is picking up speed with the pandemic, and criteria for the change are ESG and digital," Shinhan Chairman Cho said in a welcoming speech. "We will do our best to further the nation's transformation by shifting Shinhan Financial Group's philosophy to ESG."

A special speech was delivered by Jeffrey Sachs, a renowned economist, president of the United Nations Sustainable Development Solutions Network (SDSN) and chair at the University of Colombia during the conference.

"The world must quickly attain the Net-Zero goal and Korea's international roles really matters," Sachs stressed.

Mark Carney, the current UN climate change envoy and former president of the Bank of England (BOE), also said in a conference keynote speech, "The alliance of all stakeholders, including governments, businesses and individuals holds the key to achieving Net-Zero."