Hyundai Motor Declares Early Realization of Carbon Neutrality in Commercial Vehicles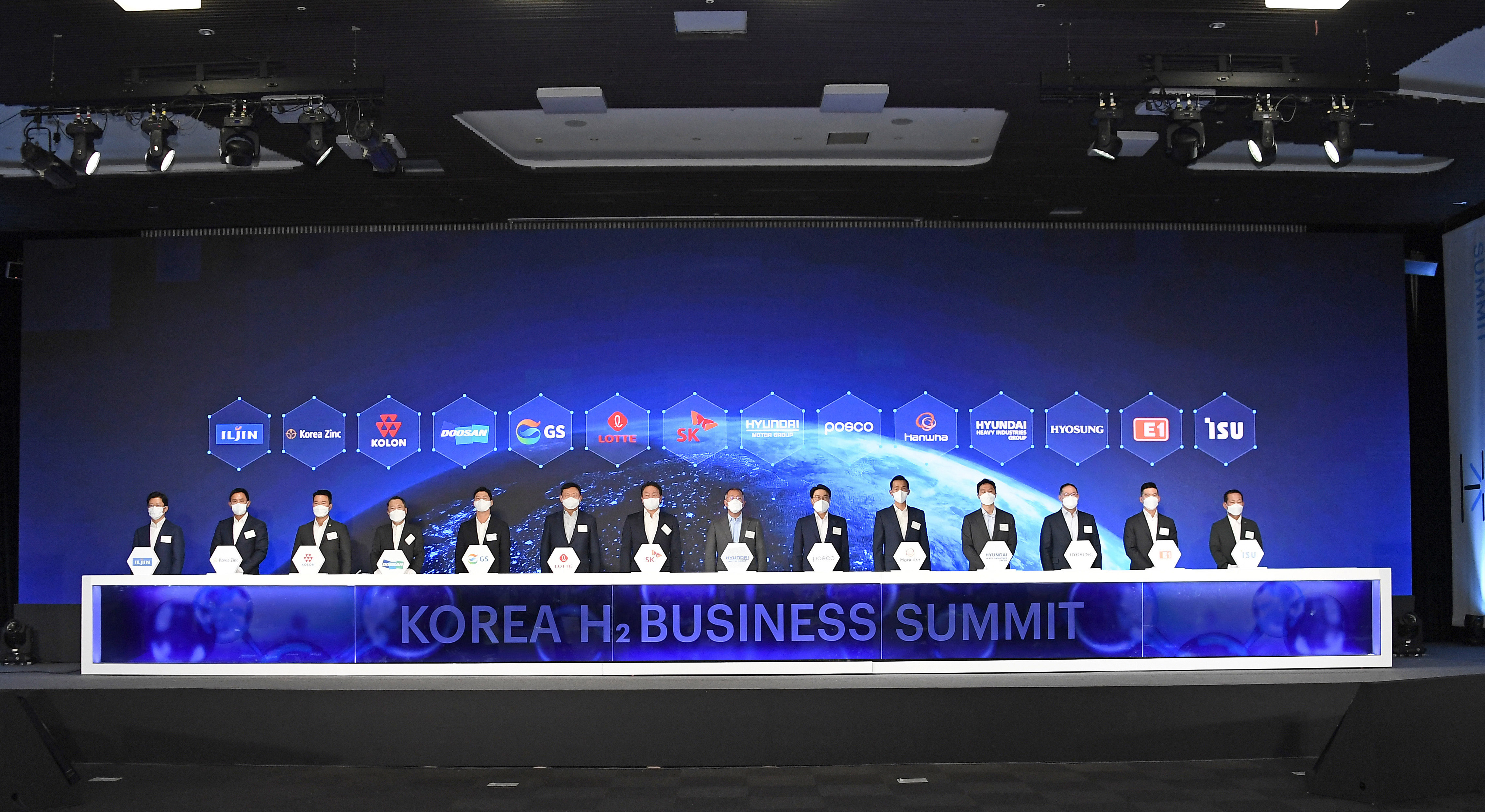 Business leaders, including Hyundai Motor Group Chairman Chung Eui-sun, SK Group Chairman Chey Tae-won, POSCO Group Chairman Choi Jeong-woo, Doosan Group Chairman Park Jeong-won, GS Group President Hur Sae-hong, Lotte Group Chairman Shin Dong-bin, Hanwha Group President Kim Dong-gwan, HHI Group Holdings Senior Executive Vice President Chung Ki-sun, and Hyosung Group Vice Chairman Cho Hyun-sang attend an inaugural meeting of the Korea H2 Business Summit, a civilian hydrogen consulting committee, at KINTEX in Goyang, north of Seoul, on Sept. 8. (Photos: Hyundai Motor Group)
The IAA Mobility 2021, which runs in Munich from Sept. 7 to 12, is a venue in which global automakers, including Hyundai Motor, Volkswagen, Daimler and BMW compete to secure an upper hand in future car markets such as EVs and self-driving cars. The former Frankfurt motor show has now moved to Munich under the name IAA Mobility.

Hyundai Mobis, Bosch, Denso, ZF and other automotive parts leaders are also participating in the IAA Mobility 2021 to showcase their latest products.
Attention is being paid to the IAA Mobility 2021 by the industry and consumers, which is nearly the first large-scale auto fair since the COVID-19 pandemic hit the world.

Hyundai Motor unveiled strategies related to carbon neutrality while participating in the auto show. The move comes after the EU moves the deadline to phase out internal combustion engines to 2030.
Hyundai Motor has drawn up plans to shift all new cars in major markets, such as the United States, into EVs, but now it's time for the Korean automaker to put the plan into practice.

Hyundai Motor Group Chairman Chung Eui-sun said, "New commercial vehicles like trucks and buses will be released as only EV and hydrogen cars down the road, and new hydrogen versions will be added to the conventional commercial vehicle models until 2028."
Chairman Chung held "Hydrogen Wave," targeting global investors and media on Sept. 7 on the sidelines of the auto show.

He unveiled a vision on the early realization of carbon neutrality by capitalizing on its leading hydrogen technology. He disclosed the vision, setting the year 2040, as the first year of making hydrogen part of people's daily life.
The auto show's takeaways include the unveiling of the latest EVs and self-driving cars. Multi-purpose vehicles (MPVs), designed to transport persons and specialized logistics, other than sedans or commercial trucks, are also highlighted during the event.

Of the eight exhibition halls, only one displayed internal combustion engines, while all others exhibited EVs. Mercedes-Benz, which developed the world's first internal combustion engine, released its first flagship E-class electric sedan, EQE. Benz reconfirmed it is selling only EVs from 2030.

An expressway running through Munich is designating one of its three lanes for only EVs, hydrogen vehicles and cars shared by three or more people.

Hyundai Motor President Chang Jae-hoon pledged the company would be carbon neutral in all areas, ranging from car production to operation and dismantlement, from 2045.
Chang made the commitment while unveiling a carbon neutrality roadmap at the IAA Mobility 2021 on Sept. 6.

Chung said, "Greenhouse gas emissions, being emitted by the operation of cars, cooperative companies and plants will be reduced by 75 percent by 2040, compared to 2019 levels, and they will be lowered to zero by 2045."

To this end, Hyundai Motor plans to raise the eco-friendly car portion of new cars to 30 percent by 2030 and 80 percent by 2040. Looking into each region, Hyundai Motor plans to make all new cars being sold in EU EVs and hydrogen cars starting 2035.

In other markets, including Korea, the Korean automaker plans to sell all eco-friendly cars on a gradual basis in 2040 or after.
It means that Hyundai Motor will stop selling internal combustion engine cars in almost all markets in 2040.
Hyundai Motor said the luxury brand Genesis will shift into one selling only EVs and hydrogen fuel cell cars by 2030. Hyundai Motor plans to expand the shift to all brands.

Hyundai Motor plans to increase the number of hydrogen-powered Nexo models from one to three by 2025.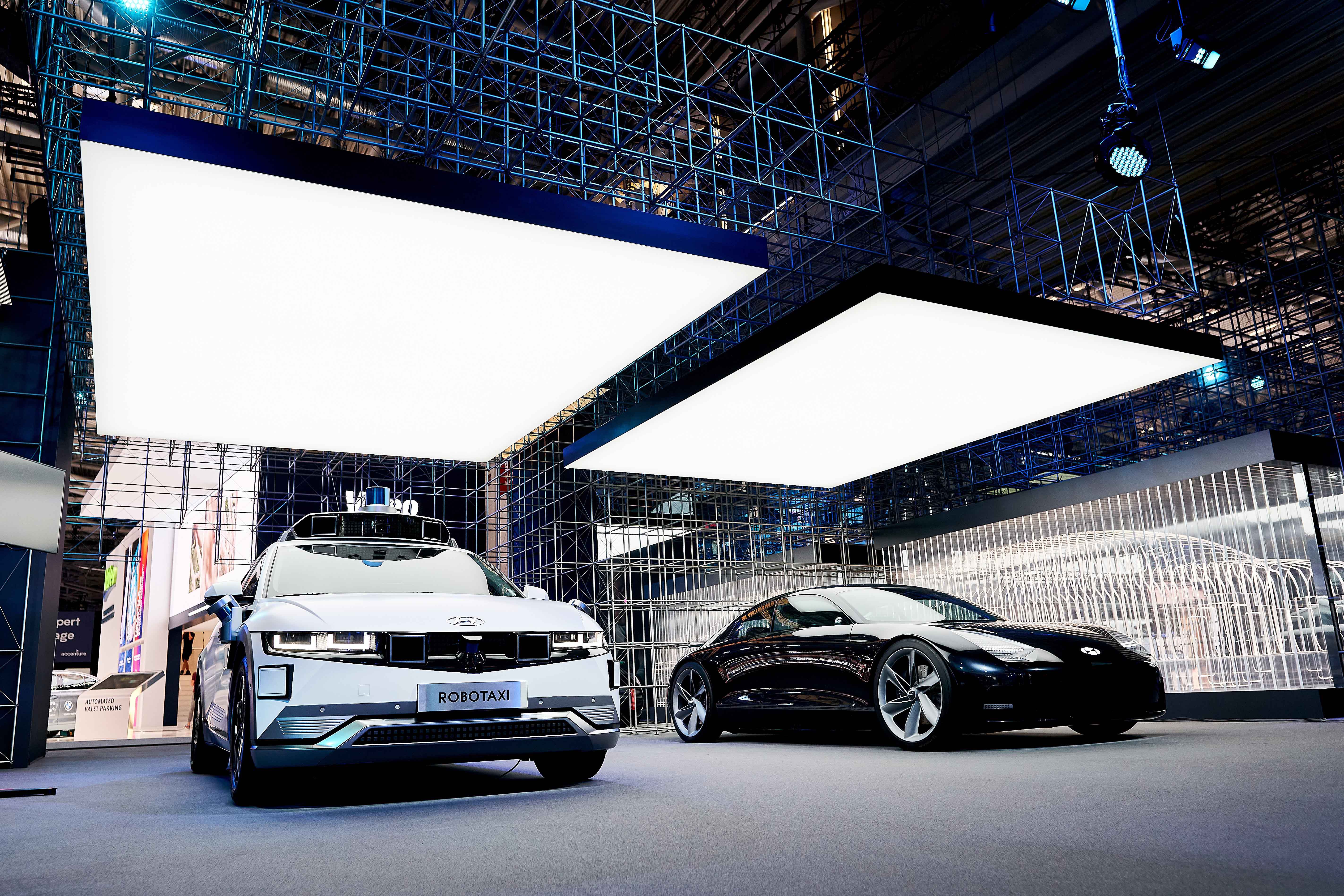 Ioniq 5 'Robotaxi' is displayed at Hyundai Motor's booth at IAA Mobility 2021.
Hyundai Motor plans to release Nexo's new model while putting on the market the hydrogen fuel cell version of the mini-van Staria in 2023, and a hydrogen fuel cell version of the large-sized SUV in 2025.
Hyundai Motor unveiled the Hyundai Ioniq 5 robotaxi at the IAA Mobility 2021, which is expected to help the Korean automaker realize its goal of being carbon neutral.