Both sides strike MOU to cooperate on the follow-up basic design, landing an order, and ship construction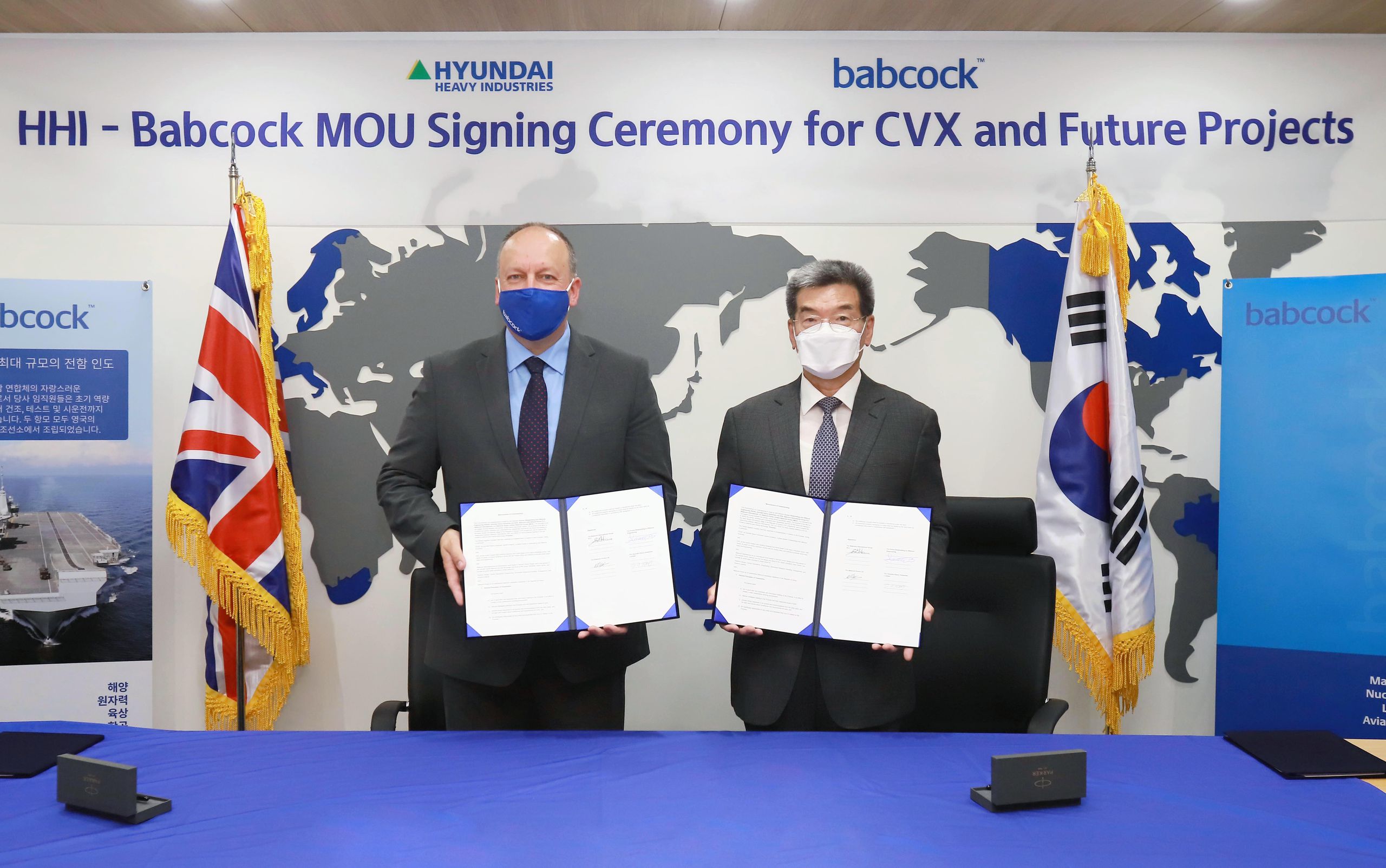 Babcock CEO John Howie and CEO Ka Sam-hyun of Korea Shipbuilding & Offshore Engineering Co. strike a deal on a partnership to launch the CVX aircraft carrier program at Babcock Korea office in Busan on Aug. 31. (Photo: HHI)
Hyundai Heavy Industries (HHI) will launch the CVX aircraft carrier program in cooperation with Babcock, a renowned British aerospace, defense and nuclear engineering services company. H
HI signed a partnership on the Korean-type CVX aircraft carrier program with Babcock, the Korean shipbuilder said on Sept. 1.

Last year, the two companies have finished a concept design, the first step to design the carrier. Under the latest partnership, both sides agreed to cooperate on the follow-up basic design, the landing of an order, and ship construction.

Babcock possesses its own propriety technology in areas such as the design of aircraft and shipbuilding. Babcok participated in the development of the latest British aircraft carrier, Queen Elizabeth.

HHI unveiled the latest Korean-type CVX aircraft carrier prototype that the Korean shipbuilder developed in cooperation with Babcock at the MADEX 2021, which took place in Busan BEXCO in June.

The Korean-type CVX aircraft carrier project calls for building a 30,000-ton-class aircraft carrier with homegrown technology.
The project, costing about 2.03 trillion won, is the Korean Navy's key task. HHI is taking on DSME to land the project.

CEO Ka Sam-hyun of Korea Shipbuilding & Offshore Engineering Co. said, "Both companies, boasting superb technology power in each shipbuilding and defense sector, will build a Korean-type light CVX aircraft carrier optimized for defending the Korean territorial waters as a Korean national flag carrier through their close collaboration."

Babcock CEO John Howie said "As a lead partner within the Aircraft Carrier Alliance that designed, built and delivered the Queen Elizabeth Class Carriers for the UK, we are delighted to be able to sign this Memorandum of Understanding with HHI.

Babcock has the proven capabilities to deliver large scale complex programmes and by affirming our already strong relationship with Hyundai Heavy Industries, the world's largest shipbuilder, our collaborative and complementary skills and expertise can deliver a cutting edge sovereign Aircraft Carrier capability to the Republic of Korea.

"Through our growing in-country business, continued long-term investment in our facility in Busan and collaboration with key partners both in Korea and internationally, Babcock is committed to supporting Korean industry in delivering the CVX Aircraft Carrier Programme for the Republic of Korea. We look forward to continuing to work closely with all stakeholders and partners involved in this effort."

KSOE Builds 8 Methanol-Fueled Containerships for Maersk

Korea Shipbuilding & Offshore Engineering Co. (KSOE), a mid-level holding company of Hyundai Heavy Industries Business Group, has joined forces with Maersk, the world's biggest shipping company, to build a next-generation, eco-friendly methanol-fueled ships.

KSOE struck a contract to build eight 16,000TEU-class methanol-fueled super-size containerships with Maersk of Denmark, the Korean company said on Aug. 24.
The value of the order stands at 1,647.4 billion won. The deal has an option to build four more such ships. So KSOE is expected to land additional orders.

The latest winning order involves super-size containerships that will run on methanol engines for the first time in the world. The ships will be built at the Ulsan shipyard of Hyundai Heavy Industries, and they will be delivered on a gradual basis until 2024.

The latest deal may be construed as Maersk's bid to expand methanol-fueled ships in earnest after awarding a pilot order to build a small-size, 2,100TEU-class, methanol-fueled containership to KSOE in June.

Methanol is spotlighted as an eco-friendly fuel in an era carbon neutrality since it can dramatically reduce pollutants such as emissions of sulphur oxides (SOx), nitrogen oxides (NOx), compared to the conventional ship fuels.
Maersk, spearheading a carbon neutrality initiative in the shipping industry, is predicted to cut down on greenhouse gas emissions by 1 million tons, replacing part of its old containerships in operation.

A KSOE official said, "It takes on significance that it is the first-time super-size containerships will be driven with methanol-fueled engines."
KSOE will lead the eco-friendly shipbuilding industry by collaboration with Maersk in the alternative fuel sector like methanol and ammonia, the official said.

KSOE has so far landed orders to build a combined 25 methanol-fueled ships to lead the eco-friendly shipbuilding market.