S-OIL Teams Up with Seoul Startup Hub to Provide Support to Promising New Ventures
Selects 10 innovative startups in promising technology sectors such as AI and energy/environment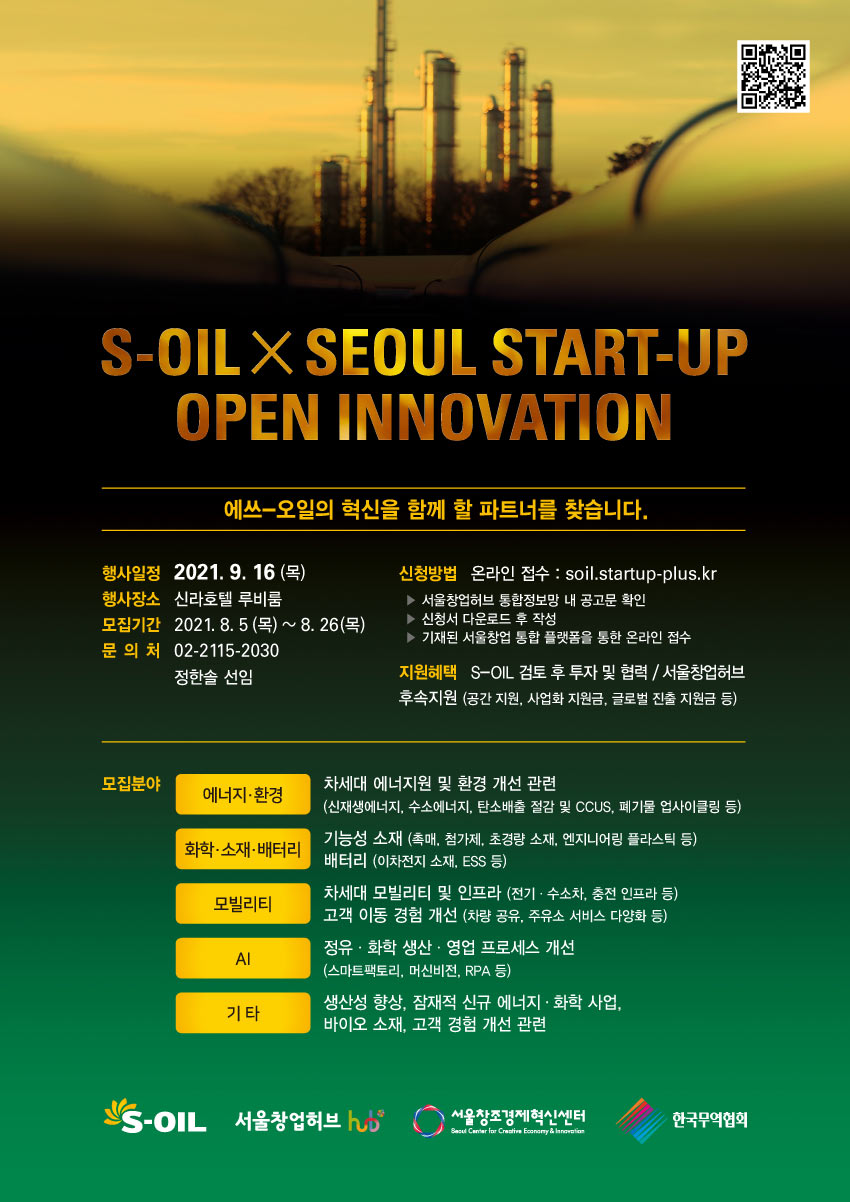 A poster to publicize the S-OIL X Seoul Startup Open Innovation. (Photos: S-OIL)
Seoul Startup Hub, run by Seoul Business Agency (SBA), is offering diverse support to a selection of 10 promising startups with innovative technologies in cooperation with S-OIL.

Seoul Startup Hub, Seoul's representative startup support institution, said on Aug. 5 it was recruiting technology innovation startups in energy/environment, chemical/material/battery, mobility, AI, and other, which participate in programs in collaboration with S-OIL and large-sized companies.
The other sectors are productivity enhancement, potential new energy/chemical projects and projects related to customer experience improvements.

Seoul Startup Hub and S-OIL struck an MOU on the provision of opportunities to build partnerships between startups and large-sized companies in February.
Both sides offer support for attracting investments and technology cooperation through the selecting of finalists via joint programs.

A selection of 10 companies will undergo a proof of concept (PoC) to sharpen commercialization. They will be examined by S-OIL prior to the PoC and consideration of investments.
Beneficiaries will be given follow-up support, such as 10 million won, for commercialization in cooperation with large-sized companies, space support at the cooperation zone with large-sized firms on the third floor of Seoul Startup Hub headquarters, and 10 million won in support funds for global entry.

The recruiting period lasts until Aug. 28. Applications should be submitted through Seoul Startup Hub's website (soil.startup-plus.kr).
Application areas include energy/environment, chemical/material/battery, mobility, AI and others. Startups of technology, solutions and idea innovation services, which seek business partnership with S-OIL, will be selected.

Choi Soo-jin, a lead manager of Seoul Startup Hub, said, "We'll create programs designed to explore Korean technology, service and innovation growth startups so that they can yield good outcomes on a continuous fashion, based on experiences we've cultivated and supported startups with excellent technology."
S-OIL CFO Bang Joo-wan attends a ceremony to deliver learning aids to help the handicapped youth.

S-OIL Delivers Learning Aids to Help Handicapped Youth

S-OIL held a ceremony to deliver auxiliary devices to help low-income, handicapped learn. Forty-two beneficiaries received the learning aids worth about 100 million won.
The event took place without the presence of the beneficiaries due to the spread of the COVID-19 pandemic.

The delivered items included portable reading magnifiers and joystick mouses, designed to assist the handicapped.

S-OIL has offered learning aids tailored to assist handicapped people in low-income situations. They also intend to help disabled youth improve their learning competency in cooperation with Gyeonggi-do Rehabilitation Engineering Service Research Support Center (ATRAC).

S-OIL has delivered learning aids to 649 handicapped youth for 12 years until this year so that they can participate in society and secure self-sufficiency foundation through effective improved learning.

S-OIL CFO Bang Joo-wan, said, "We're feeling rewarded whenever we see many students rejoice with S-OIL's little help."

S-OIL will make every effort to give more support to more handicapped youth through continued patronages down the road, Bang added.