Hyundai Mobis to Spend 1,321.6 bln Won Constructing 2 Hydrogen Fuel Cell Production Plants
Latest investment is designed to strengthen the competitiveness of fuel cell products and secure production capacity for efficiency of mass production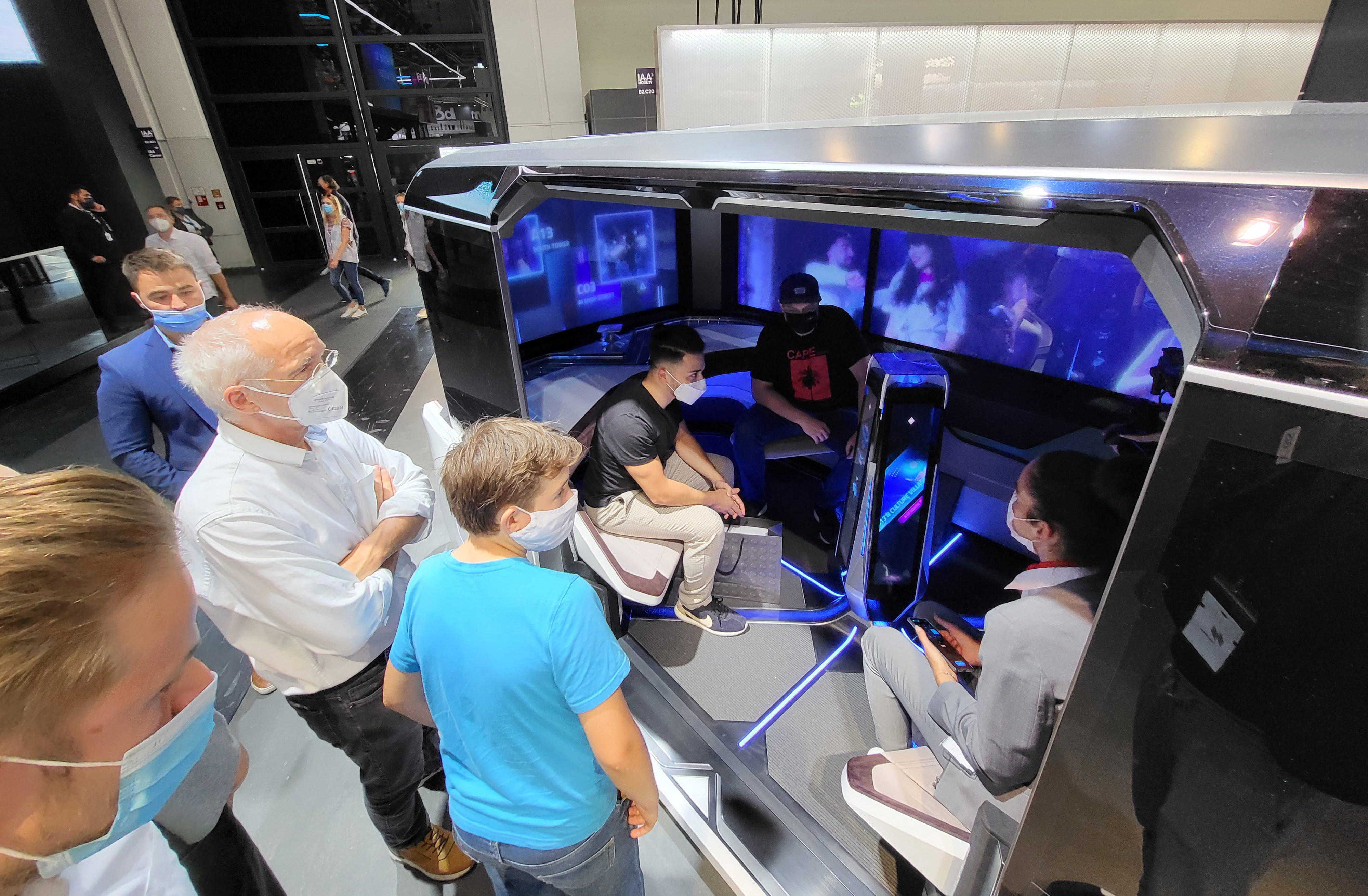 Spectators experience the new technologies of the M.Vision X, an AI-included concept car for full autonomous driving, at IAA Mobility 2021. (Photo: Hyundai Mobis)
Hyundai Mobis will invest 1,321.6 billion won to build two hydrogen fuel cell production plants.

The investment is 19 times more than the 70 billion won that Hyundai Motor Group poured into constructing its first plant in Chungju.
Hyundai Mobis' expansion of hydrogen fuel cell cars may be construed as its steps to expand the production of both EV cars and hydrogen fuel cell modules and other automotive parts.

In an electronic filing issued on Aug. 20, the Hyundai Mobis board approved a plan to invest 1,321.6 billion won to build new fuel cell production facilities.

Hyundai Mobis decided to build new hydrogen fuel cell production centers at the Incheon High-tech Park in Cheongna International City and at the Iwha General Industrial Complex in Ulsan, following a plant in Chungju.
Construction will begin in the second half of this year, and the new plants will be put into operation from 2023 with related investments being made until the end of 2025.
The latest investment is designed to strengthen the competitiveness of fuel cell products and secure production capacity for efficiency of mass production. The Chungju plant is capable of producing 3,000 fuel cell units annually.

When fuel cell demand is on the rise, Hyundai Mobis will have to secure additional production facilities. Hyundai Mobis did not disclose detailed information, including the new plants' annual maximum production capacity, but given the investment amounts, they are assumed to produce a maximum of 50,000 fuel cell units annually.

As Hyundai Motor Group plans to apply fuel cells to trains, ships and urban air mobility on top of automobiles, demand for fuel cells is predicted to continue to rise.

Hyundai Mobis is building the hydrogen fuel cell production plants in Korea rather than abroad because they are subject to the management of the nation's core technologies, citing the possibility of technology leakages.
Hyundai Motor Group's construction of a hydrogen fuel cell production corporation in Guangzhou, China, is related to the latter process in this context.

The new plant in Cheongna, Incheon, will serve as a center, charged with producing fuel cell stacks and fuel cells systems on top of reformers and transducers will be produced by the new plant in Ulsan.

Currently, Hyundai Motor produces the passenger EV "Nexo" at Ulsan's fifth plant, the commercial EV truck "XCIENT Fuel Cell" and the EV bus "Electricity FCEV" at its Jeonju plant. Following Hyundai Mobis' massive investments, its cooperative companies are expected to make new investments to ramp up production of parts related to fuel cell systems.

A Hyundai Mobis official said, "Details related to the new hydrogen fuel cell plants will be made later."

Hyundai Mobis to Showcase AI-Controlled Concept Car at IAA Mobility 2021

At IAA Mobility 2021 on Sept. 7-12, Hyundai Mobis, the global No. 7 automotive supplier, will unveil the M.Vision X, an AI-included concept car for full autonomous driving, in a European premiere.

The all-electric, zero-emission M.Vision X is a purpose-built 4-seater mobility vehicle. It is controlled autonomously as well as via an integrated center cockpit that communicates with passengers contactlessly via gesture recognition.
The M.Vision X offers highly innovative technology solutions and a unique reinterpretation of the automotive interior. For example, all of the vehicle's windows can be switched into a display with various functions.

The company will also showcase the most innovative technology components of the new all-electric Hyundai IONIQ 5.
Thanks to the advanced MOBIS electrification components, the IONIQ 5 is considered the next evolutionary step in electromobility and has already achieved a range of up to 100 kilometers after just 5 minutes of charging and a range of almost 400 kilometers when fully charged.
A total of 30 innovative and strategically important components from the development of the IONIQ 5 will be presented by Hyundai Mobis at the IAA Mobility.

In addition, the company, which in addition to Hyundai and Kia also supplies components to other well-known automotive carmakers in North America and Asia, will be presenting the latest technology solutions.