KEF Disagrees with Government's Proposal to Amend Act on the Punishment of Major Disasters
Thirty-six economic organizations issue their joint statement, voicing worry about punishing only managers without regard to preventing major industrial disasters
Korea Enterprise Federation (KEF) holds a seminar on the overhaul of the decrees of the Act on the Punishment of Major Disasters at KEF headquarters in Seoul on Aug. 11. (Photos: KEF)
Thirty-six economic organizations, including Korea Enterprise Federation (KEF), delivered a joint statement in opposition of the revision of the enforcement decrees of the Act on the Punishment of Major Disasters to the Ministry of Employment and Labor and the Ministry of Justice on Aug. 23.

The statement said, "Management responsibilities in the government's proposal to amend the enforcement decrees of the act are too comprehensive and ambiguous.
Companies, responsible entities, could not grasp exact guidelines and they may be determined by the government's arbitrary decision," it said. "If the enforcement decrees went into effect as they are, it said, "It will cause only much chaos."

The statement said the proposed enforcement decrees should have been overhauled or supplemented to achieve the purpose of the act designed to prevent major disasters, lest cases should happen in which persons are punished under false accusations.

The economic bodies also recommended to the government guidelines on serious occupational cases requiring more than six months of treatment be worked out.
They alleged that the government's own version of the enforcement decrees may include major industrial disasters.

They also demanded that responsibilities be specified for those who are responsible for management. The economic organizations claimed that it is not proper to punish managers on criminal charges based on ambiguous words such as "faithful" and "proper."
They claimed that the government's demand that industrial health doctors be hired is virtually impossible, in consideration of the on-site situation.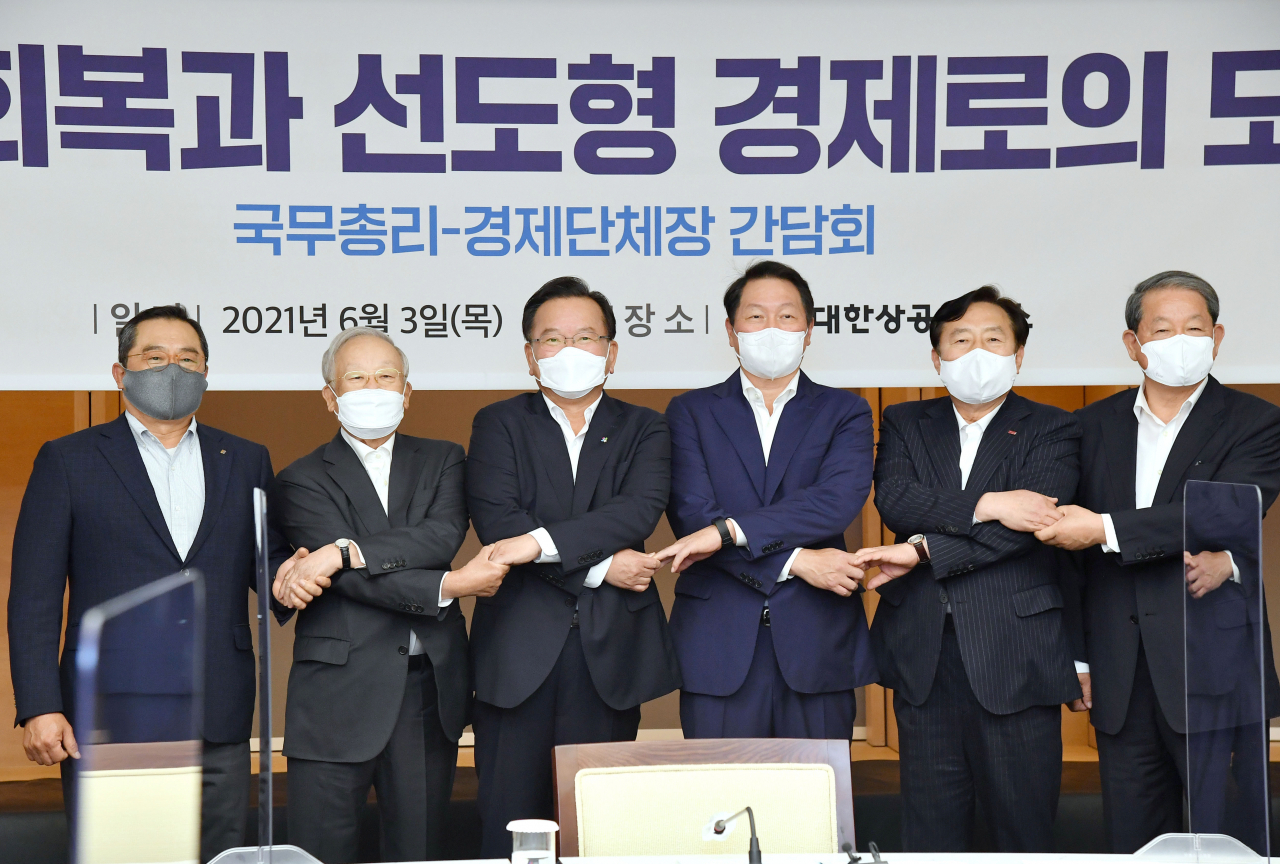 Prime Minister Kim Boo-gyeom holds a meeting with heads of economic organizations, including Chairman Sohn Kyung-shik of the Korea Enterprises Federation, Chairman Christopher Koo of the Korean International Trade Association, Chairman Chey Tae-won of the Korea Chamber of Commerce and Industry, Chairman Kim Ki-moon of Korea Federation of Small and Medium Business, and Chairman Kang Ho-gap of the Federation of Middle Market Enterprises of Korea on June 3.

The economic bodies asked the government to set a grace period, ranging from six months to one year, citing a delay in determining the enforcement decrees and insufficient preparations.
The statement said it is irrational to expect that enforcement of the decrees will go into effect by Jan. 27.

Even if major industrial disasters take place due to the fault of workers, company and managers should be given immunity from responsibility, they said, that the clauses to that effect should be included in the enforcement decrees.

They shared the view that the government's support may be necessary to go into force the act on field sites.
They demanded that the government's support should be specified and included in the enforcement decrees.
KEF Executive Vice Chairman Lee Dong-geun said, "The government's version of the enforcement degrees might incur side-effects: punishing only persons responsible for management without regard to preventing major industrial disasters.