Launches a new version of its vitamin C brand Vitagran, targeting people who want to take vitamin C more conveniently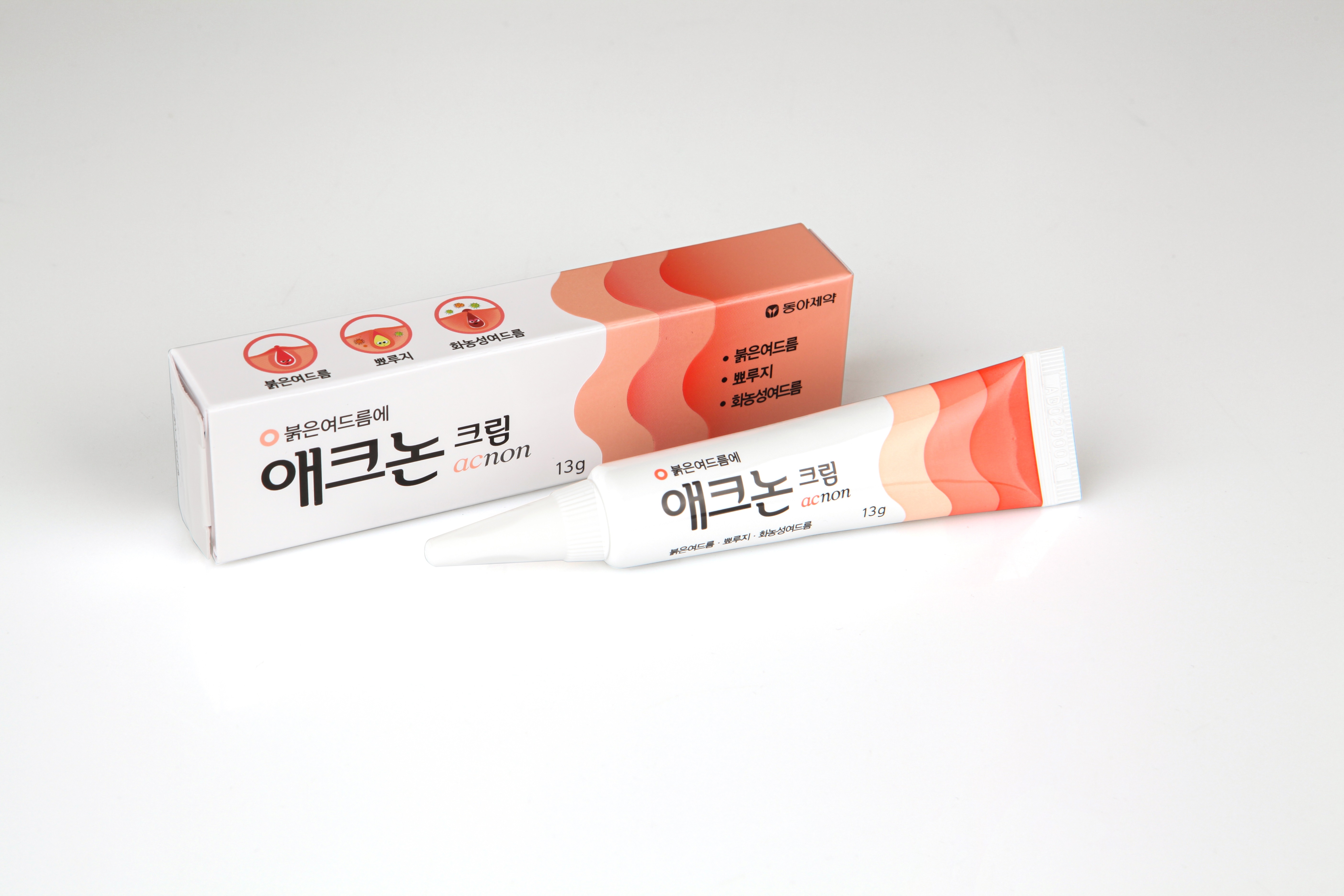 Dong-A Pharmaceutical's acne treatment "Acnon Cream" (Photos: Dong-A Pharmaceutical)
Dong-A Pharmaceutical announced on Sept. 15 that it sold thousands of units of its acne treatment Acnon Cream, claiming first place in the acne treatment market as of June.

According to UBIST Data Bank, Acnon Cream sold 39,000 units in Korea in March of 2021, taking first place in market share for the first time since its launch.
Since then, sales volume steadily grew, with 55,000 units sold in June, enough for 45 percent of the market.

In the first half of this year, its market share stood at 36 percent. Acnon Cream effectively treats acne. The brand name is a combination of "acne" and "non".

Its main ingredients are Ibuprofen piconol, which inhibits anti-inflammatory effects and the production of lipidases in acne bacteria, and isopropyl methylphenol, which hampers the proliferation of acne bacteria.
In particular, isopropyl methylphenol is about three times higher in content in Acnon Cream than other acne medications.

Acnon Cream is an over-the-counter drug and can be purchased at pharmacies. Users have to put the cream on their faces several times a day after washing their faces.

Since March this year, Dong-A Pharmaceutical has been putting an Acnon Cream advertisement on the air to beef up its brand power.
The advertisement video was produced under the concept of "Acnon Cream for acne on skin covered by masks."
The advertisement stresses that acne is an inflammation caused by bacteria in pores, and those concerned over acne should use Acnon Cream rather than "popping" them.

"As wearing masks has become common, more and more people are complaining of skin problems such as acne," a Dong-A Pharmaceutical said.
"We hope Acnon Cream will help those suffering from acne."

In the meantime, Dong-A Pharmaceutical announced on Aug. 31 that it has launched a new version of its vitamin C brand "Vitagran."
Dong-A Pharmaceutical launches a new version of its vitamin C brand "Vitagran."
In this product renewal, the Korean drug maker added 100mg, 400mg and 500mg products, expanding consumer choices.

Moreover, in order to educate customers over its vitamin C product, a new symbol showing a half-cut orange was created for the brand.
Also, the color orange was used as the main color of the product package. Additionally, a tin case was used to facilitate the utilization and recycling of the product container.

Since the launch of Vitagran Drink in 2004, Dong-A Pharmaceutical has been growing Vitagran as a vitamin C brand by releasing products of various types such as powders, tablets, and chewable products in the market one after another.
The product has four types – Vitamin C Drink, Vitamin C Powder, Vitamin C Tablet, and Vitamin C Chewable.

The four types of Vitagran have various amounts of vitamin C and different additional ingredients, such as vitamin B2, vitamin B6, vitamin D, niacin, zinc, and manganese.
Therefore, consumers can choose and take them according to their preferences and health conditions. The powder type has a lemon flavor while the chewable product comes in four flavors - lemons, apples, grapes and raspberries.

Vitagran is contained in convenient packages so is easy to carry. So, Vitagran comes in handy when office workers who are tired due to frequent overtime work or make frequent business trips, or people who are unbalanced in nutrition want to efficiently take vitamin C.

Vitamin C is a nutrient necessary to protect cells from harmful oxygen by forming and maintaining connective tissues, supplying iron, and acting as an antioxidant.
Most animals are able to synthesize their own vitamin C, although humans, the other great and lesser apes, monkeys (but not all primates), most bats, some rodents, and certain other animals must acquire it from dietary sources.

"A recent spike in the consumption of instant and delivery foods is hindering people's intake of enough fruits and vegetables, the main source of vitamin C," said Kim Min-hyuk, brand manager of Dong-A Pharmaceutical.
"I hope consumers inject vitality into their bodies with Vitagran which can supply vitamin C to them anytime and anywhere."