Minister Moon Seung-wook of the Ministry of Trade, Industry and Energy (MOTIE). (Photo: MOTIE)
The Korea saw its trade surpass $1 trillion this year in the shortest-ever period, beating the previous record by 21 days, which was set on Nov. 16, 2018.
The Ministry of Trade, Industry and Energy and Korea Customs Service said the nation posted exports worth $512.2 billion and imports worth $487.8 billion - topping $1 trillion in trade amounts — as of 1:53 p.m. on Oct. 26.
The nation saw trade top $1 trillion on seven occasions between 2011 and 2014 and between 2017 and 2019.
But due to the global trade recession caused by the COVID-19 pandemic, the figure dropped below $1 trillion last year, $980.1 billion, before recovering to more than $1 trillion this year.
A trillion dollars in trade may be translated into the combined value of exporting and importing 24.7 million cars, which is the number of automobiles registered in Korea.
This year, the country also logged the highest-ever increase rate since trade stats started to be counted. The nation saw exports top $500 billion as of Oct. 20 for the fifth consecutive year.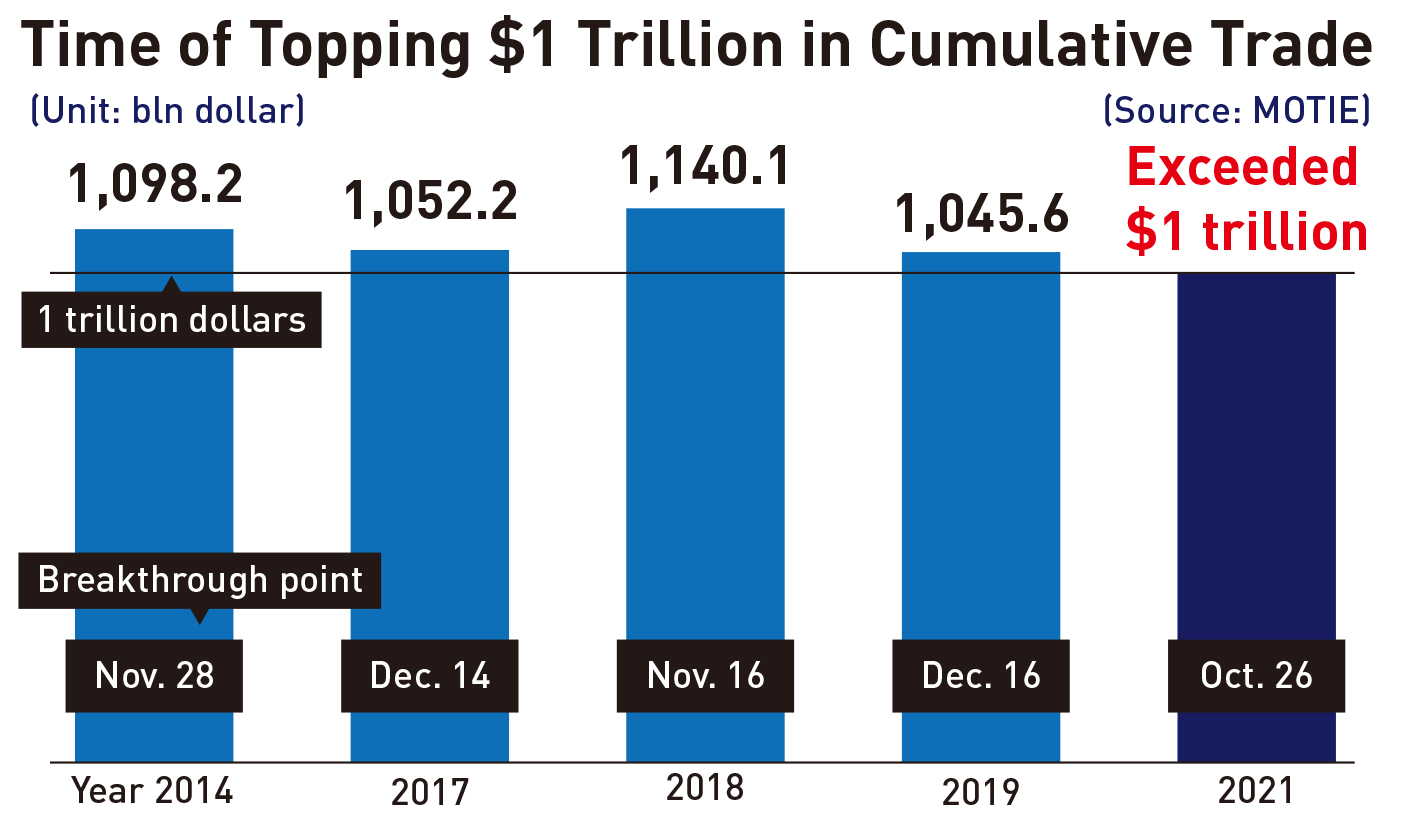 Chances are high that export amounts will surpass $600 billion, the highest-ever, by the end of the year. The previous highest trade amounts were $604.9 billion in 2018, following $572.7 billion in 2017 and $572.7 billion in 2014.
As domestic production disruption was minimized amid the pandemic, mainstay industries, such as semiconductors, shipbuilding and smartphones have solidified their presence on the global markets.
The semiconductor sector recaptured the global No. 1 position in terms of sales while the shipbuilding industry ranked first in the value of winning orders and second in terms of order amounts and first in terms of export amounts in the world during the period between January and May. The smartphone industry rose to first this year from second in terms of market share.
New growth engines and high-value added items, such as system semiconductors, eco-friendly cars and value-added ships, secondary batteries, OLEDs and bio health products have grown into prospective new export hits by responding to market changes nimbly.
MOTIE predicted that export amounts of prospective major hits would surge during the whole of the year.
The ministry forecast that the nation will see system semiconductors rise from $30.3 billion last year to $36 billion this year, eco-friendly cars surge from $4.6 billion to $6 billion, secondary batteries jump from $7.5 billion to $8.5 billion, OLEDs rise from $10.9 billion to $13 billion and bio health items from $13.9 to $15 billion.
Consumer items, such as agro-fishery products, cosmetics and home appliance exports soared on the back of Korea's rising cultural standing based on K-pop and K-content.
Agro-fishery and cosmetic exports jumped 12 percent and 26.3 percent to $7.3 billion and $6.8 billion, respectively. Home appliance exports surged to $6.3 billion, the highest-ever one in 11 years.
Export base has expanded. SMEs saw cumulative export amounts surge 18.5 percent to $85.3 billion to rank first in the previous years, contributing to boosting exports.
SMEs' online exports jumped 74.9 percent to $850 million, contributing to expanding export base.
Rising exports of immediate items, such as semiconductors and display panels to new southern policy countries like ASEAN and India and the expanding of new market entries on the back of the signing of FTAs also played a part of boosting exports.
Exports to the new southern policy countries surged to $88.7 billion, the highest-ever-level, during the first nine months of the year, and they are predicted to top $100 billion for the fifth consecutive year.
MOTIE Minister Moon Seung-wook said, "Topping $1 trillion in trade is a precious achievement people have made by overcoming several difficulties, such as export, import logistic woes, the protracted pandemic, and disrupted supply chains."