President Choi Si-young of Samsung Electronics' Foundry Business, gives a key-note speech at the Samsung Foundry Forum 2021 on Oct. 7. (Photos: Samsung Electronics)
Samsung Electronics revealed a plan to raise its foundry production capacity three-fold by 2026 compared to 2017.
Even though Samsung Electronics saw its Q3 sales surpass 70 trillion won, its best-ever quarter, the electronic giant plans to brace for market changes by raising foundry technology and production capacity, seeing rising uncertainties for its mainstay businesses.
In a conference to announce its Q3 business performance on Oct. 28, Samsung Electronics said it is implementing an unprecedented investment plan in infrastructure and equipment to secure mass production capacity so that EUV advanced processing can fully meet customer demand.
Samsung Electronics has seen its foundry production capacity jump 1.8-fold this year and about a 3-fold by 2026 over 2017, the company said.
Samsung Electronics Vice Chmn. Lee Helps Samsung Biologics
Moderna vaccine doses, rolled out for the first time by Samsung Biologics via consignment production, were imported in Korea for emergency use on Oct. 25.
Samsung Biologics succeeded in advancing the production of 2,435,000 doses of Moderna's mRNA-based vaccine, which was scheduled to be made available around the end of the year.
Samsung Electronics de facto leader Lee Jay-yong was known to have played a part of advancing the production of the vaccine.
Vice Chairman Lee ordered the formation of a vaccine task force comprising of executives of Samsung Electronics, Samsung Biologics and Samsung Bioepis, a move designed to concentrate Samsung Group's capacities to advance the production of the vaccine.
To this end, all subsidiaries of the group mobilized their diverse production expertise and ideas.
Samsung Electronics's smart factory team was employed to raise production yield while experts with semiconductor and other units participated in the process.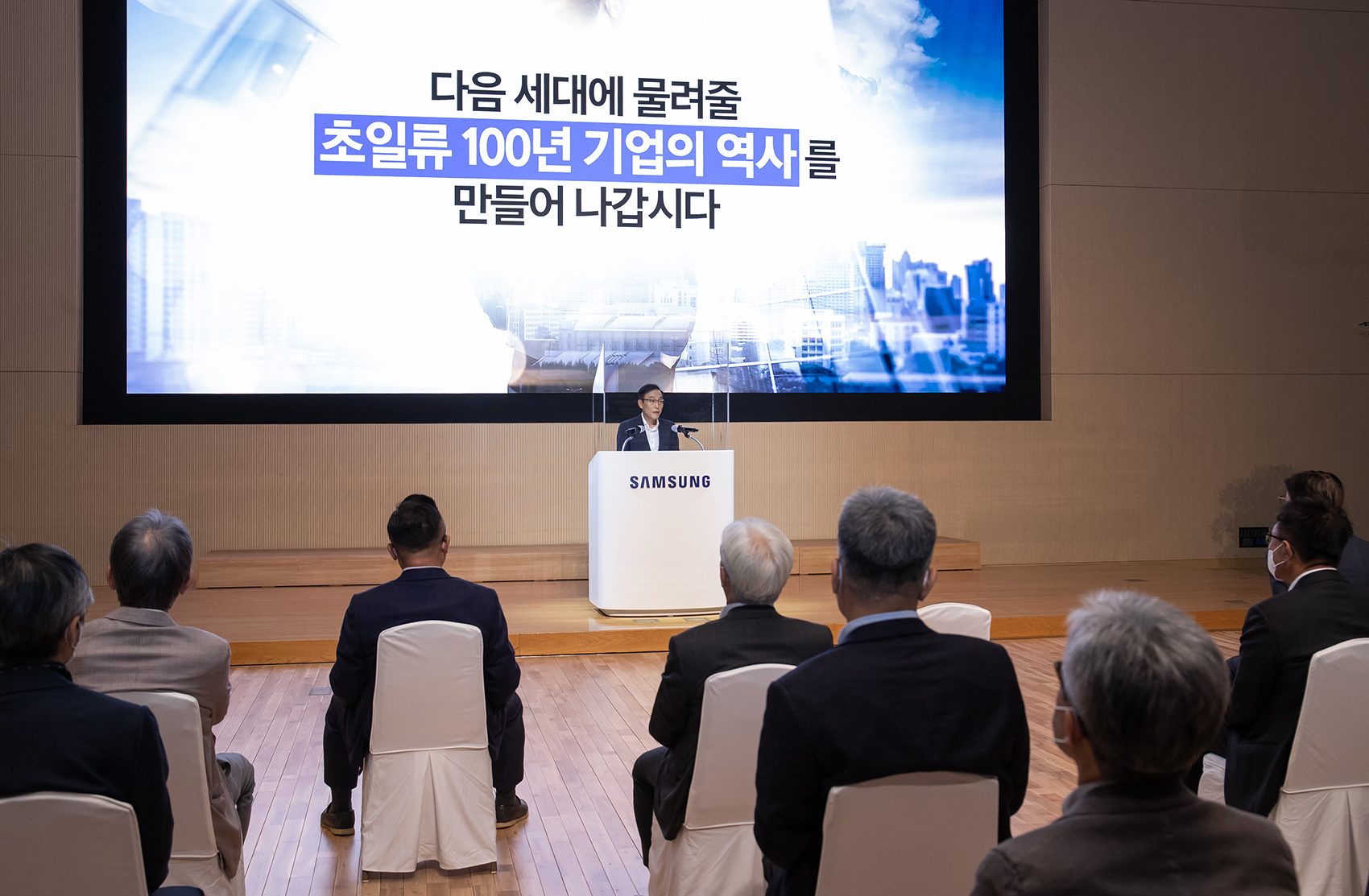 Vice Chairman and CEO Kim Ki-nam of Samsung Electronics delivers a speech at a ceremony to mark the 52nd anniversary with Samsung Electronics' executives and staffers in attendance.
Samsung Electronics Marks 52nd Anniversary
Samsung Electronics held a ceremony to celebrate its 52nd anniversary at Samsung Digital City in Suwon, Gyeonggi-do, on Nov. 1.
A limited number of group officials participated in the event due to social distancing guidelines, including Vice Chairman and CEO Kim Ki-nam, head of Samsung Electronics Display Solution Business, President Kim Hyun-suk, chief of Samsung Electronics Consumer Electronics Business, and President Koh Dong-jin, head of Samsung Electronics IT & Mobile Business.
In his commemorative speech, Vice Chairman Kim said, "Despite hard times, Samsung Electronics achieved a remarkable business performance for the third quarter of this year, but as business environment changes and uncertainties surge, we have to shift a management system capable of grasping changes fast and responding to them in advance down the road."