A view of POSCO Center in Seoul. (Photos: POSCO)
POSCO will build a new plant to produce electrical steel sheets used to make traction motors for electric vehicles (EVs). The initiative will cost 1 trillion won.
The new plant, with an annual capacity of 300,000 tons, will enable the steelmaker to build a 400,000 ton production structure, including the existing 100,000 ton capacity.
Non-oriented steel sheets are used to raise the efficiency of motors and generators for eco-friendly cars, leading to the boosting of their mileage.
POSCO held a regular board of directors' meeting at POSCO Center in Daechi-dong, Seoul, on Nov. 5, where it approved a proposal to invest about 1 trillion won from next year on a gradual basis to build a non-oriented electrical steel sheet plant with an annual capacity of 300,000 tons.
The step is designed to cope with demand for eco-friendly cars and secure an upper hand in the market.
With the building of the new plant, POSCO will be able to produce high-efficiency products with a thickness of 0.3 millimeters or less, and diverse products with coating characteristics. It is predicted to reduce greenhouse gas emissions by an estimated 840,000 tons annually.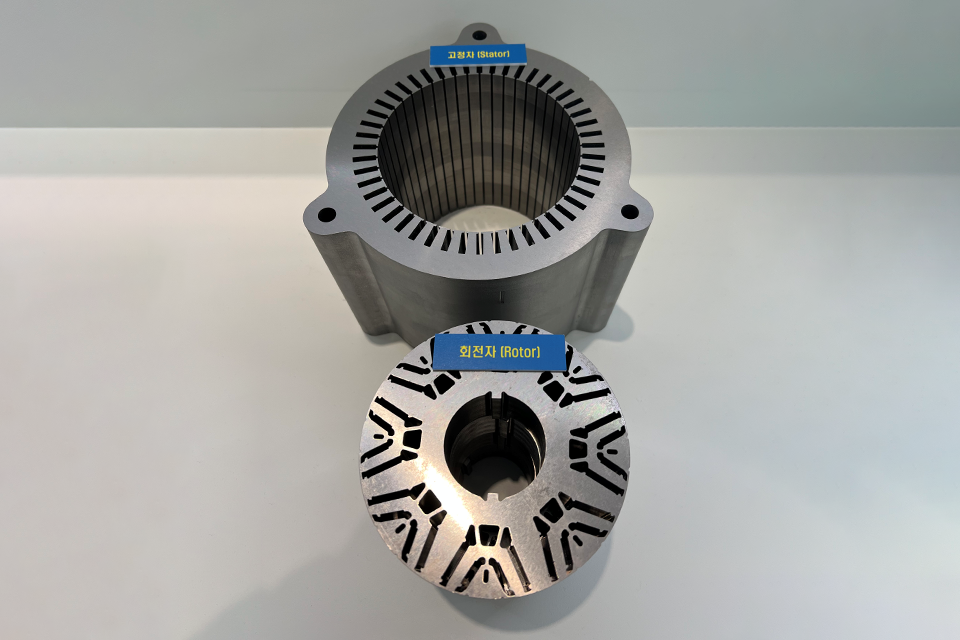 Motor cores, produced by POSCO SPS, using POSCO's Non-oriented electrical steel sheet.
POSCO Named 'The World's Most Competitive Steelmaker' 12 Yrs. in Row
POSCO has been ranked the world's most competitive steel company for 12 straight years.
The global steel strategic information service World Steel Dynamics (WSD) announced the competitiveness evaluation results of global steel companies, and named POSCO the best global steelmaker at the 36th Global Steel Success Strategies Meeting.
The event was held in Miami for two days from November 8 to 9.
POSCO scored a perfect 10 in seven categories: higher-value products, processing cost, technical innovation, manpower capability, new growth business, investment environment, and national risk, for the second consecutive year, and scored a perfect 10 in the category of financial soundness by preemptively securing starting materials and reducing the debt ratio for securing new growth engines, which CEO Choi has emphasized since his inauguration. POSCO placed first overall with a score of 8.54 points (out of 10).
WSD, founded in 1999, evaluates 23 categories for major 35 steelworks around the world and announces a competitiveness ranking based on the total aggregate scores across categories every year.
This ranking is a reference indicator to gauge business performance and the development potential of major global steelworks.
This year, designating the world's most competitive steelmaker, WSD highly evaluated POSCO's performance recovery, transformation into an eco-friendly material company, and leadership in carbon neutrality in the global steel industry.
Although POSCO experienced an unprecedented business crisis due to a global steel demand industry slump caused by COVID-19 last year, it broke the highest performance record since its foundation, with consolidated sales of KRW 20.6 trillion and operating profit of KRW 3 trillion in the third quarter of this year.
POSCO is converting its business structure to an eco-friendly material maker, enhancing sales of eco-friendly steel products and expanding secondary battery materials and hydrogen business.
POSCO increased sales of higher-value World Top Premium (WTP) products from 8.74 million tons last year to 9.3 million tons this year and built a production system for one million tons of GIGA STEEL. In addition, POSCO enhanced its sales platform by continuously launching eco-friendly products such as INNOVILT, e Autopos, and Greenable.
Furthermore, CEO Choi was positively evaluated for leading cooperation measures for carbon neutrality in the global steel industry, for example, successfully hosting the Hydrogen Iron & Steel Making Forum (HyIS Forum) in October to discuss hydrogen reduction steelmaking (HyREX) for the first time in the steel industry.
Two-thousand-twenty-eight people from 348 companies and institutions in 48 countries participated in the HyIS Forum online and offline.
POSCO's unique eco-friendly hydrogen reduction steelmaking (HyREX) technology was recognized for its technology value and competitiveness for the first time in the global steel industry and received a great response for its international solidarity and cooperation in the global steel industry.
CEO Choi was appointed Executive Board of Director of the World Steel Association (Worldsteel) in October, and POSCO received awards in two categories, "Innovation of the year" and "Excellence in communications programmes" in the 12th Steelie Awards.