Chairman Christopher Koo of Korea International Trade Association (KITA). (Photos: KITA)
Chairman Christopher Koo of Korea International Trade Association (KITA) is heading an economic delegation to the United States to ramp up economic security in the private sector.
Korean companies, designated as strategic assets in an era of economic security, are racing to strengthen an alliance between Korea and the United States, and explore ways of coping with unstable global supply chains.
KITA said on June 23 that an economic delegation, led by KITA Chairman Koo, was visiting Washington DC to hold talks with U.S. political leaders for two days from June 22.
KITA and 13 Korean companies, which have entered the United States, including Hyundai Motor, LG, SK Hynix, SeAh Steel and Exiqon, participated in the delegation.
Chairman Koo met with Sen. Ted Cruz from Texas and Sen. Bill Hagerty from Tennessee. Samsung Electronics and LG Energy Solution are building a plant in Austin, Texas, and a battery plant in Tennessee, respectively.
Chairman Koo said during the meetings the first step of the Korea-U.S. economic security alliance is cooperation in the supply chains and core bodies of economic cooperation.
Chairman
Koo called for the United States to supply manpower and build infrastructure as Korean companies are making massive investments in the United States as a partner of collaborating in supply chains.
The U.S. unemployment rate stood at 3.6 percent, the lowest-ever, in June. Korean companies are demanding institutional support to ease difficulties they experience while hiring local manpower.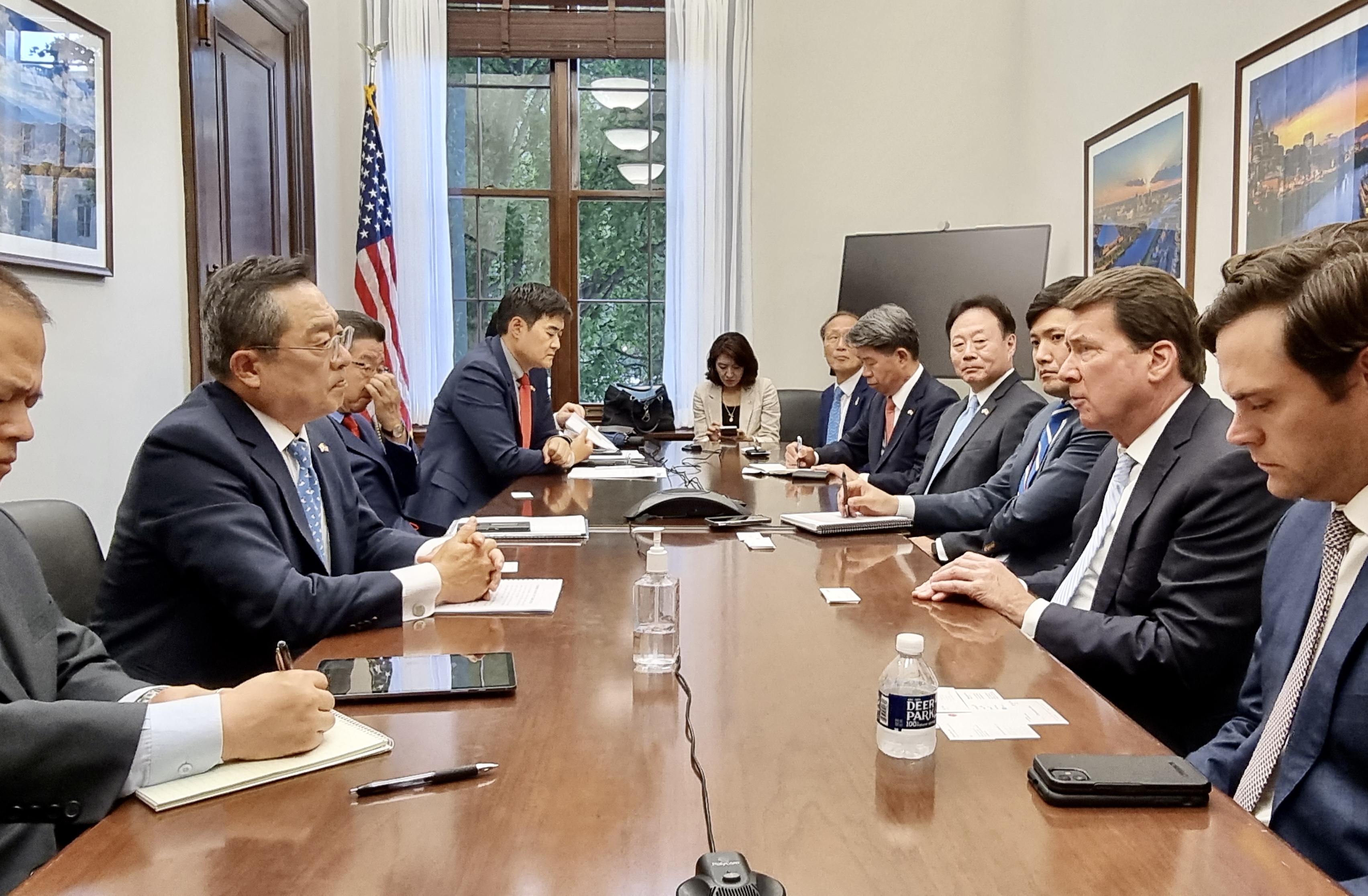 Chairman Christopher Koo of Korea International Trade Association talks with Sen. Bill Hagerty from Tennessee at Washington DC on June 22.
Starting with his meeting with Sen. Alex Padilla from California, KITA Chairman Koo held talks with Peter Harrell, senior director for international economics and competitiveness at the White House National Security Council, who serves as a control tower of U.S. supply chain policies.
Chairman
Koo also met Melanie Nakagawa, NSC Senior Director for Climate and Energy, and Sameera Fazili, deputy director of the National Economic Council.
During the meetings, Chairman Koo said, "Since the United States owns advanced industry core technologies and Korea has excellent manufacturing capabilities, mutual cooperation will have synergetic effects in diverse industries."
He called for Korea and the United States to not only ramp up supply chains, but also strengthen bilateral cooperation in areas such as digital transformation, clean energy, and decarbonization through the Indo-Pacific Economic Framework (IPEF).
The delegation met with six U.S. House representatives, including Rep. Young Kim, at a meeting hosted by the former members of Congress and discussed ways of promoting cooperation in trade and investment.
Prior to their visit to Washington, the delegation visited New York on June 21, and had a meeting with companies in North America and support institutions to lend an ear to complaints and grievances Korean companies experience.
During the meeting, Chairman Koo said the number of employees hired by Korean companies in the United State stood at more than 140,000, raising Korean companies' standing.
KITA will do its utmost to serve as a bridge between the government and companies in the trade, commerce and supply chain sectors, he said.
KITA dispatched a "major industry outreach delegation," headed by KITA Executive Vice Chairman Lee Kwan-sup, to the United States in April 2022.
The delegation met with major figures, including Deputy Trade Representative Sarah Bianchi and Sen. Todd Young.
They discussed ways of expanding collaboration in supply chains. KITA plans to send another delegation to the United States in the second half of the year.