Korea Midland Power (KOMIPO) participated in a ceremony to declare collaboration in energy efficiency innovation at Seoul Lotte Hotel on July 20, in which the power company signed an MOU to build an "eco frontier bank' with Shinhan Bank.
Eco frontier bank refers to an urban, eco-friendly financial institution that espouses the values of energy efficiency, and employs diverse solutions optimized for energy consumption, such as an AI-based energy demand management system.
In accordance with the new government's energy policies, more nuclear power will be used and a paradigm shift will take place from supply to demand efficiency.
That is expected to result in reduced energy imports. resolving the trade deficit and curbing price hikes.
Under the deal, KOMIPO and Shinhan Bank plan to explore energy efficiency solutions to build an eco-frontier bank and implement diverse collaboration projects, such as the development of smart demand management technologies.
This year's demand efficiency project targets Shinhan Bank headquarters, and the project is scheduled to be expanded to cover all branches by analyzing outcomes. It is expected to contribute to establishing an energy demand efficiency market.
KOMIPO President Kim Ho-bin said, "KOMIPO, recognizing the importance of energy demand innovation, will devote itself to leading energy demand innovation through the MOU and make efforts to help the financial institution dramatically reduce energy consumption by employing optimal solutions."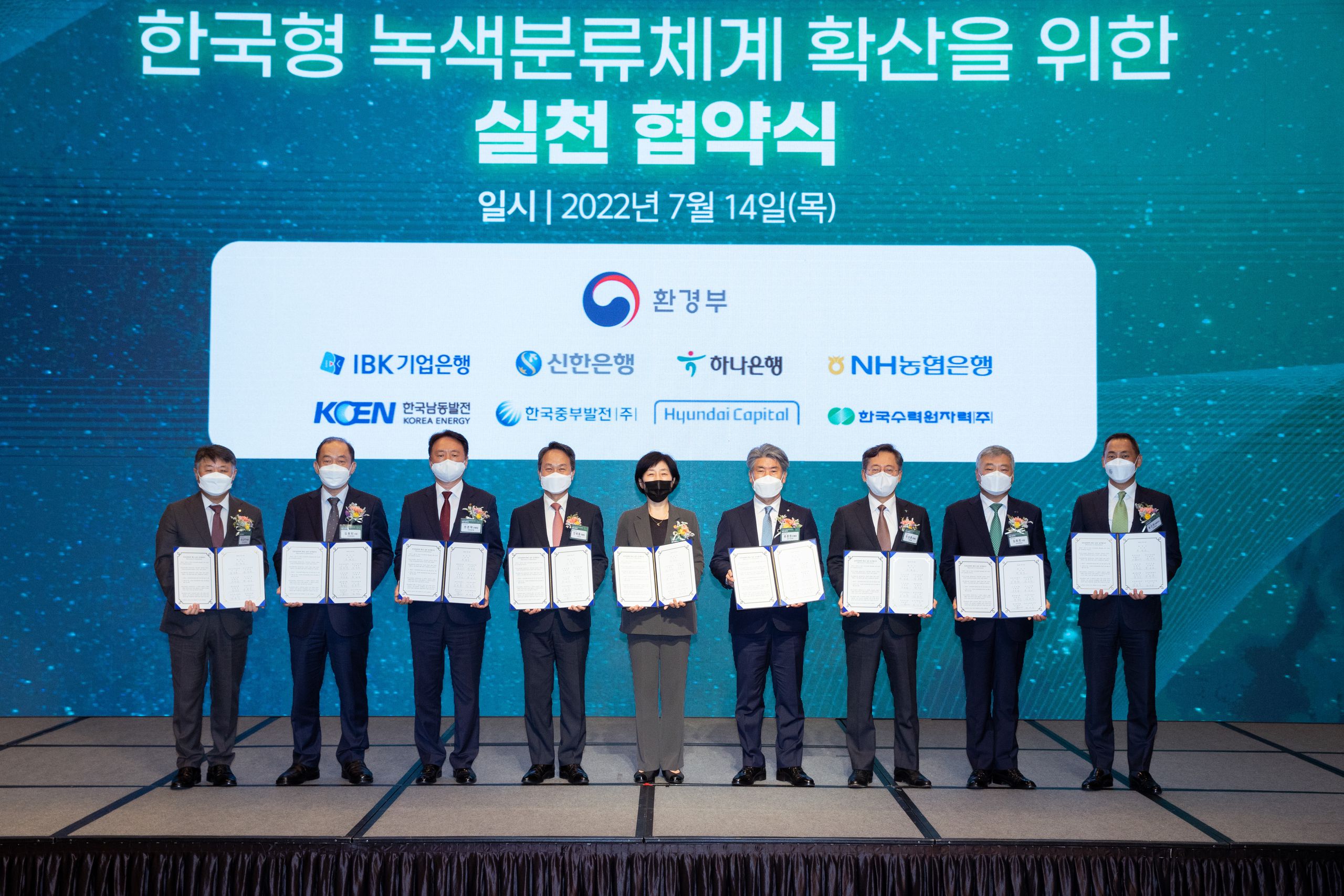 (from left) KEPCO Senior Executive Vice President Choi Nam-woo, KOMIPO President Kim Ho-bin, NongHyup Bank President Kwon Jun-hak, Shinhan Bank President Jin Ok-dong, Environment Minister Han Hwa-jin, IBK President Yoon Jong-won, Hana Bank President Park Sung-ho and President Kim Hoe-chun of Korea South-East Power (KOEN) attend an MOU to spread the "K-taxonomy" at Seoul Millennium Hilton Hotel on July 14. (Photo: Ministry of Environment)
KOMIPO, MOE Sign MOU to Spread 'K-Taxonomy'
Korea Midland Power (KOMIPO) struck an MOU to spread the "K-taxonomy," a green categorization system, with the Ministry of Environment (MOE), banks and companies at Seoul Millennium Hilton Hotel on July 14.
The deal is designed to contribute to realizing carbon neutrality by 2050. It follows a consensus on mutual cooperation to lead financing activities and ESG management based on the so-called K-taxonomy.
During the event, MOE introduced K-taxonomy and explained the direction of its implementation.
Videos on KOMIPO, other companies and banks' green financing and eco-friendly activities and their determination to spread and put into practice K-taxonomy were shown.
Environment Minister Han Hwa-jin said at the event, "We'll endeavor to make K-taxonomy a core means of the green transition and build a foundation to spur the green financing market and sound green investments and take steps to support them."
The deal is expected to serve as an opportunity for financing and industry circles to spearhead investments mindful of the environment, she added.
KOMIPO President Kim Ho-bin said, "KOMIPO will aggressively develop green projects and continuously issue related green bonds so that KOMIPO, an eco-friendly public entity, cab spread the K-taxonomy by reflecting the goal of realizing carbon neutrality by 2040 and energy transition."
Meanwhile, KOMIPO has issued ESG bonds for the fourth consecutive year between 2019 and July 2022 to spearhead efforts to pursue carbon neutrality by 2050 and ESG management.
A pilot project, based on the K-taxonomy, involves the issuance of additional 40 billion won to restore Dongbaekjeong Beach and build pollution-free vehicle infrastructure.
The additional issuance of green bonds brings to 800 billion won the cumulative issuances of ESG bonds.