President Kang Do-tae of National Health Insurance Service (NHIS) shakes hands with his Danish Health Minister Magnus Heunicke after they signed an MOU on cooperation between the two countries in the health sector at the Embassy of Denmark in Seoul on Aug. 30. (Photo: NHIS)
The government has decided to raise the contribution rate of health insurance by 1.49 percent over this year, effective next year.
The Ministry of Health and Welfare (MOHW) convened a meeting of the Health Insurance Policy Deliberation Committee, the health insurance's top governing body, on Aug. 29 and decided on the contribution rate of the health insurance for the year 2023, the ministry said on Aug. 30.
As a result, the contribution rate for insured employees will rise to 7.09 percent next year, an increase of 0.1 percentage point from current 6.99 percent.
The committee, headed by MOHW vice minister, is manned by eight people from subscriber, supplier and public entity circles.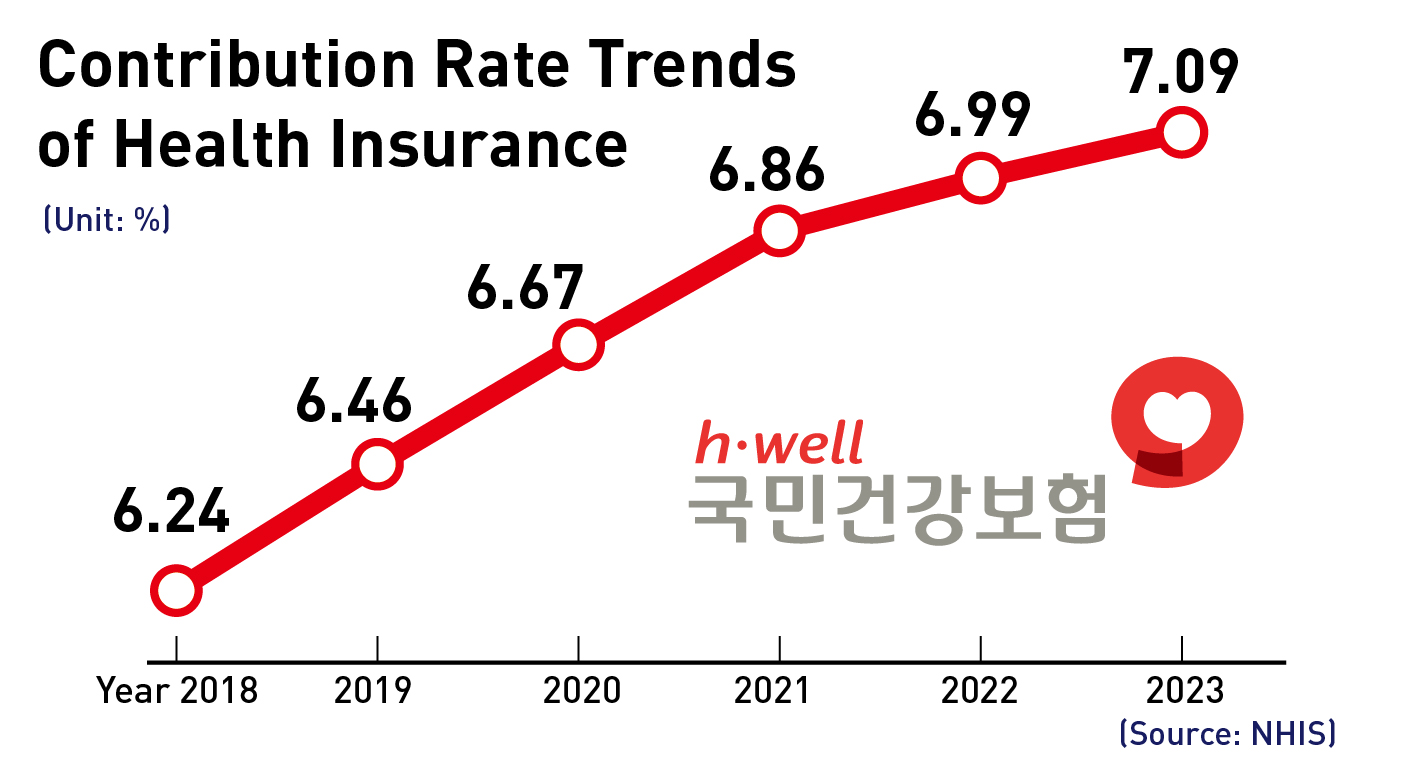 The contribution rate increase plan was approved unanimously. Insured employees will see their monthly average health insurance premiums increase to 146,712 won next year, a rise of 2,069 won from 144,643 won as of July 2022.
Each district subscriber household will have to pay 107,441 won monthly on average next year, an increase of 1,598 won from the current 105,843 won.
In his speech, MOHW Vice Minister Lee Ki-il said, "A health insurance fiscal reform team was inaugurated on Aug. 23 to expand essential medical care so that people's health insurance benefits can be retained and finances can be used at essential areas by eliminating financial loopholes."
The team will look into overuses of health insurance coverage categories and work out how to manage people who have frequented medical institutions and foreigners, Vice Minister Lee said.
Finances being saved through health insurance fiscal reform will be put into expanding essential medical care and medical safety for the underprivileged, he added.
There will be factors to reduce health insurance revenues in the wake of the restructuring of the health insurance premium imposition regime and revision of the income tax and factors to increase expenditures such as a rise in medical costs and executing of essential care, he said.
Health insurance expenditures are growing sharply due to a rise in people's use of medical institutions.
The government will implement the second phase health insurance premium imposition reform plan next month, calling for expanding real estate reductions for the district households insured.
The contribution rate of the health insurance is on a rise every year for the past decade, except the year 2017 the Health Insurance Policy Deliberation Committee refrained from raising the contribution rate, curbing it at 6.99 percent last year.
By law, the cap of the contribution rate for the employees insured has been set at 8 percent of their income.
But as the contribution rate will top 7 percent next year, it is feared to approach the cap during the term of the President Yoon Suk-yeol government.