A model demonstrates the use of Galaxy Watch to experience "Cocore Gym," an interactive home training service released by LG Uplus.
LG Uplus launched "Cocore Gym," an interactive home training service, by connecting a home training service for IPTVs and the smart watch.
The new service employs the smart watch, based on the "Uplus Homet Now" (U+ Homet Now), the conventional service for IPTVs.
Users can confirm their biometric information, such as heart rate and energy consumption amounts while exercising.
The Cocore Gym displays a view of a fitness center to see a home trainer exercises in real time to ramp up motivation for working out.
The Cocore Gym adopts a smart group exercise service. Users can compete with each other while exercising at home.
The new service ranks in real time by confirming each other's energy consumption amounts. Users serve as each other's pacemaker.
LG Uplus said, "Users can experience joint exercising with others through a real-time ranking while engaging in home training."
Users can exercise at home freely without others' hindrance, and they can motivated to work out by adopting competition, the telecom service provider said.
The U+ Homet Now offers about 500 pieces of content related to working out.
The service, which made its debut in August 2021, has topped 1 million cumulative users annually.
LG Uplus predicts that the home training market will be on a constant rise.
A survey of 1,000 people aged between 15 and 60, jointly conducted by LG Uplus and the global market survey firm Kantar, showed that the portion of people who exercise more than once weekly rose over the past two years.
The Cocore Gym can be utilized by connecting UHD3 or higher U+tv set-top box, and the Galaxy Watch 4 & 5 outfitted with Android OS.
LG Uplus offers a three-month free experience period from Sept. 5 before a fee is charged.
Vice President Sohn Min-sun, head of LG Uplus' game/home platform live team, said, "We've tried to improve difficulties of users who find it not easy to continue to exercise."
Starting with the digital fitness combining smart technologies and fitness, LG Uplus will continue to upgrade the services and expand content to reinvent customers' exercise experiences, Sohn said.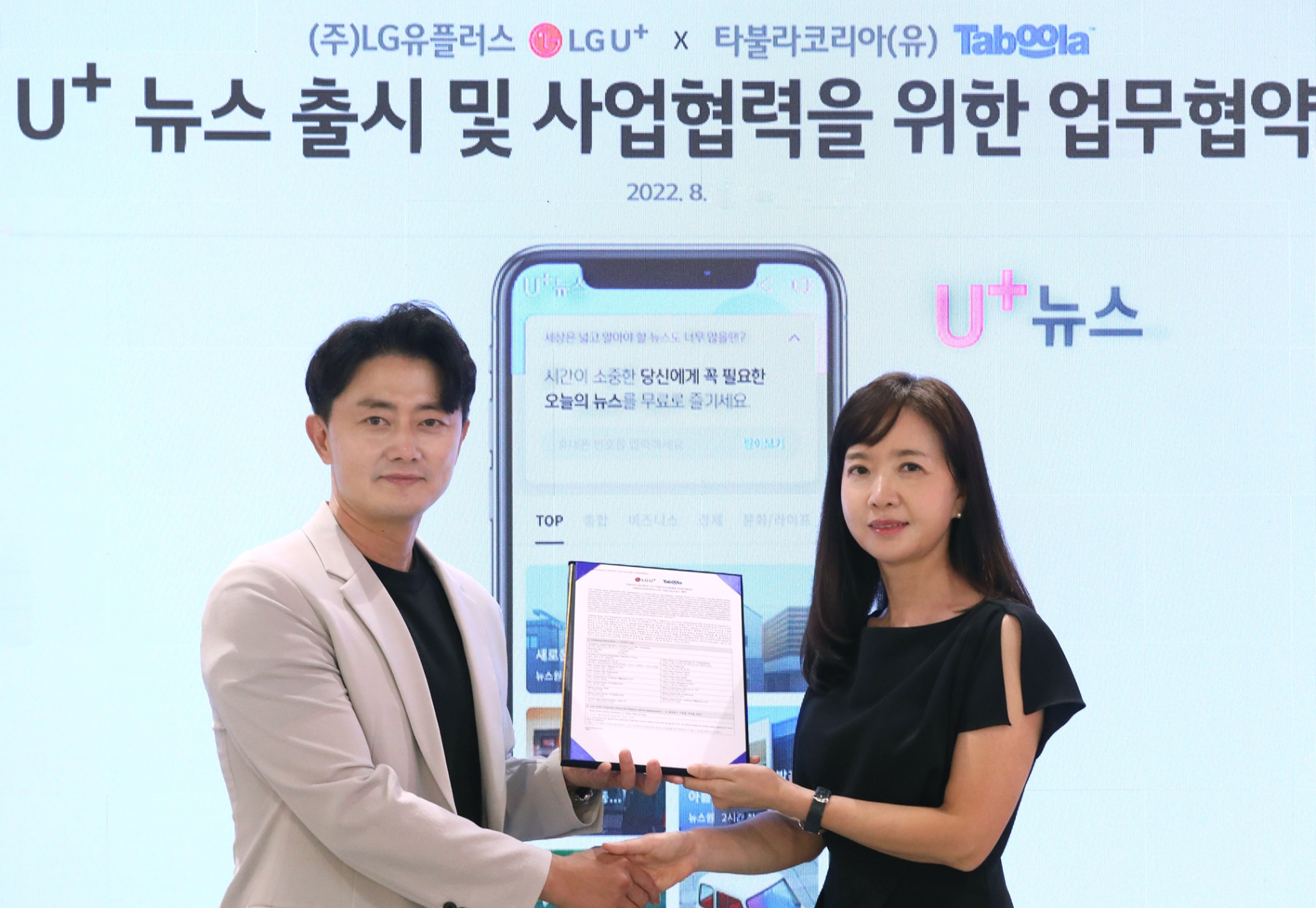 Kim Tae-hoon, head of LG Uplus' Advertising Business Division, and President Lee Yong of Taboola Korea pose after they signed an MOU at LG Uplus' Youngsan office on Aug. 29. LG Uplus released "U+ News" service in cooperation with Taboola. (Photos: LG Uplus)
LG Uplus Releases 'U+ News,' Tailored to Reflect Customers' Concerns
LG Uplus released "U+ News" service, designed to offer important news by reflecting customers' concerns every morning in cooperation with the global discovery platform "Taboola," the telecom service provider said on Aug. 30.
U+ News is a subscription-type service targeting LG Uplus' mobile customers, offering tailored news content in a smart push format.
The smart push format, departing from the push format of sending all customers, is a message sent to target customers through data analysis.
The service is designed to help customers consume news proactively.
Outcomes of a survey, conducted by LG Uplus earlier, showed that customers pick news as the most used content item of the portal sites, except the search function.
About 80 percent of news customers are found to use other channels on top of the port sites.