Korea Power Exchange (KPX) received an excellence award in the 1st Korea ESG Innovation Policy Grand Prize on Sept. 23. (Photos: KPX)
Korea Power Exchange (KPX) received an excellence award in the 1st Korea ESG Innovation Policy Grand Prize on Sept. 23.
The Korea ESG Innovation Policy Grand Prize, introduced by Korea Association of Policy Studies this year, was presented to public entities and public enterprises, which had excelled in the implementation of ESG policies to achieve sustainable ESG management.
The grand prize was designed to explore, share and spread good ESG innovation policy examples.
ESG, short for environment, social and governance, is a yardstick to evaluate how much institutions and companies' production and investment contribute to sustainability of social communities. Of late, world-class companies tend to recognize ESG as a major index for creating values.
KPX won an excellence award in the governance category of the 1st Korea ESG Innovation Policy Grand Prize.
KPX was highly praised for making diversified efforts, such as building of outside and inside open-type communication systems by operating a specialized committee of each improvement area of the market system.
The specialized committee restructured the operation of the domestic power market and governance of the market system and forming a regular consultation body among KPX and market participants.
KPX was also recognized for exemplifying diverse ESG projects, such as striking an MOU on technology and manpower development with SMEs of the power industry by having customers' meeting with organizations related to the power industry, including the private power consultation body, and reducing greenhouse gas emissions of the power industry and a project to reutilize coffee leftovers involving 13 public entities in the Gwangju and Jeonnam innovative city.
KPX had been credited with operating an ESG strategy committee under the control of the board of directors, and KPX chairman's making aggressive ESG innovation efforts, such as his inspecting of each department's ESG management progress outcomes each half and holding a companywide ESG management seminar.
Moon Kyung-sup, head of KPX's power market division, said at the awards ceremony, "KPX has recognized the implementation of ESG management as a core matter the public entity should abide by and all members at KPX will make endless efforts to realize KPX's ESG values and innovate itself."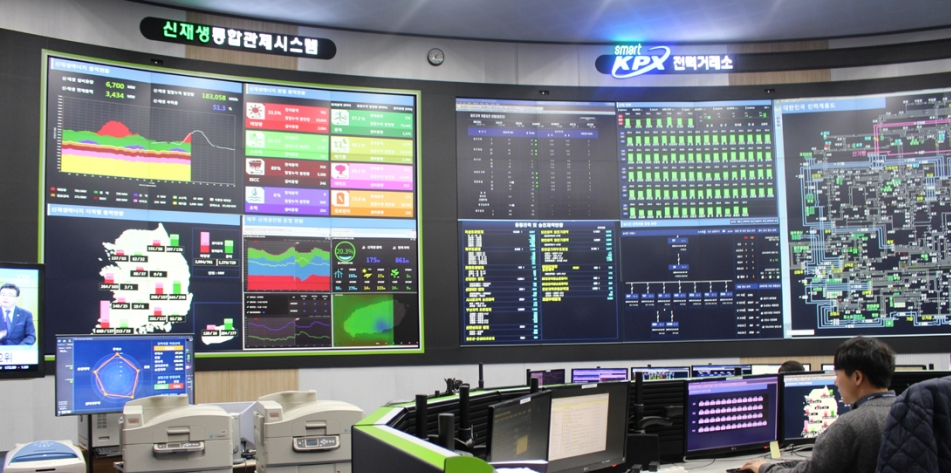 A view of Korea Power Exchange's Central Power Control Center.
KPX to Host 18th Seoul International Conference on Electricity Market
Korea Power Exchange (KPX) said on Sept. 26 KPX will hold the 18th Seoul International Conference on Electricity Market (SICEM) at Seoul InterContinental COEX Hotel on Oct. 7.
According to KPX, as securing the safety of electricity supply has emerged as a national task due to recent resources supply uncertainties, the theme of this year's conference has been designed as "Innovation and Responses of the Electricity Market to Ramp Up Electricity Security."
The upcoming event will look into current progress situations of both foreign countries, including North Korea, Europe and Australia, and Korea and explore specific ways of coping with them.
SICEM 2022 will consist of a key-note speech and two sessions. Chairman & CEO Stefano A. Donnarumma of Terna, an Italian power grid operator and the 15th head of the power grid operator association GO15, will deliver a key-note speech under the theme "The Role of Transmission System Operator: the Director of the Energy Transmission."
Speakers of the first session will speak of the theme "Wholesale Electricity Market and the Power Gird Network's Actions and Roles for Electricity Security."
They will include Kim Hyung-gwan, a researcher with Lawrence Berkeley National Laboratory of the United States, who will discuss on the hybrid power sources in the North American markets and their role in the impact on prices in the rapidly changing market.