President Kang Goo-young of Korea Aerospace Industries (KAI) and Minister of Defence of the Slovak Republic Jaroslav Nad get a briefing from a KAI official as they toured KAI's booth at 2022 DX Korea, which took place at KINTEX in Goyang, Gyeonggi-do, from Sept. 21 to Sept. 25. (Photos: KAI)
Korea Aerospace Industries (KAI) introduced a small, multi-purpose helicopter for special operations and a homegrown, multi-purpose transport aircraft, replacing old transports, and the ship plane KF-21N.
Korea Aerospace Industries participated in the 2022 DX Korea that took place at KINTEX in Goyang, Gyeonggi-do, from Sept. 21 to 25 and displayed fixed-wing aircraft and urban air mobilities (UAMs) that will serve as core forces for future conflicts.
A prototype of the light armed helicopter (LAH), a rotary-wing aircraft for military service in 2023 was introduced.
In particular, KAI unveiled its light utility helicopter (LUH), an improved version based on its light attack helicopter. LUH, outfitted with special operation equipment by remodeling part of LAH's specifications, is capable of realizing new operational maneuvers.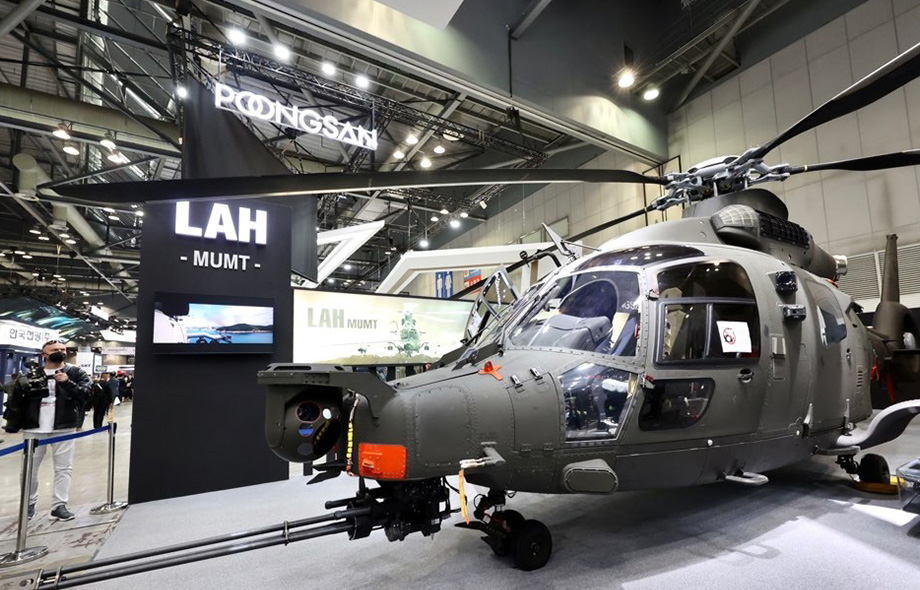 A view of the light armed helicopter (LAH), on show at KAI's booth at 2022 DX Korea.
LUH, to be developed in an armed and unarmed format, will serve as a commanding control aircraft, manned by a commanding officer. It is expected to be developed as a special operation and attack helicopter to transport members of a special operation unit and a reconnaissance aircraft, ramping up operational range and survival by detecting and scouting via outfitted unmanned aircraft.
LAH is a homegrown helicopter, developed to replace the old attack helicopters 500MD and AH-1S. It is capable of firing air-to-land guided missiles, a 20mm turret gun and a 70mm rocket bomb to overpower tanks located a few kms away to carry out aircraft strike missions.
Among the fixed-wing aircraft on display were a Korean-type, multi-purpose transport carrier which made its debut this time, a model of the ship plane KF-21N, and an improved model of FA-50.
The Korean-type, multi-purpose transport, unveiled at the 2022 DX Korea for the first time, is expected to be outfitted with a turbo-fan engine, instead of a propellor of the conventional transport aircraft in service for the military.
The transport is characterized by a bigger size, a faster speed and improved transportation capabilities, compared to the conventional ones already in operation.
It can be converted and remodeled into special mission aircraft, such as marine patrol planes, fully depending on foreign imports due to absence of homegrown large-sized platforms.
The ship plane KF-21N, proposed by KAI, based on Korea's first homegrown fighter KF-21 Boramae, is aimed for the operation of an aircraft carrier. It is capable of be armed with air-to-air, air-to-land, and air-to-ship missiles.
The UAM, developed by KAI on its own, is a vertical landing and take-off aircraft capable of carrying out multi-purpose mission as a civilian-cum-military use format.
KAI is conducting lead research on a reduction version through its own R&D investments and it plans to develop reconnaissance plans with souped-up survival by the early 2024.
Korea Aerospace Industries signed an executive contract to export 48 FA 50 light attack jets to Poland on Sept. 16. The $3 billion deal is the biggest since KAI began to export T-50 light attack planes.
It is the first time KAI has entered the European market. The deal is expected to boost global concern over Korea's improved version.
KAI President Kang Goo-young said, "KAI should be reborn into a value-added company based on software to contribute national self-dense." 2022 DX Korea would serve as an opportunity for KAI to showcase its new growth engine, he added.