Lotte Group Chairman Shin Dong-bin. (Photo: Lotte Group)
Lotte Chemical has completed a process of acquiring Iljin Materials, which specializes in copper coil, a core material for secondary batteries.
Lotte Chemical's expansion of the value chain in the secondary battery material sector effectively secures a foothold to grow into a global EV material company.
Lotte Chemical said on Oct. 11 the company struck a stock purchase agreement to take over a 53.3 percent stake in Iljin Materials for 2.7 trillion won.
Iljin Materials has production centers in Korea and Malaysia. The company is a copper coil maker, ranking fourth in the global market share with an annual production capacity of 60,000 tons.
Lotte Chemical plans to build production centers in Malaysia, Spain and the United States capable of producing a combined 230,000 tons by 2027.
The plant in Malaysia has a stable unit price competitiveness on the back of cheaper electricity rates using large-scale hydroelectricity power generation and wages.
The Spanish plant is expected to be built as a production center using eco-friendly energy resources, such as photovoltaic power and wind power.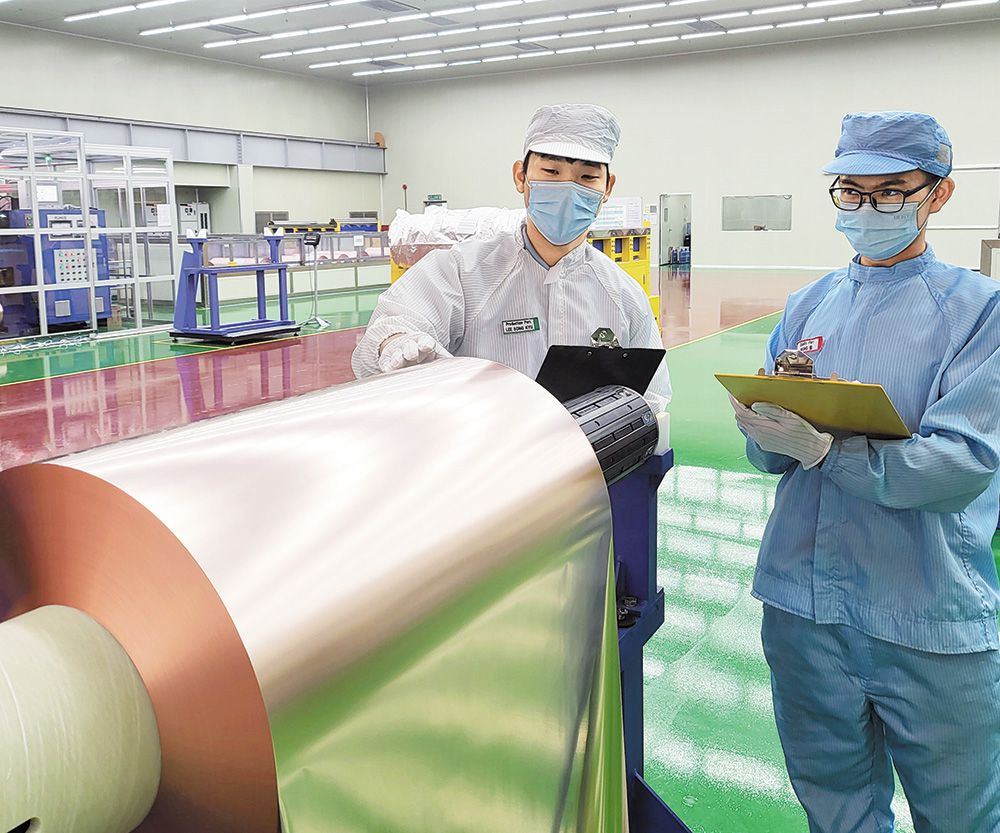 An employee with Iljin Materials' plant in Kuching, Sarawak, Malaysia looks into the quality of finished copper foil products. (Photo: Iljin Materials)
Iljin Materials posted 388.5 billion won in sales and 46.8 billion won in operating profit in the first half of this year.
CEO Kim Kyo-hyun of Lotte Group's Chemical Business Unit, said, "Iljin Materials has an excellent technology power enough to have developed the world's first super high-intensity copper coil."
Lotte will do its utmost to raise its business capabilities in the battery material business sector through timely choice and concentration and lead efforts to improve values of companies, customers and shareholders through organic collaboration among subsidiaries, he said.
Meanwhile, Lotte Chemical earlier came up with a plan to invest a combined 4 trillion won and set a goal of posting 5 trillion won in annual sales by 2030, but the latest acquisition is expected to achieve the goal earlier than planned and see its sales further surge in the years to come.
In July, Lotte Chemical came up with a plan to build its first cathode foil production facility in the United States.
Lotte Chemical and Lotte Aluminum, another Lotte affiliate, will invest US$254 million in a 70:30 joint venture to build the production site in Kentucky by 2025, Lotte Chemical said.
The plant will aim to annually produce around 36,000 tons of cathode foil, a key material in lithium-ion batteries used in electric vehicles, Lotte said. The investment will be made through their U.S. subsidiaries.
Companies under the umbrella of Lotte Group's Chemical Business Unit have been aggressively investing in the diverse battery material businesses.
Lotte Chemical, Lotte Precision Chemical and Lotte Aluminum have been engaged in direct and indirect investing and producing four battery materials, including anode material and cathode material, lithium ion battery separator and electrolyte.
Vice President Shin Yoo-yeol, Son of Lotte Group Chmn. Shin, Groomed as Heir-Apparent
Lotte Group has maintained close relationships with Nomura Securities, in which Lotte Group Chairman Shin Dong-bin began his career in 1982.
Lotte and Nomura have made exchange meetings in which the Nomura Research Institute releases the following year's global economic outlooks and Lotte's future since 2006.
The latest Lotte-Nomura exchange meeting took place at the Lotte World Tower in Jamsil, Seoul, on Sept. 28.
Vice President Shin Yoo-yeol of Lotte Chemical's Japanese branch, a son of Lotte Group Chairman Shin and a third-generation offspring of Lotte's founder, took part in the meeting.
It was the second time the senior Shin and the junior Shin publicly appeared together. The two attended a public event held in Hanoi, Vietnam, in September.
The junior Shin's public appearances may be construed as an indication that he has begun to undergo management lessons to be groomed as an heir-apparent of the group.