Chairman Lee Jay-hyun of CJ Group. (Photos: CJ Group)
CJ has established a mid-term vision of building a future growth foundation by prioritizing investing more than 10 trillion won in four growth engines: culture, platform, wellness and sustainability.
In order to support this plan, the business group is stepping on the gas to reinvent personnel management and corporate culture, since it is more important to create an environment in which gifted manpower can reach their potential.
Business sources said on Nov. 30 that CJ became one of the top 10 business groups to have wrapped up a regular reshuffle in October, two months earlier than the previous year.
CJ Group conducted the personnel change in October for the first time in four years, since the one conducted in 2018.
CJ's earlier reshuffle may be seen as the group's move to focus on establishing a future growth-oriented vision and future strategies.
CJ Group Chairman Lee Jay-hyun, seeing manpower as the key to future growth, is hitting the gas to secure gifted manpower and overhaul the corporate culture.
In November last year, CJ announced that it would build a foundation for sustainable future growth by investing more than 10 trillion won, which was designed to focus on the four growth engines of C.P.W.S (Culture, Platform, Wellness, and Sustainability).
Explaining the group's mid-term vision, CJ Group Chairman Lee stressed creation of CJ in which "top talented manpower want to come and grow together by building a corporate culture in which new generation people break the conventional mold and challenge new things at their heart's content."
CJ is prioritizing the provision of a self-directed immersion environment in which executives and staffers themselves can design their work time, space and career by hiring talented manpower regardless of age, seniority and grade.
The business group has been undergoing fundamental changes by introducing extraordinary steps to overhaul its corporate culture through institutional reform, such as eliminating conventional rank and job classification, in-house contest to fill major positions and support of work-life balance.
Breaking the conventional rank and job classification is the start of the changes the business group is now undergoing.
CJ ENM's entertainment division abolished the seniority classification in January, reshaping itself into a horizontal one instead of job classifications, such as section chief head.
Any talented person with rich expertise will be promoted to a star creator or management leader (executive) within 10 years.
CJ unified the six-step executive hierarchy into one: a management leader ahead of the regular reshuffle last year-end.
The business group has been implementing "CJ WORK ON," a center office, and "selective" working hours in which employees are free to select.
They were enforced as part of a roadmap to create an environment that encourages talented individuals to work freely.
Since then, the group has continued to see growth despite the global economic downturn, breaking the record for best sales outcome for the first time in its history, surpassing 10 trillion won in quarterly sales (as of the second quarter).
At a CEO meeting held at CJ Manpower Research Institute on Oct. 27, Chairman Lee called for the establishment of a vision encompassing the company philosophy "only one" and plans to make unmatched ones and execute them immediately next year.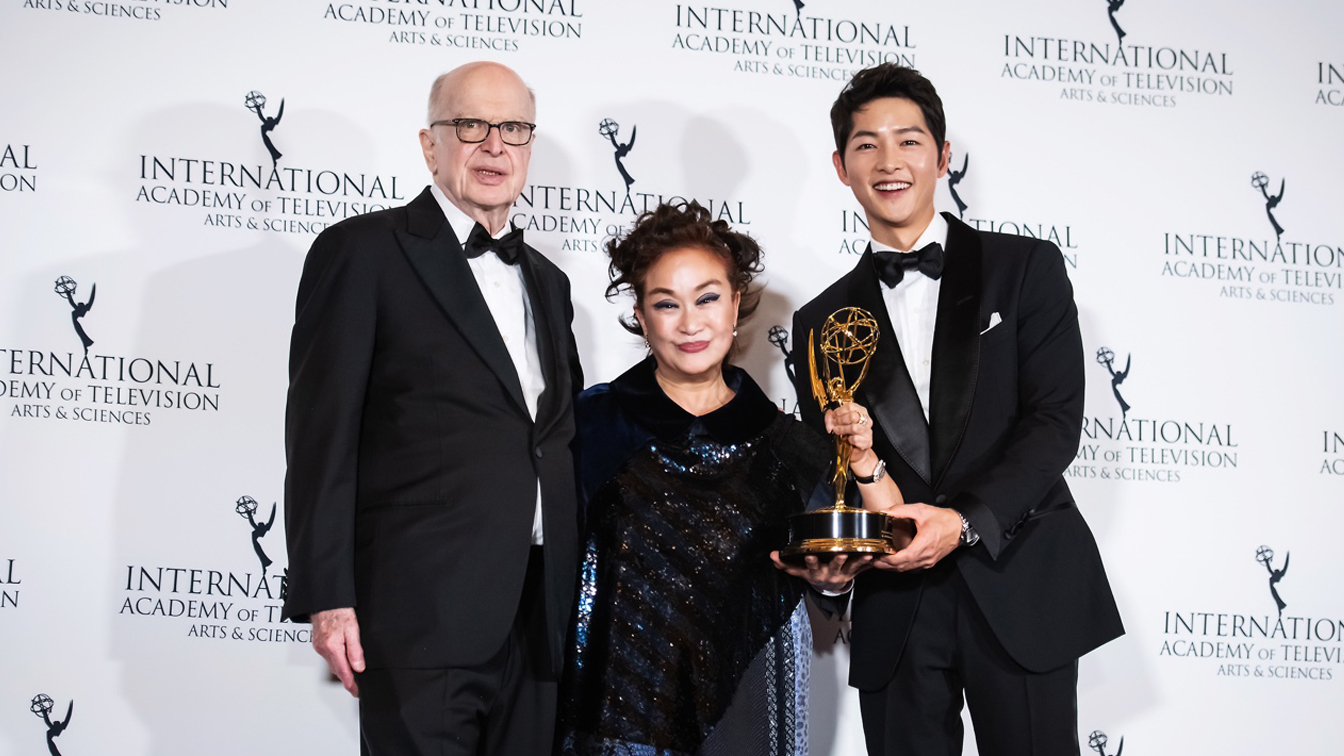 Vice Chairperson Miky Lee of CJ ENM holds her 2022 International Emmy Directorate Award with Korean actor Song Joong-ki, who congratulated on her winning award at the 2022 International Emmy Awards ceremony in New York, Nov. 21.
CJ Vice Chairperson Miky Lee Honored with 2022 International Emmy Directorate Award
Vice Chairperson Miky Lee of CJ ENM received the 2022 International Emmy Directorate Award at the 50th International Emmy Directorate Awards, held in New York, on Nov. 21.
She has been recognized for aggressively globalizing Korean pop culture and establishing a foothold for Korean films and dramas in North America.
The International Emmy Directorate Award is given to organizations or individuals who have made outstanding contributions worldwide in the broadcasting industry.
Vice Chairperson Lee also received the Pillar Award at the 2nd Academy Museum Gala Icon Award held on Oct. 15.
The Pillar Awards are given to producers who have served as pillars for supporting culture and art and contributing to the development of films. Winning the awards means Lee has been recognized for her contribution to the development of Korean films.
Vice Chairperson Lee led the Oscar race for "Parasite" (directed by Bong Joon-ho), which won 4 Oscars (Best Motion Picture of the Year, Best Achievement in Directing, Best Original Screen Play, Best International Feature Film) in 2019.
Lee also has been vice chairperson of the board of directors of the Academy Museum of Motion Pictures since 2020, and on March 8, U.S. media, Variety, selected her as the 'International Media Woman of the Year 2022,' commemorating 'International Women's Day.'