POSCO Group Chairman & CEO Choi Jeong-woo.
POSCO Group is evolving into an energy and material maker.
POSCO Group saw its mainstay steel business unit business performance decline due to the impacts of worsening marketing conditions and flooding, but the group has established itself as a company prioritizing energy and materials in its business portfolio by logging the best-ever performance in the two sectors.
POSCO Holdings, the holding company of POSCO Group, chalked up 84.8 trillion won in sales, 4.9 trillion won in operating profit and 3.6 trillion won in net profit on a consolidated basis last year.
The company saw its sales increase 11.1 percent year-on-year, but operating profit and net profit plunge 46.7 percent and 60 percent year-on-year, respectively.
POSCO, specializing in the steel business, posted 42.695 trillion won in sales and 2.295 trillion won in operating profit last year, presenting a 7 percent rise and a 65.5 percent plunge, respectively, compared to the previous year.
By sales, the energy business was small, but its operating profit accounted for more than half of POSCO Holdings' total operating profit.
POSCO Chemical saw its annual sales surpass 3 trillion won last year, logging the best-ever business performance on the back of the growth of the battery material business.
POSCO Group saw its mainstay steel business decline last year, but the group received a good reception from the bourse by seeing its energy and material business make a leap forward.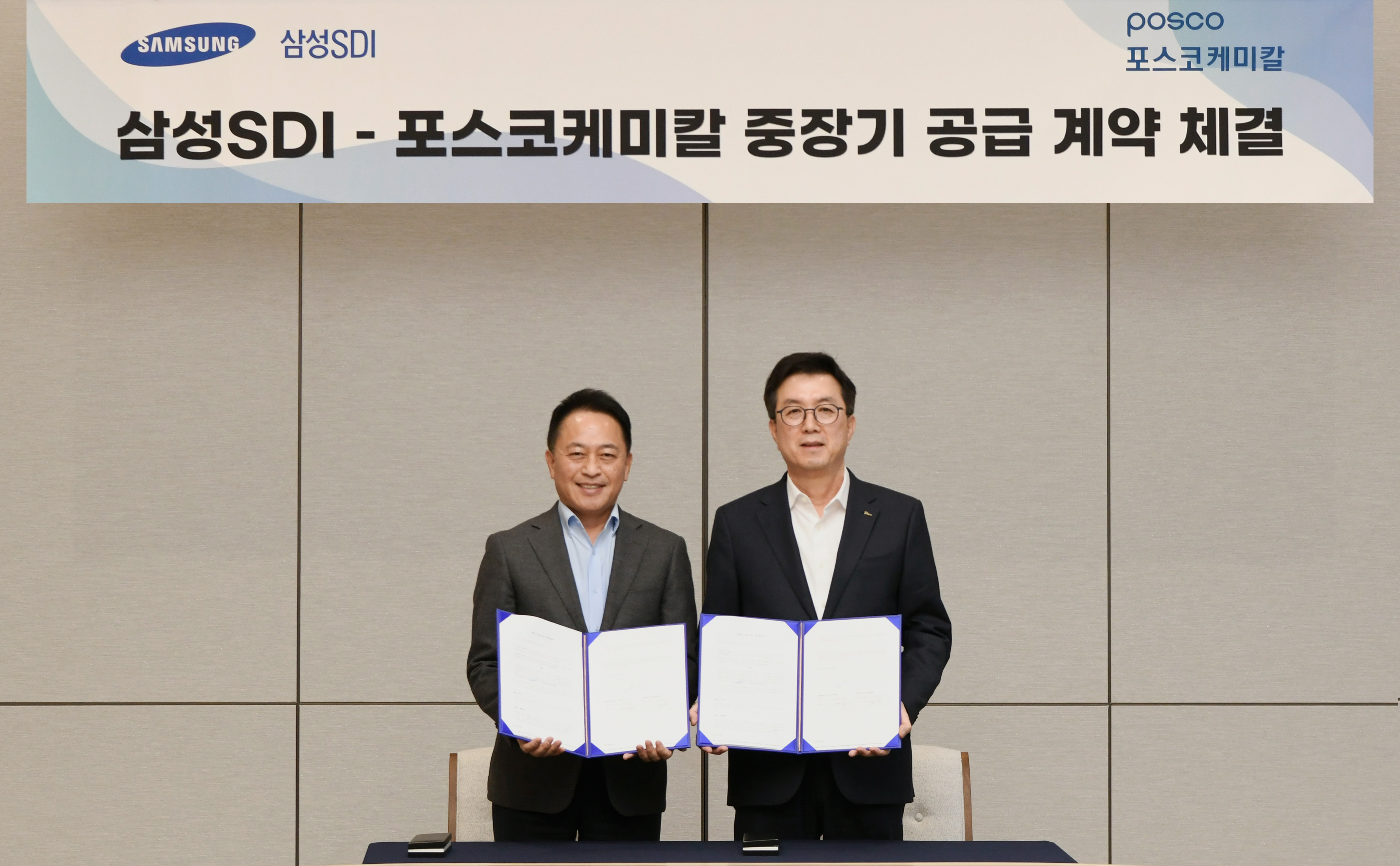 POSCO Chemical President Kim Jun-hyeong (right) and Samsung SDI President Choi Yoon-ho pose after the two companies struck a mid-to long-term supply contract for cathodes.
POSCO Chemical Establishes Full Value Chain, from Securing Raw Materials to Production
In the latest success, POSCO Chemical on Jan. 30 struck a deal to supply high-nickel NCA cathodes for electric vehicle batteries to Samsung SDI for 10 years from this year to 2032.
The supply agreement, which is worth 40 trillion won, is the best-ever and longest-term order POSCO Chemical has taken home since its foundation.
With the deal, POSCO Chemical has enlarged its product portfolio to include NCA cathodes on top of NCM and NCMA cathodes, which have so far been the company's principal products, as well as winning a new client, Samsung SDI, who supplies batteries to various global automakers, thereby laying the foundation for another quantum leap forward.
NCM and NCMA cathodes are made using lithium, nickel, cobalt, manganese (and aluminum) as raw materials while NCA cathodes are made using lithium, nickel, cobalt and aluminum as raw materials.
Since starting its cathode business in 2012, POSCO Chemical has actively carried out research and development to achieve product diversification in line with the rapid growth of the electric vehicle market and increasingly segmented consumer needs, with the company currently holding five product groups.
As POSCO Chemical is also developing lithium ferro-phosphate (LFP) cathodes, which are used for low-end electric vehicles, its product groups are expected to be further diversified in the future according to market conditions.
POSCO Chemical plans to further strengthen its long-term cooperative relationship with Samsung SDI in a bid to penetrate the electric vehicle market based on its stable global mass production capacity and raw material competitiveness.
POSCO Chemical president Kim Joon-hyeong said, "Our efforts to expand our product portfolio through partnerships with clients and to enhance our business competitiveness in response to the rapidly growing electric vehicle market have now paid off. By producing world-class cathodes through close cooperation with Samsung SDI, we will further cement our position as a global market leader."