Chairman Jung Ki-hwan of Korea Racing Authority (KRA) speaks at a New Year's workshop to discuss how to implement core tasks this year at KRA headquarters on Jan. 18.
Korea Racing Authority (KRA) suggested customer, innovation and safety as three strategies the authority will implement this year and will devote itself to normalizing management and achieving outcomes.
KRA held a New Year's workshop to discuss how to implement core tasks this year at KRA headquarters on Jan. 18.
KRA Chairman Jung Ki-hwan said, "I'll devote myself to developing our organization, racing and horse industry, and if all members join forces toward common goals, we can reap fruit year-end as we target.
Industry sources said on Feb. 2 that KRA established three strategies the authority will implement this year: creating customer values, expanding innovative outcomes and strengthening the safety environment.
Last year, KRA made strenuous efforts to normalize racing, which resumed after two years of interruptions caused by the COVID-19 pandemic.
It also sought to rebuild the racing and horse industries. The authority achieved its first profit in three years, but the racing and horse industry economy remained under pre-pandemic levels.
KRA is pondering how to lead major businesses in each area based on certain goals and implementation strategies to become a global top 5 horse industry leader by 2037.
In his New Year's message, KRA Chairman Jung urged his executives and staffers to pursue innovation by ramping up organizational capabilities, such as management based on customer values, raising profitability and establishing in-house surveillance and establishing life and safety values.
First, KRA plans to meet customers' needs and attract new clients by improving racing quality and customer services.
Starting this year, the authority plans to accelerate the implementation of development tasks, such as improving the competitiveness of homegrown horses, attracting excellent racing manpower, and operating of international standards on racing, which had been put on hold due to the pandemic.
KRA is hitting the gas to create new clients through establishment of watching and cheering culture, reinvigorating of seasonal festivals and ramping up customer satisfaction strategies.
The authority plans to create a customer-friendly racing environment by ramping up racing soundness and user protection, in addition to putting a stop to illegal racing. KRA aims to log 7 trillion won in sales and attract 10.39 million spectators this year.
KRA also decided to establish a sustainable management environment by improving management profitability and raising efficiency.
To this end, the authority plans to ramp up financial soundness by reducing current expenses and disposing of non-essential assets while overhauling personnel and merit-based compensation systems to create a corporate culture in which everyone wants to work.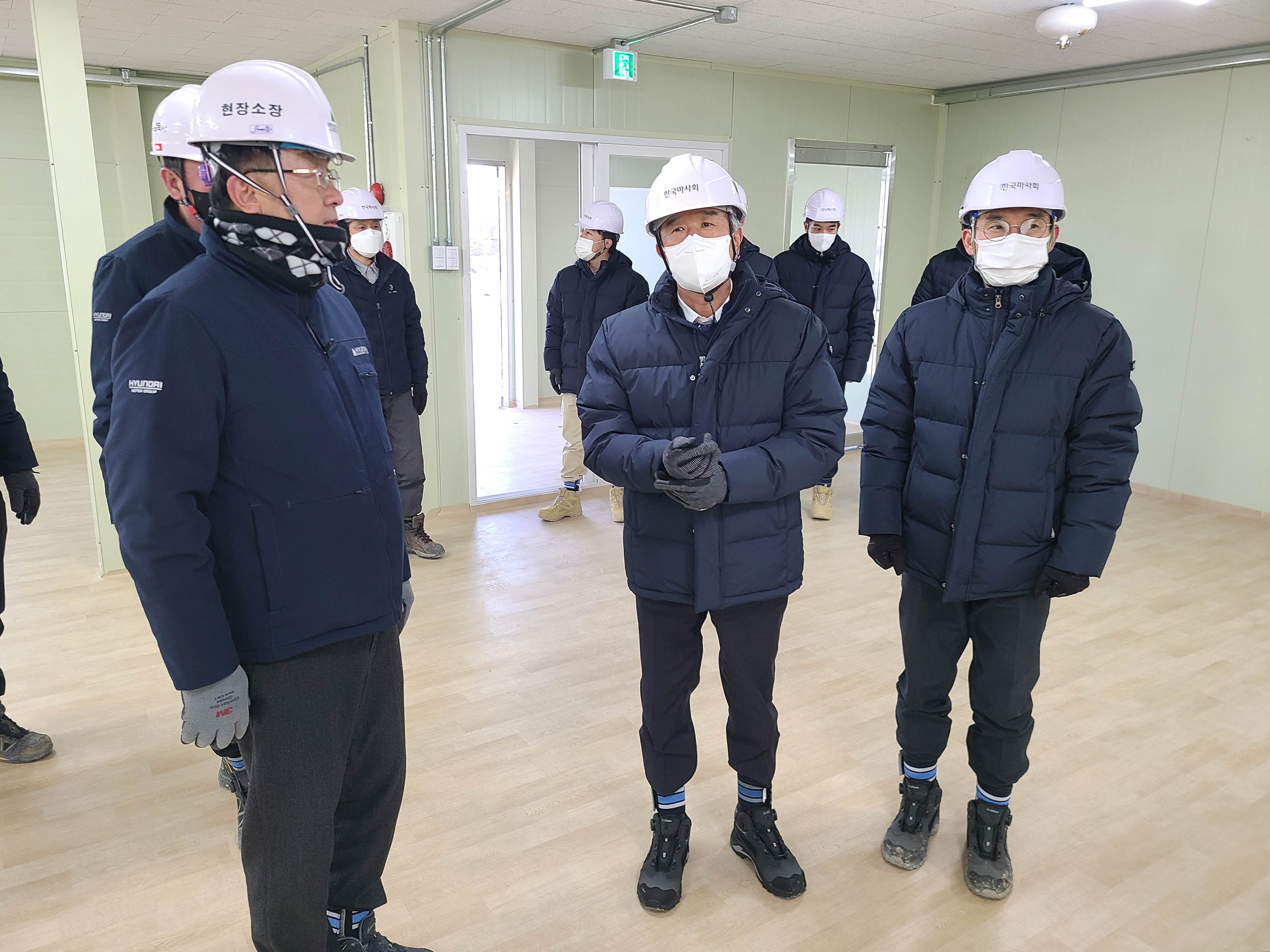 KRA Chairman Jung Ki-hwan makes an inspection tour to look into the construction site of Yeongcheon LetsRun Park, under construction, on Jan. 27. (Photos: KRA)
KRA plans to launch a project to build an in-house surveillance system to preempt uncertain management risks and purse efficient management.
KRA plans to lead digital innovation by building online racing systems corresponding to an digital era and customer experience management regimes.
The authority plans to introduce an online ticketing system as soon as possible to enable non-contact racing in the case of cases, such as the COVID-19 pandemic.
Lastly, the company is ramping up safety.
KRA is responsible for ensuring safety on the part of not only employees, but also those in racing and horse-riding.
Of late, social concern over the welfare of animals is on the rise, so KRA plans to implement core tasks, such as managing the welfare of each horse's lifecycle, building serious industrial disaster-free worksites, ramping up racing spectators' safety and building a safe horse-riding environment.