The Ministry of Culture, Sports and Tourism (MCST) and the Korea Tourism Association jointly held the 2023 Tourism Industry Forum at Lotte Hotel in downtown Seoul on Feb. 1.
The forum took place under the theme, "2023, a First Year of becoming a Tourism Power, Making a Fresh Leap Forward through K-Culture, Convergence Tourism."
The forum coincided with a New Year gathering for tourism policymakers and those in the tourism industry.
Korea is cashing in on the standing of K-culture, which is all the rage across the globe, on the occasion of the "Visit Korea Years 2023-2024" initiative.
The government has established the 6th tourism promotion master plan, calling for attracting 30 million inbound tourists and earning $30 billion in tourism revenues by 2027, with a vision of being a tourism power based on K-culture.
Prof. Shim Won-sup of Mokpo National University spoke of the theme "Attractive Convergence of Tourism and K-culture and Success Strategies of Visit Korea Years 2023-2024.
He said, "The Visit Korea Years 2023-2024" initiative is more proper than any time, and it is important to establish and implement promotion strategies with exact direction since the tourism sector is a very pragmatic business area."
Prof. Shim cited five promotion tasks: building a sustainable tourism industry ecosystem in the post-COVID-19 pandemic, realizing a society balancing work and life through tourism, nurturing the tourism industry into a new growth engine sector in the digital transformation era, restoring international tourism exchanges and supporting a leap forward, and creating regional values and reinvigorating regional economies through tourism.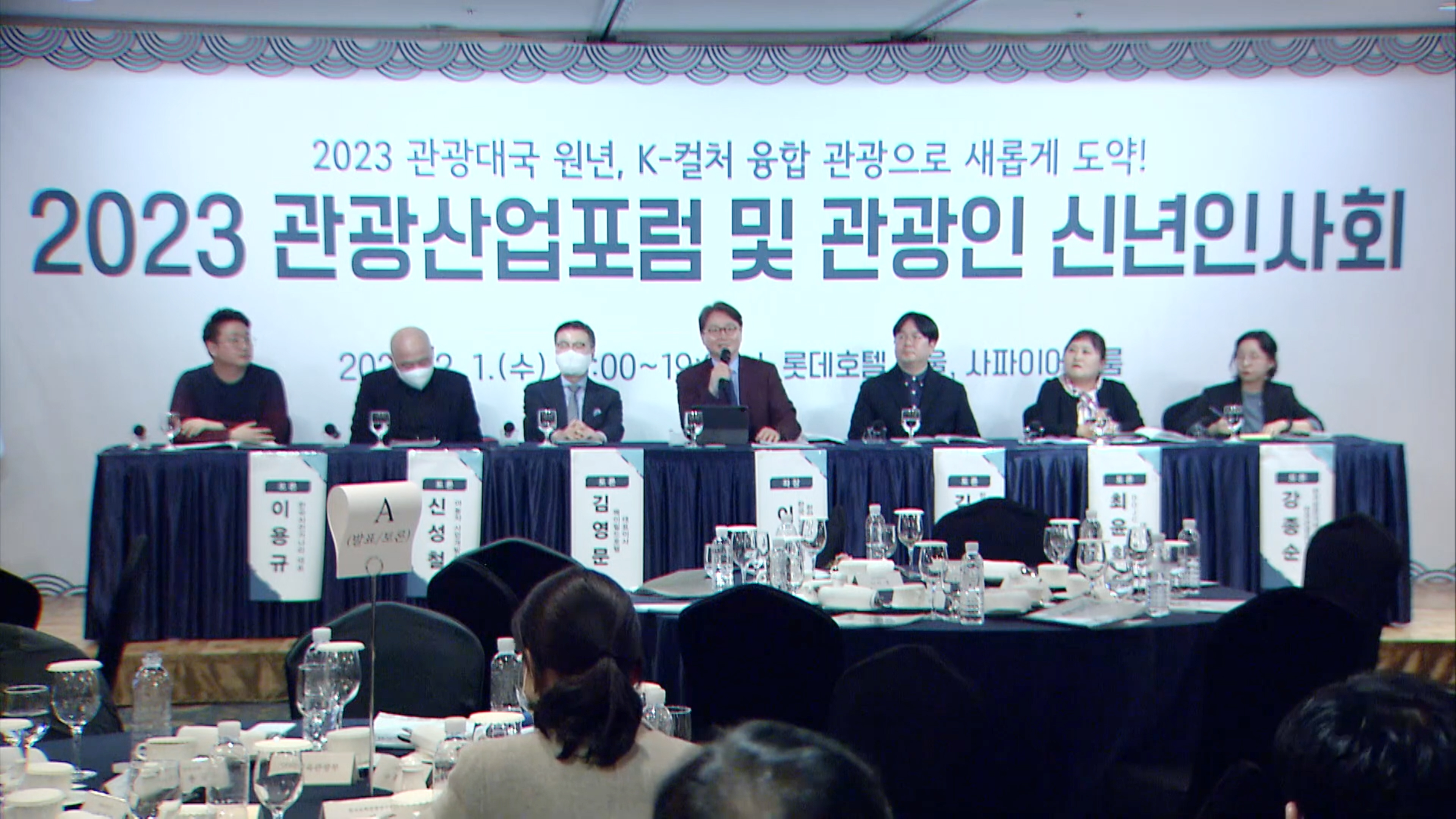 Panelists present diverse views on the development of the tourism industry at the 2023 Tourism Industry Forum. (Photos: KTA)
In particular, he emphasized building of a sound, strong ecosystem in which traditional and innovation companies exist side by side.
The forum took up tourism trends of a new era. Vice Chairperson Jin Bo-ra of Korea Culture & Tourism Institute said, "The influence of Korea's culture content on top of even publications, such as K-pop and web-toon is growing and the inbound tourism spectrum is getting wider."
She selected top 10 tourism trends: spreading a new workcation travel, accelerating of wellness and cure travels, extremely personalized travel, realizing travels in which everyone enjoys, spreading of inbound tourism spectrum, involving regional tourism, expanding new convergence tourism, emerging of carbon neutrality travel, tourism coupled with daily life, and regional tourism growing on its own.
In his speech, MCST Vice Minister Cho Yong-man said, "I extend thanks to tourism industry people's efforts to restore the tourism industry and make its comeback despite a crisis, caused by the pandemic."
Vice Minister Cho said the government will make 2023 the first year of becoming a tourism power by exploring and nurturing Korea's unique convergence and tourism gems, implementing strategies to promote an convenient and comfortable K-tourism in an organized fashion and communicating with tourism industry people.
Among those on hand on the forum and the New Year's gathering were MCST Vice Minster Cho, Dir.-Gen. Park Jong-taek of the Tourism Policy Bureau at MCST, Director Kim Sang-wook in tourism industry policy at MCST, President Kim Jang-sil of Korea Tourism Organization, GKL President Kim Young-san, Gyeongsangbuk-do Tourism Association Chairman Cho Nam-rip, KTA Chairman Yoon Young-ho, KCTI President Kim Sae-won, Prof. Seo Byung-ro of Konkuk University Global MICE Department, and President Seo Eun-hee of K-Medical Tourism Association.