Chairman Shin Dong-bin of Lotte Group.
Lotte Group has been accelerating efforts to promote ESG management with LG Corp., the holding company of the business group, taking the initiative. Lotte Group has become the first Korean conglomerate to have required its listed subsidiaries to install an ESG committee at their board of directors and publish a sustainable management report.
The business group has been devoting itself to achieving carbon neutrality by 2050. Lotte plans to adapt carbon neutrality and eco-friendly contribution goals each decade.
Business sources said on April 28 Lotte Group has prioritized establishing systematic and transparent management systems, such as the establishment of an ESG committee at the board of directors, the operation of a team in charge and the publishing of a sustainable management report.
The step is designed to create a new, beneficial future by accelerating ESG management.
Seven Eleven, a subsidiary of Lotte Group, has been implementing a project to recycle waste plastic at its logistics centers in cooperation with Terra Block, a startup with waste plastic recycling technologies.
The project will help Seven Eleven reduce costs of treating waste PETs. In return, Terra Block will earn revenues by selling terephthalic acid (TPA) from treating of waste PETs.
Seven Eleven, starting with its logistics center in Incheon, plans to expand the project to other logistics across the nation.
Lotte Confectionery has begun to produce Custard products with packing materials produced with Flexo print process. The process uses water-based inks, but dramatically reduce the use of harmful organic solvents.
The company plans to expand the application of the Flexo print process to inside packaging materials of each of products, such as "Mon Cher "and "Binch" and the outside packing material of "Kokkal Corn" (Bugles).
Lotte Chemical has been concentrating on technologies to produce eco-friendly specialty products. Among them are a carbon capture utilization (CCU) technology and a vanadium-ion battery energy storage system (VIBESS) which were displayed at CES 2023 in Las Vegas, the United States, last January.
Lotte Chemical plans to strengthen ESG management systems by entering new businesses to reduce carbon credit purchase costs and secure technologies and responses to global carbon neutrality.
Lotte Chemical has completed verification of CCU equipment applying membrane gas for the first time among Korean chemical companies and began plans for commercialization.
In March of this year, Lotte Chemical installed CCU pilot facilities at Yeosu Plant 1 and conducted test operations for nine months.
Through this, performance verification of a CCU technology using membrane gas was completed, and it reached the design stage for facility commercialization based on the data and operating technologies collected and analyzed during the testing process.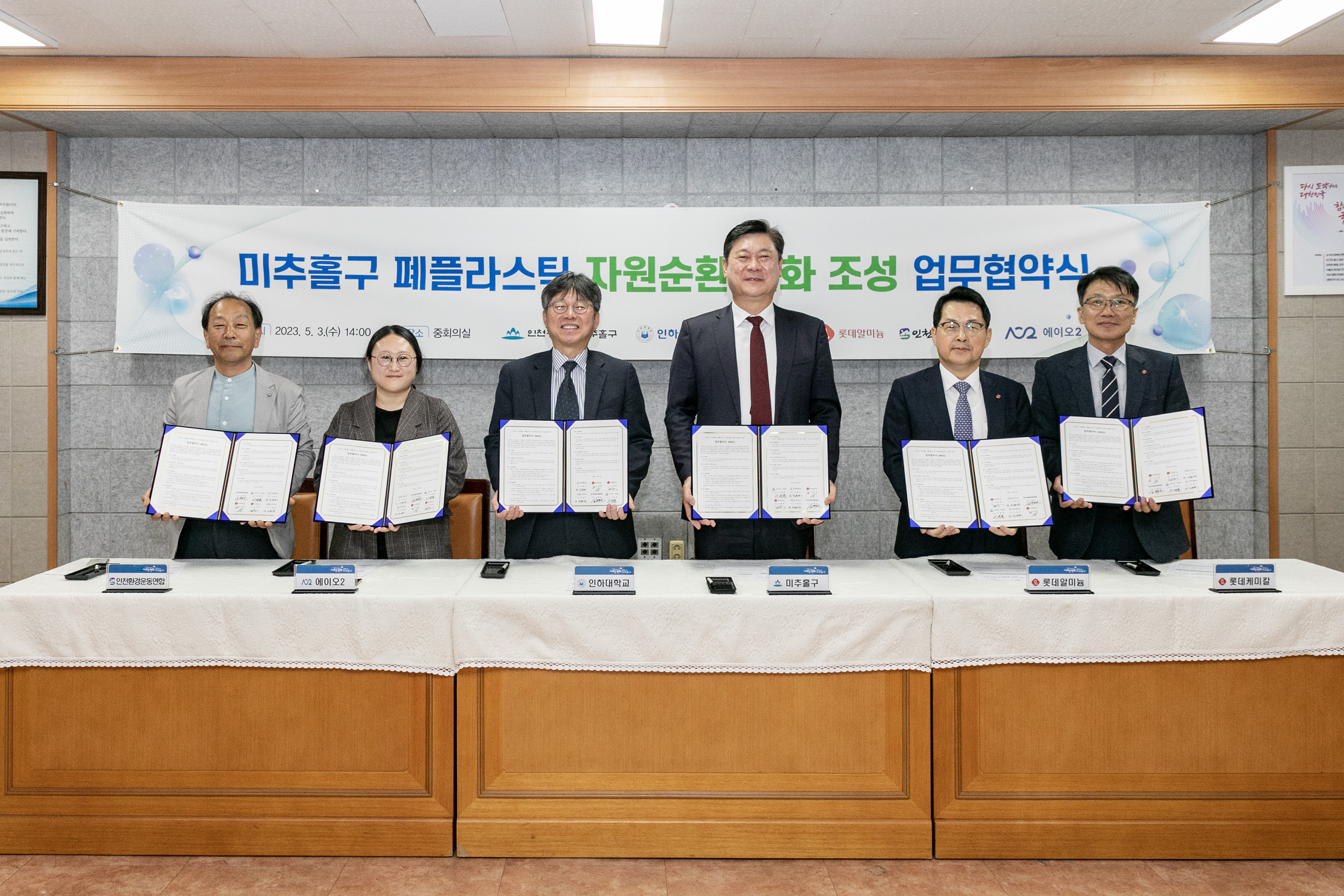 Notables, including Lotte Aluminium President Cho Hyun-chul, Choi Young-gwang, chief of the Communications Divisions at Lotte Chemical, Mayor Lee Young-hoon at the Michuhol-gu Office in Incheon, attend a ceremony to strike an MOU to operate a resources circulation system and build a networking of mutual cooperation at the Michuhol-gu Office on May 3. (Photo: Lotte Chemical)
Lotte Chemical plans to conduct economic feasibility reviews in the future and invest approximately 60 billion won to build a 200,000 ton CO2 capture and liquefaction facility at the Daesan Plant with the goal of beginning commercial production in the second half of this year.
According to the ESG business strategy "Green Promise 2030," announced in February of this year by the Lotte Group chemical sector, Lotte Chemical is focusing on expanding carbon-neutral growth and eco-friendly businesses.
As stronger greenhouse gas emission regulations and increase of carbon emission prices have become major industrial issues, Lotte Chemical has been actively reviewing CO2 capture and utilization technologies to come up with a fundamental solution.
The membrane gas-based carbon capture facility that recently completed testing has less environmental pollution and simpler process compared to wet/dry capture equipment that use absorbents with chemical substances, and it is featured by relatively lower operation costs and that it can be installed even at small sites.
Lotte Chemical teamed up with the domestic small giant 'Air Rane' that possesses platform technologies for polymer membrane gas to begin commercialization of CCU.
Using the 50 billion won ESG fund that was established for the first time among Korean chemical companies, 5 billion won in equity investments was provided to Air Rane in September, and the two companies are cooperating to procure eco-friendly technologies.
A view of the Lotte World Tower, Korea's highest landmark skyscraper. (Photos: Lotte Group)