POSCO E&C President and CEO Han Sung-hee.
Global attention is currently on energy resources to replace fossil fuels. POSCO E&C is prioritizing eco-friendly plant technologies utilizing hydrogen and nuclear power, emerging as new clean energy sources.
The company plans to diversify hydrogen plant construction projects in accordance with POSCO Group's goal of producing 7 million tons of hydrogen by 2050.
POSCO E&C is stepping on the gas to expand the nuclear power business by inaugurating a "nuclear power business implementation team."
POSCO E&C has been ramping up its capacity to design and construct blue hydrogen and green hydrogen production plants based on a track record of having implemented Korean and overseas projects similar to hydrogen plants.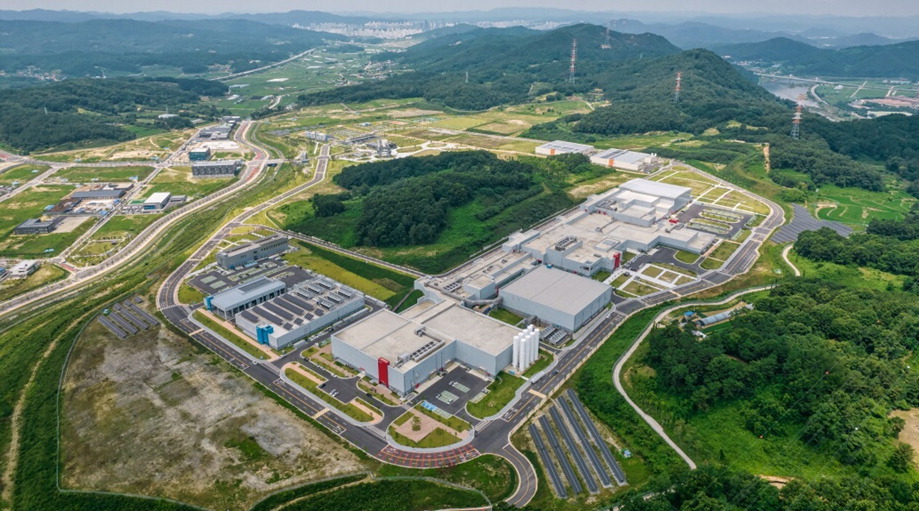 POSCO E&C has exclusive technology and a track record of building the Rare isotope Accelerator complex for ON-line experiments (RAON). A whole view of the RAON, a large basic science research facility based around a heavy-ion accelerator, being built at the International Science Business Belt in Daejeon Metropolitan City. (Photos: POSCO E&C)
Comparison of Hydrogen Energy Production Methods
Ways of producing hydrogen vary. Blue hydrogen refers to hydrogen being produced by reacting natural gas with steam in a hot temperature and high pressure and capturing and sequestrating carbon, a byproduct of the process. A core part of the process is the Carbon Capture Utilization Storage (CCUS).
On the other hand, green hydrogen is derived from water electrolysis using renewable electricity. The process comprises of electrolysis, balance of plant (BOP) and seawater desalination facilities.
POSCO E&C has a track record of implementing tasks to verify carbon capture and building a hydrogen extraction facility using natural gas at Pohang and Gwangyang Steelworks.
The company has secured related technologies and expertise manpower by implementing steel and petrol chemical plant projects related to power conversion and gas refining systems, similar to the BOP facility of green hydrogen.
Aims to Produce 400,000 Tons of Hydrogen Annually by 2026
Facilities designed to liquefy, transport and store hydrogen and carbon produced from hydrogen plants are essential in the hydrogen business.
POSCO E&C has secured the nation's top EPC capacity on liquefied gas storage facilities by implementing multiples of LNG terminal projects in not only Korea, like Gwangyang, Jeju and Samcheok, but abroad like Thailand and Panama.
The company has been ramping up its capability by developing its own technology on electrolysis and ammonia hydrogen extraction facilities, securing outside licenses and expanding expertise manpower.
POSCO E&C is stepping up joint research and MOUs to expand the hydrogen energy business.
Last September, POSCO Holdings struck an MOU on producing clean hydrogen with Approtium, a hydrogen production and marketing company.
Under the deal, POSCO E&C plans to implement joint projects on CSU-based blue hydrogen.
The company plans to construct a hydrogen extraction and carbon capture plant with an annual capacity of 40,00 tons by investing more than 200 billion won by 2026.
Nuclear power has emerged as an essential energy resource to make up for energies that cannot be secured through renewal energies in accordance with EU's including the nuclear power generation business in the Taxonomy, an eco-friendly, green classification system.
POSCO E&C has secured growth engines by inaugurating a nuclear power business implementation team to expand the nuclear power business.
The company plans to aggressively participate in projects using nuclear power use facilities like a synchrotron light source facility.