A high-end senior residence "VL Lewest" will be constructed at the MICE Complex Zone of Magok, Seoul.
A model house for the residence has been opened and four buildings with 15 ground floors and six basement floors, containing a combined 810 units, have been put on sale.
The residence will offer medical care corresponding to the characteristics of senior occupants, specialized design, diverse communities and programs.
In particular, the VL Lewest will adopt a system facilitating pets in consideration of the rising number of households who rear pets.
First of all, the VL Lewest will introduce a health management system in consideration of the characteristics and convenience of senior occupants.
Occupants will receive specialized medical services from Ewha Womans University Hospital, near VL Lewest, under a deal inked with the hospital.
They will be offered specialists' medical care and health check-ups. When they utilize the hospital, occupants will be offered swift medical care without waiting. Discount benefits will also be provided.
The VL Lewest will operate Bobath Memorial Hospital's health check-up center.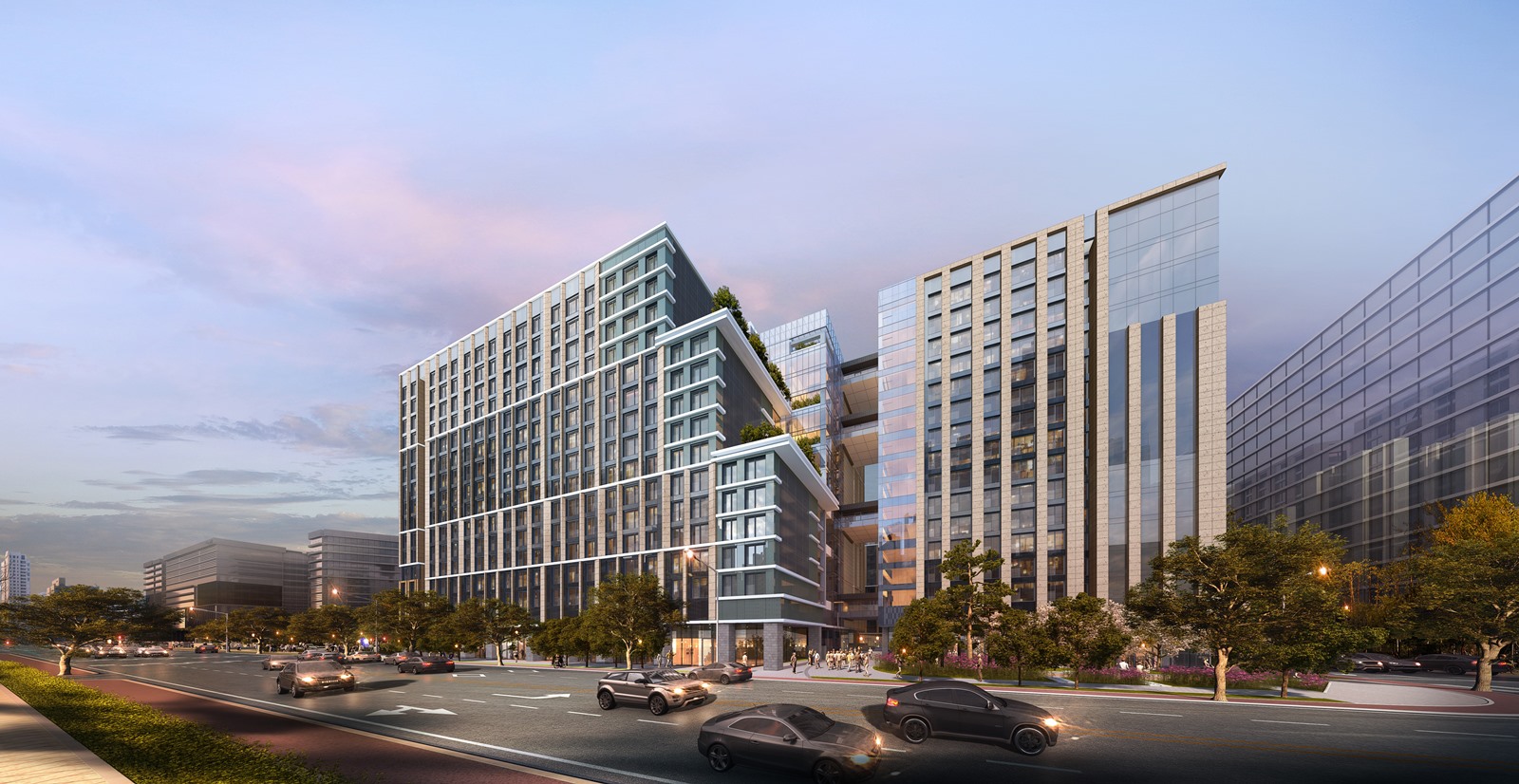 A perspective of the high-end senior residence "VL Lewest," to be built at the MICE Complex Zone of Magok, Seoul. (Photos: Lotte E&C)
Through the premium senior residence brand "VL" (Vitality & Liberty), operated by Lotte Hotel, occupants will benefit from a business work support, postal management, hotel concierge service, housing keeping services, a "hotel chef management diet" and one-stop services for enquiries and requests.
The VL Lewest will showcase specialized design features tailored to meet senior occupants' needs. It will adopt structures for senior occupants' physical and safety considerations, such as a "one-room, one-bath" flat surface for the independence of active seniors.
All units will be outfitted with an "IOT System" for smart daily life, such as an emergency call system, a movement sensing system, and a health care system.
The residence will be equipped with convenient infrastructure, such as underground pedestrians' pathways.
It will be in close proximity to Magok Station of subway line No. 5, Magok Naru Station of subway line No. 9 and the airport railway line.
The new development will have good access to downtown centers of Seoul and the Seoul metropolitan area, such as the Airport Grand Road and the Olympic Grand Road.
Occupants will enjoy convenient life through underground pedestrians' paths and natural environment. They will reach the Seoul Botanical Garden and the Seoul Botanic Park and the ecological "Seoul Botanic Garden."
Lotte E&C's Brand 'Green x Groove' Wins 2023 iF Design Award
Lotte E&C's landscaping brand "Green x Groove" was honored with the main prize of the 2023 iF Design Awards in Germany.
The contractor plans to expand the employment of the specialized landscaping brand to major apartment complexes, such Lotte Castle and Lotte LE-EL.
Lotte E&C said on April 17 that the contractor took home the main prize of the 2023 iF Design Awards in Germany.
The award is considered to be one of the three main globally recognized design awards, along with the Red Dot Award of Germany and "IDEA" of the United States.
A combined 11,000 entries from 56 countries competed for the 2023 iF Design Awards.
They vied for awards in nine categories, including product, package, communication, concept, interior, architecture, service design and user experience and user interface.
A 133-memer jury made overall evaluations, such as design differentiation and influence.
Green x Groove won the iF Design Award as the brand was highly evaluated for product, service and branding categories.