Foreigners pose for a group photo shot after they climbed the peak of Mt. Bukhansan.
Seoul Tourism Organization (STO) opened Seoul Hiking Tourism Center in Ui dong, Gangbuk-gu, Seoul, last September.
The center has attracted 6,000 visitors hiking Mt. Bukhansan in 10 months since its debut.
The center, which opened at the end of June in a pilot project, offers useful services, such as a hiking tourism guide, hiking gear rental, and the lounge area.
The center has enjoyed popularity: attracting about 6,000 visitors in less than one year.
STO, recognizing the probability of the rising tendency related to nature-friendly tourism in the post-COVID-19 pandemic era, introduced the new concept of "hiking tourism" to expand tourism content based on the natural environment last year, invigorating the hiking tourism in downtown sections of Seoul.
Seoul, even being a mega city, has a strong point of owning lots of mountains, accessible by public transportation means, such as buses and subways with ease.
Conducted last year by about 1,000 foreigners, 87.9 per-cent of the respondents replied that they are interested in hiking and trekking for sightseeing.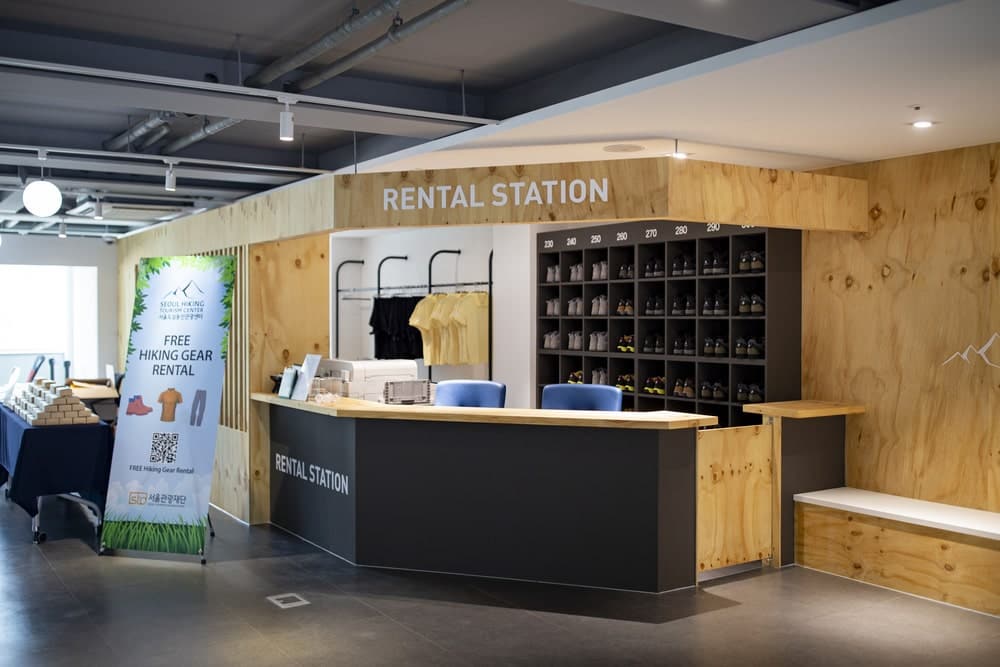 A view of Seoul Hiking Tourism Center near Bukhansan Ui Station in Gangbuk-gu, Seoul. (Photos: STO)
Seoul Hiking Tourism Center is a five-minute walk from Bukhansan Ui Station, the last stop of the Ui Sinseol LRT.
Hikers get off Bukhansan Ui Station to take a shortcut course to Baegundae Peak, the top of Mt. Bukhansan. It's a challenging course with steep and rocky paths.
Foreigners hike Mt. Bukhansan in jeans and sneakers. Since Mt. Bukhansan has rough and steep trails, those not in proper hiking gear are prone to slip or get injured.
One of the services from the center is a hiking gear rental service. Foreign tourists and accompanying Koreans can borrow hiking gear, including hiking shoes, hiking jackets and pants, hiking gloves, trekking poles, and crampons (in winter) at reasonable prices, ranging from 1,100 won to 2,200 won.
From last year to these days, the total user number of the rental service is over 1,800.
The center also offers other services for hiking tourism, such as publication materials for hiking tourism, locker service, changing rooms, shower system, and lounge area.
STO plans to further invigorate Seoul's hiking tourism sector by concentrating on the "K-mountain" content this year.
Starting in March, the center has conducted a hiking tour program for foreigners on Wednesdays. The program is for foreigners eager to experience the diverse attractions of Mt. Bukhansan.
The program, being conducted in English, caters to small groups of less than ten people. In bad weather, participants can enjoy other activities like indoor climbing programs.
*For advance reservation: http://url.kr/hikingtour
STO is conducting "Seoul 7 Peaks Challenge Program," which will last until the end of July.
It is for about 300 foreigners, who stay in Korea or visit Seoul to explore from abroad. With this event, people can enjoy the full beauty of mountains in Seoul.
The program allows participants to choose seven peaks out of ten of major mountains in Seoul: Mt. Bukhansan, Mt. Bugaksan, Mt. Inwangsan, Mt. Gwanaksan, Mt. Buramsan, Mt. Achasan, Mt. Namsan, Mt. Dobongsan, Mt. Suraksan, and Mt. Cheonggyesan. and verify the achievement by taking a photo with a message towel. Those who complete the mission, hiking all seven Peaks in Seoul, will receive souvenirs.
Kil Ki-yon, President & CEO of the Seoul Tourism Organization said, "We'll continuously develop Seoul hiking tourism resources to create hiking tourism demand through K-mountain content. We hope people from diverse countries explore nature in Seoul and have a unique experience with hiking tourism content."