President Yoon Suk-yeol makes a presentation in Busan's bid for 2030 Expo at the 172nd General Assembly of the Bureau International des Expositions (BIE) in Paris on June 20. (Photos on the courtesy of Yonhap News Agency)
President Yoon Suk-yeol took the podium to make a presentation in Busan's bid for 2030 Expo, appealing for support from BIE member countries and demonstrating Korea's strong willingness to attract the Expo. The presentation occurred in Paris on June 20.
President Yoon participated in the 172nd General Assembly of the Bureau International des Expositions (BIE) and made the presentation in English as the last speaker of the Korean team.
During his presentation, which was streamed worldwide, President Yoon stressed keywords, such as future, promise, repay and solidarity.
President Yoon spoke of challenges facing the international community, such as war, strife, digital divide, economic inequality, climate, health and grain crises.
"To address humanity's urgent challenges, we must act now," President Yoon said. "The World Expo Busan will be a solutions platform addressing humanity's complex and urgent challenges."
President Yoon stressed that Busan Expo would be a meeting space to create new business opportunities, and Korea's advanced digital technologies would offer fantastic opportunities.
"Korea wishes to give back to the international community what it has received thus far," President Yoon said. "Through the Busan Initiative, Korea will share its development experiences with the international community."
President Yoon promised that Korea, which has become an economic power thanks to past help from the international community, would share its experiences and knowhow with the international community and provide support so culture, tradition and technologies of diverse countries can be expressed. He also said the Busan Expo would present greater dreams and visions.
(from left) Hyundai Motor Group Chairman Chung Eui-sun, Samsung Electronics Chairman Lee Jay-yong and LG Group Chairman Koo Kwang-mo look on at the fourth presentation by the candidate cities, including Busan at the BIE assembly in Paris on June 20. The business leaders toured there to support Busan's bid for 2030 Expo.
Citing a track record of having hosted mega events, such as Korea's two recognized expos and 1988 Seoul Summer Olympics, President Yoon said Korea is a qualified candidate and the country would make Busan Expo the best one in Korean history.
Besides President Yoon, globally claimed musician Psy of "Gangnam Style," Prof. Chin Yang-kyo of Hongik University, who oversaw the "master plan" of the would-be Busan expo site, and CEO Lee Soo-inn of Enuma, a child education app maker, appeared as speakers of the presentation.
Psy, the first speaker of the presentation, introduced an experience of having a flash mob to the tune of Gangnam Style with 20,000 people at Trocadero with the Eiffel Tower at the background.
He stressed Korea's strength: creativeness and openness based on the success of K-pop and K-content.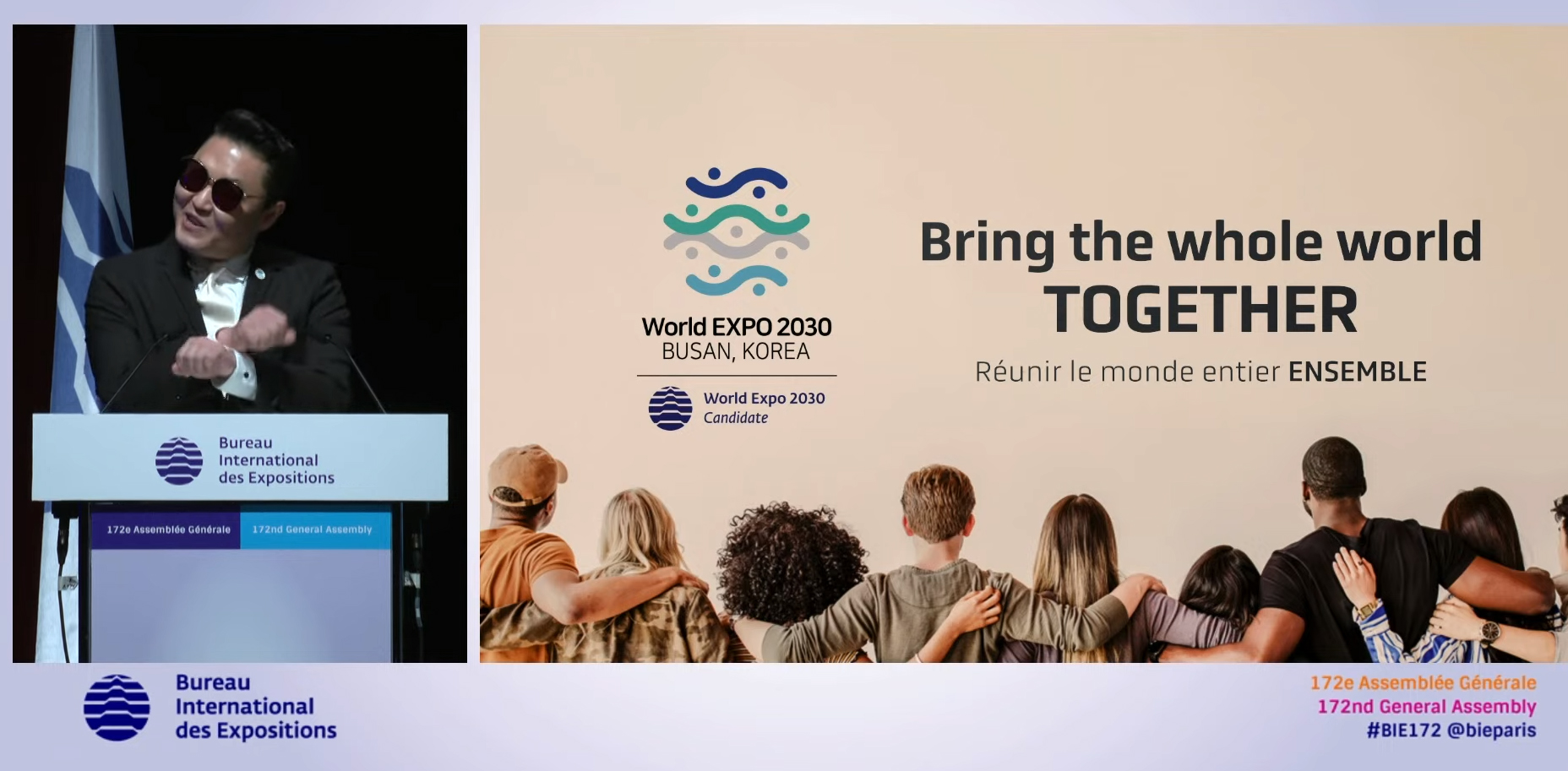 K-pop singer Psy appears as a speaker of the Korean presentation team to support Busan's Expo bid at the BIE assembly.
As the theme "Space with Future Solutions, 2030 Busan World Expo Site," Prof. Chin said the Busan World Expo site would be an open platform for each country to share solutions they have accumulated while collaborating and it would be a sustainable space at the end of the expo.
CEO Lee, the third speaker, said individuals, companies and countries all have to cooperate together so technologies can change humanity for the better, and Korea also is collaborating with countries across the world through things such as the Busan Initiative.
Dominique Perrault, a globally famed architect, star soprano Jo Su-mi, the honorable ambassador of Busan's Expo bid, and Karina, a member of the Korean girl group "Aespa," also sent video messages to support Busan's Expo bid.
Soprano Jo presented a music video, containing "We will be one," a song supporting Busan's bid.
Saudi Arabia's Riyadh and Italy also participated in the presentation session before the selection of the host city of the 2030 Expo in November.