The Seoul Metropolitan Government (SMG) released its tap water future vision, calling for the supply of the world's best tap water by investing 4,322.9 billion won by 2040.
Seoul Waterworks Authority announced SMG's tap water master plan, dubbed "Arisu 2.0," on June 20.
The plan calls for implementing four strategies: quality water, building clean waterways, "safe Arisu," smart and eco-friendly management.
The plan is designed to elevate Seoul's tap water, Arisu, which has been recognized for its high water quality management.
To this end, SMG plans to implement 20 core projects to achieve the strategies.
In order to raise the quality and safety of tap water, the metropolitan government conducts research into a new processes. Seoul Waterworks Authority has already introduced a 100 percent advanced purification system to supply a clean, safe Arisu to Seoulites.
In order to supply a healthier and better quality tap water, the authority plans to introduce a new, "Seoul-type super water purification process model," designed to ram up purification by including ozone contact zones in the conventional advanced purification, and applying membrane filtration and after-filtration technologies to all water.
R&D into the new Seoul-type water treatment system will be conducted.
A pilot project will be implemented at the Gwangam Arisu Purification Center in 2025, and the project will be expanded to include the remaining five purification centers through analyses of operation efficiency and effects.
SMG plans to modernize and expand tap water purification centers.
The metropolitan government plans to pour a combined 745.2 billion between 2023 and 2043 to modernize and expand purification centers to brace for the next 100 years.
The six purification centers in Seoul are in almost full operation, with a maximum operation rate of 93.1 percent in summer, and four with more than 30 years in operation are aged.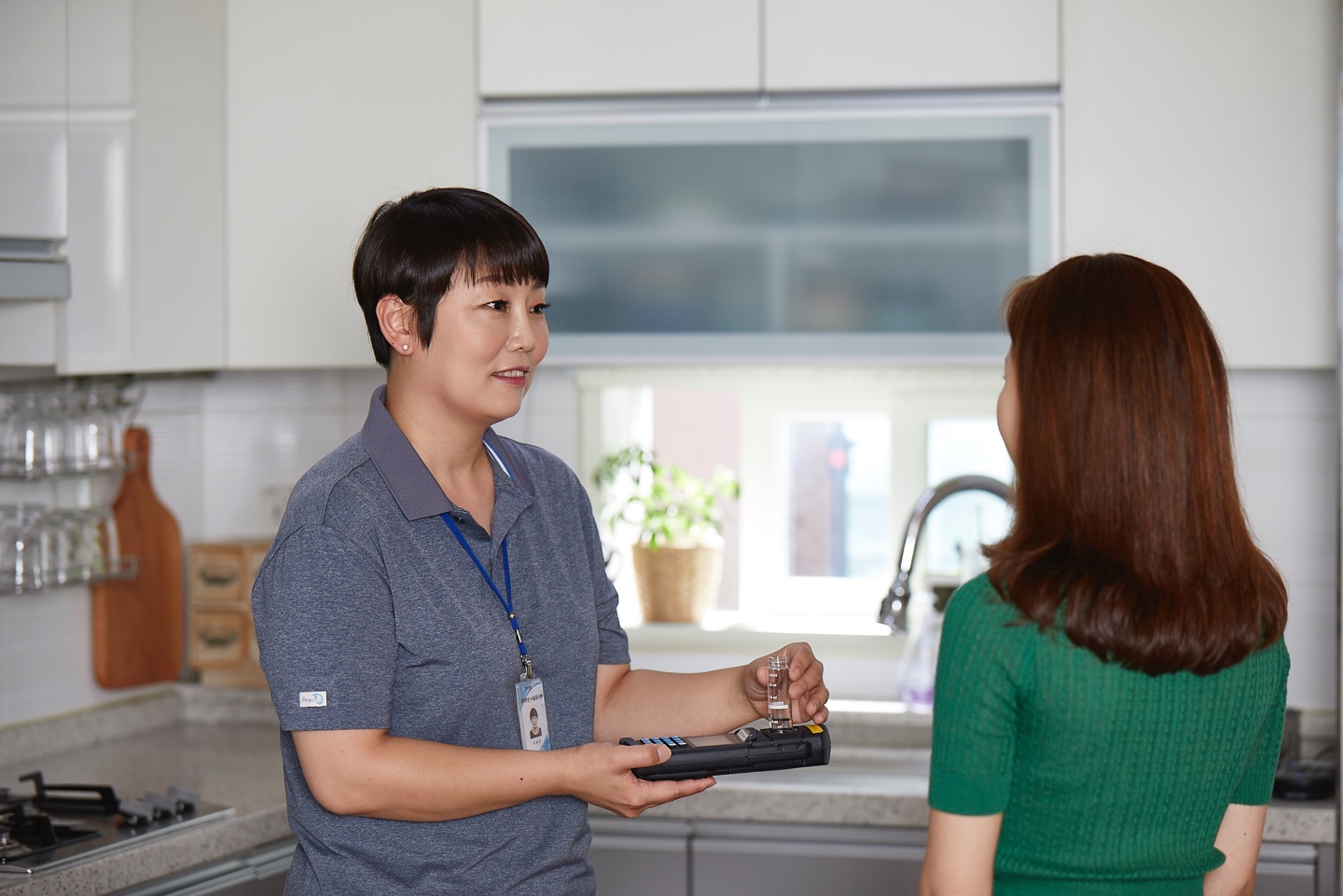 An official with Seoul Waterworks Authority conducts a free water quality inspection to a household under the water quality inspection outreach service program. (Photo: Seoul Waterworks Authority)
Second, SMG will build pipelines connecting the Han River and households, so Seoulites can drink tap water directly from the faucet.
The metropolitan government will invest a combined 589.5 billion won by 2026 to replace and cleanse obsolete water pipelines.
Pipelines, stretching 254 km in length, will be refurbished with a focus on areas with a high probability of leakage, and they will be cleansed by using robots.
A pilot project to introduce long-life tap water pipelines made with high-intensity raw materials will be implemented next year and a full-fledged application will be carried out from 2025.
SMG plans to implement a pilot project to offer a "clean doctor service" targeting 1,000 obsolete houses, starting the second half of this year, to make their occupants drink Arisu directly from their faucet.
SMG plans to expand tap water distribution reservoirs. The Mia and Kkachisan reservoirs will be dedicated by 2026 and 11 other reservoirs will be built or expanded by 2040 on a gradual basis.
The projects will cost a combined 138.5 billion won. Devices designed to automatically drain stagnant water will be installed by measuring quality levels of water at 60 ending points of tap water pipeline networks at a cost of 3.8 billion won.
Third, SMG plans to spread awareness of its reliable and safe Arisu.
The metropolitan government has ramped up water quality management by building an AI-based automatic production process and a real-time water quality surveillance automation system.
Seoul Waterworks Authority plans to step up face-to-face services targeting Seoulites.
A water quality inspection outreach service targeting applicants of a free water quality inspection will be offered to cover up to 1 million households by 2026.
SMG wants to help Seoulites enjoy tap water at any place at any time. SMG aims to raise Seoulites' rate of drinking Arisu up to 50 percent.
Fourth, SMG is pursuing a sustainable tap water system by realizing a smart and eco-friendly management.
The metropolitan government plans to build a safe and convenient tap water management system by employing smart technologies related to managing of tap water facilities and imposing of tap water bills.
The smart technology application involves metering, leakage and prevention of frozen pipes.
Seoul Waterworks Authority is redoubling efforts to reduce greenhouse gas emissions by expanding renewable energies, such as building eco-friendly purification plants and recycling of resources.
SMG plans to reduce carbon emissions by implementing a hydrothermal energy pilot project, recycling purification sludge and electrically billing tap water charges and implement "green remodeling" projects at 17 office buildings.
Yoo Yeon-shik, head of Seoul Waterworks Authority, said, "A clean, safe tap water is not only the water of life, directly linked to the health of 10 million Seoulites, but also the competitiveness of an attractive metropolis for tourists visiting Seoul."
Seoul Waterworks Authority has established and implemented the "Arisu 2.0" initiative to fulfill SMG's responsibility of supplying quality tap water and taking preemptive steps to prepare for the next 100 years in an era of transition, such as climate crisis and rapidly changing technology development, he added.