President Roh Tae-moon, head of the Mobile Experience Business at Samsung Electronics, unveils Galaxy Z Flip 5, Fold 5 at "Galaxy Unpack 2023" event at COEX in Seoul. (Photos: Samsung Electronics)


Samsung Electronics disclosed its new premium folder phone; Galaxy Z Flip 5 and Fold 5 at "Galaxy Unpack 2023" at COEX in Seoul on July 26.
The new premium folder phone is lighter than the previous version and making screen crease less prominent, so Samsung Electronics is expected to see smartphone sales surge from the second half of this year.
The new Galaxy Z Flip 5 is characterized by a bigger outside display screen than the previous version, designed to raise users' convenience and design perfectness.
Galaxy Z Fold 5 employs a water droplet-like hinge to minimize crease, thickness and weight.
The two, outfitted with a high-performance mobile AP, have battery and camera performance improved.
Samsung Electronics had launched flagship smartphones in Barcelona, Spain, or San Francisco/New York, the United States, and it was the first time such a smartphone unpack event took place in Seoul.
The timing of releasing the new smartphone was advanced two weeks earlier the previous year.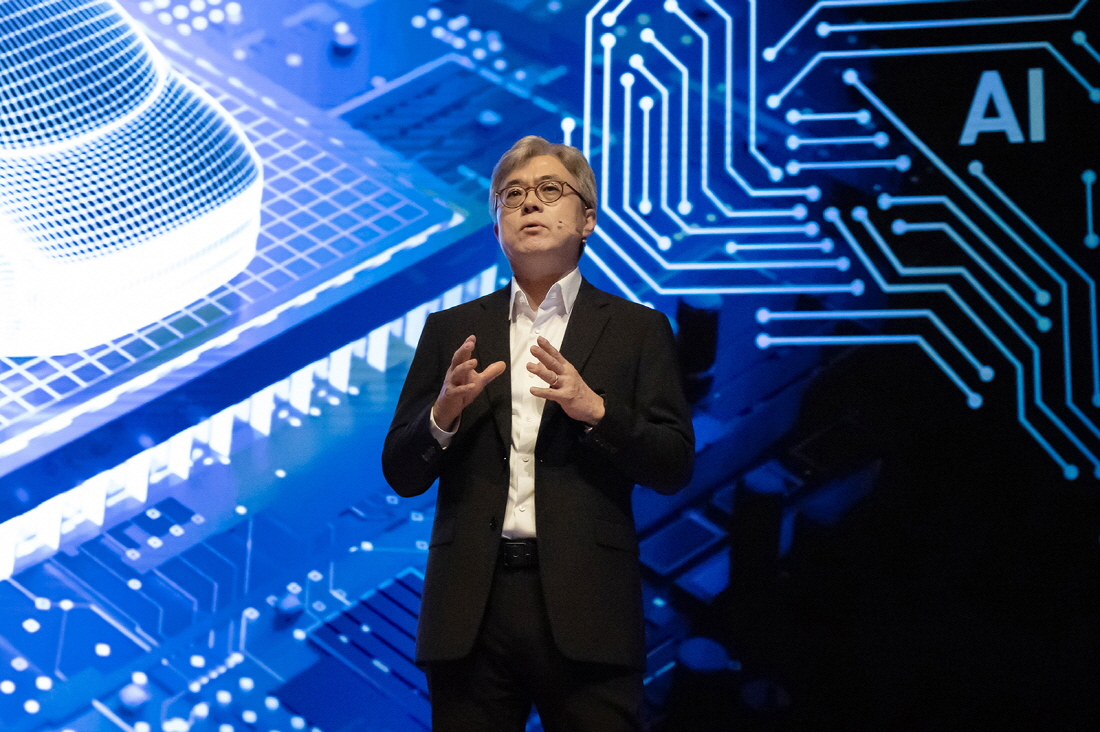 President Choi Si-young of the Foundry Business at Samsung Electronics delivers a key-note speech at the Samsung Foundry Forum 2023 and Samsung Advanced Foundry Ecosystem(SAFE) at COEX in Seoul On April 4.
Samsung Electronics Reveals Foundry Strategies to Lead AI Era
Samsung Electronics held Samsung Foundry Forum 2023 at COEX in Samseong-dong, Seoul, on July 4 and shared its foundry strategies to ramp up the ecosystem of the AI semiconductor sector.
During the forum, Samsung Electronics suggested their joint goal on "customer success" in cooperation with partners.
It revealed diverse methods to develop design infrastructure for advanced products catering for fabless customers, ranging from 8-inch ones like "PDK Prime" solutions to an advanced 2-nano gate-all-around (GAA) process.
In particular, Samsung Electronics plans to offer the Process Design Kit (PDK) Prime solutions to 2-nano and 3-name process fables consumers starting in the second half of this year and expand them to the 8-inch, 12-inch legacy foundry in the future.
Under the theme "Innovation Beyond Boundaries," this year's forum delved into Samsung Foundry's mission to address customer needs in the artificial intelligence (AI) era through advanced semiconductor technology.
Over 700 guests, from customers and partners of Samsung Foundry, attended this year's event, of which 38 companies hosted their own booths to share the latest technology trends in the foundry industry.
"Samsung Foundry has always met customer needs by being ahead of the technology innovation curve, and today, we are confident that our gate-all-around (GAA)-based advanced node technology will be instrumental in supporting the needs of our customers using AI applications," said Dr. Choi Si-young, President and Head of Foundry Business at Samsung Electronics.
"Ensuring the success of our customers is the most central value to our foundry services."
As part of its business strategy to solidify its competitiveness as a leading foundry service, Samsung Foundry today announced the following:
• Expanded applications of its 2-nanometer (nm) process and specialty process
• Expanded production capacity at its Pyeongtaek fab Line 3 (P3)
• Launched a new "Multi-Die Integration (MDI) Alliance" for next-generation packaging technology
• Continued progress in the foundry ecosystem with Samsung Advanced Foundry Ecosystem (SAFE™) partners
At the event, Samsung announced detailed plans for the mass production of its 2nm process, as well as performance levels.
The company will begin mass production of the 2nm process for mobile applications in 2025, then expand to HPC in 2026 and automotive in 2027.
Samsung's 2nm process (SF2) has shown a 12 percent increase in performance, a 25 percent increase in power efficiency and a 5 percent decrease in area, when compared to its 3nm process (SF3). Mass production of SF1.4 will begin in 2027 as planned.
From 2025, Samsung will begin foundry services for 8-inch gallium nitride (GaN) power semiconductors targeting consumer, data center and automotive applications.
To secure the most cutting-edge technology in 6G, the 5nm Radio Frequency (RF) is also under development and will be available in the first half of 2025. Samsung's 5nm RF process shows a 40% increase in power efficiency and a 50 percent decrease in area compared to the previous 14nm process.
In addition, the company will add automotive applications to its 8nm and 14nm RF, expanding beyond the mobile applications currently under mass production.