GS Caltex and Korean Air have joined forces to launch the verification of sustainable air fuel and accelerate efforts to pursue a green transformation.
A ceremony to ink an MOU on a project to implement the verification of the nation's first bio air fuel took place at GS Tower in Gangnam-gu, Seoul, on June 28. In attendance were senior Executive Vice President Kim Chang-soo of GS Caltex and Senior Vice President Cho Sung-bae, in charge of materials and facilities at Korean Air.
Under the deal, GS Caltex, the nation's representative integrated energy company, will introduce the nation's first bio air fuel and supply it to Korean Air, in compliance with the global trend of reducing greenhouse gas emissions. Korean Air, a global airliner leader, will verify flights.
To this end, both companies will jointly create all infrastructure and environment for introducing bio air fuel, while the government will establish guidelines on the quality of bio air fuel based on the outcomes of their verification and expedite its commercialization.
The verification process comes after the government announced a plan to research the verification of bio air fuels on June 28. The two companies' launch of the verification is designed to aggressively participate in the government's policy of expediting the biofuels business.
Meanwhile, the International Civil Aviation Organization (ICAO) agreed to redouble efforts to achieve net zero by dramatically reducing greenhouse gas emissions by 2050 in accordance with the necessity of global low-carbon and greenhouse gas emission reduction.
But global aviation demand is on a constant rise, whereas aviation fuel is predicted to see a transition to electrification and hydrogen fuel later compared to other transportation areas.
That's due to restrictions, such as volume and weight bigger than automobiles and ships.
Accordingly, it is sustainable aviation fuel (SAF) that is expected to serve as a key player in greenhouse gas emissions in the aviation sector.
SAF, produced by processing animal and plant oils and waste cooking oil, can reduce greenhouse gas emissions by up to 80 percent compared to fossil fuels.
The EU has made it mandatory to have the conventional aviation fuel mixed with at least 2 percent of SAF, effective 2025.
The portion is expected to surge to 6 percent in 2030, 20 percent in 2035 and 70 percent in 2050.
The United States has encouraged the use of SAF by giving tax credits to SAF users.
GS Caltex Senior Executive Vice President Kim said, "GS Caltex will establish the supply chain of bio aviation fuel and Korean Air will verify flight by implementing the verification of SAF in cooperation with Korean Air, leading ESG management of the global aviation industry, and each company's roles and functions will be reconfirmed for the nation's introducing SAF in compliance with global low-carbon trends."
GS Caltex is expected to provide full support to the government and public entities to contribute to the expediting of commercializing SAF in the future, he added.
GS Caltex is pursuing a deep transformation to cope with future environmental changes, such as carbon neutrality and energy transition.
The company is focusing on green transformation, such as low-carbon new businesses like carbon reduction of the conventional businesses and hydrogen, the circulation economy of waste plastic and bio businesses.
GS Caltex also plans to secure competitiveness by aggressively investing in the global bio fuel market, which is undergoing dramatic changes.
To this end, the company struck an MOU on the establishment of the white bio ecosystem with LG Chem in July 2022. Under the deal, the two companies are building a plant to verify the commercialization of eco-friendly bio-materials. In April 2023, GS Caltex signed an MOU on bio ship fuel with HMM.
The company is hitting gas to materialize the value chain of the whole area of the bio businesses, such as bio diesel, bio ship fuel and bio aviation fuel, and bio chemicals by signing an MOU on the development and supply of bio-based cosmetic materials with L'Oréal, a global beauty leader of late.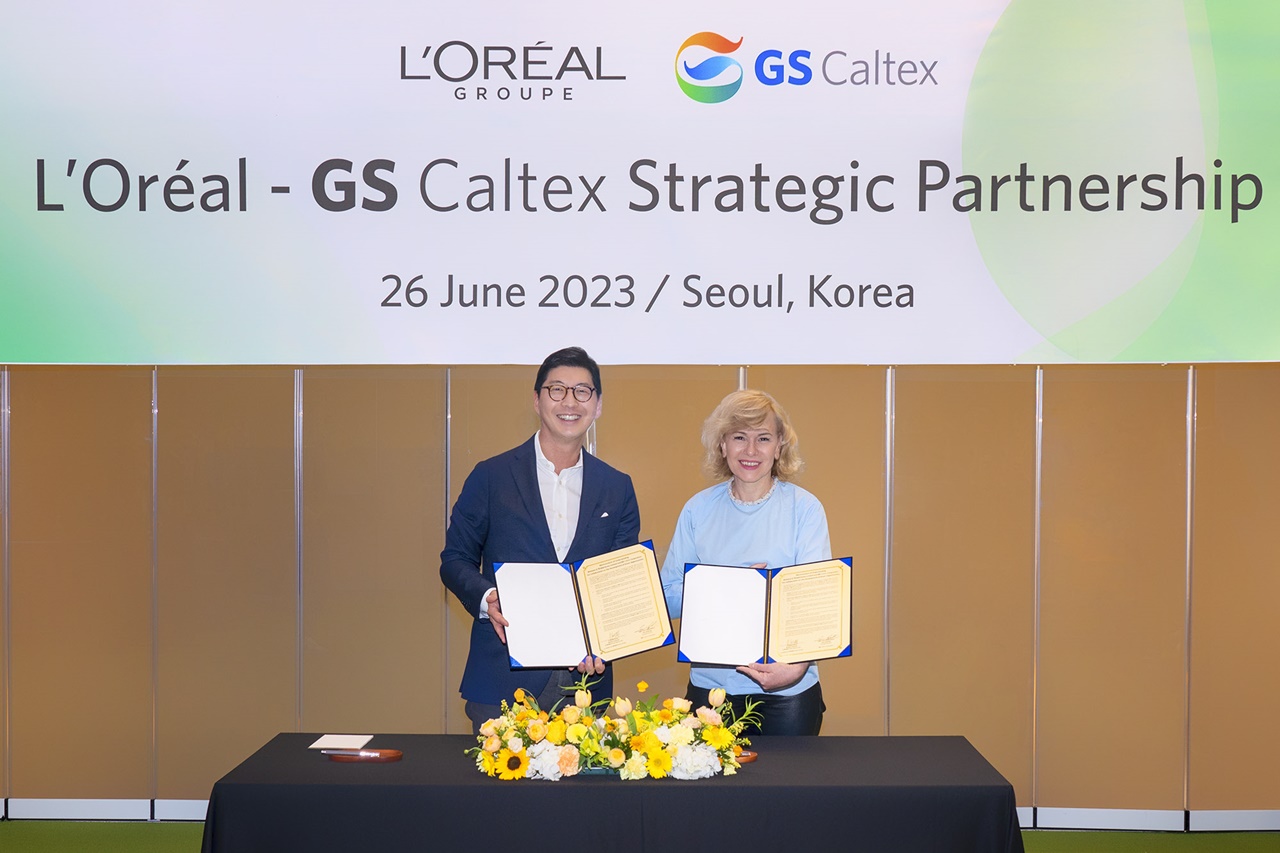 GS Caltex President Hur Sae-hong and Barbara Lavernos, Chief Technology and Operations Officer at L'Oréal, pose after they struck an MOU to develop and supply bio-bassed cosmetic materials at GS Tower in Gangnam-gu, Seoul, on June 26. (Photo: GS Caltex)
GS Caltex Joins Forces with L'Oréal to Develop and Supply COVIDssed Cosmetic Materials
GS Caltex struck an MOU with L'Oréal to develop and supply bio-based bosmetic materials at GS Tower in Gangnam-gu, Seoul, on June 26.
Among those on hand at a ceremony to strike the deal were GS Caltex President Hur Sae-hong, Kwon Young-woon, president of GS Caltex's Technology Research Institute, and Barbara Lavernos, Chief Technology and Operations Officer at L'Oréal.