President Choi Yeon-hye of Korea Gas Corp. (KOGAS), her executives and staffers attend a ceremony to mark the 40th anniversary of its founding at KOGAS headquarters in Daegu on Aug. 18. (Photos: KOGAS)
Korea Gas Corp. (KOGAS) celebrated the 40th anniversary of its founding at KOGAS headquarters in Daegu on Aug. 18.
The anniversary event was held in a humble way, given internal external worsening conditions, including the financial situation of KOGAS.
KOGAS President Choi Yeon-hye extended thanks for KOGAS executives and staffers' 40-year efforts to supply natural gas to the whole parts of the nation and she vowed with his executives and staffer to concentrate its all capabilities to push for a bright future.
In her commemorative speech, President Choi said,
"
Let's make a leap forward by one step by nimbly coping with uncertainties of the energy market based on competence and expertise.
"
Choi called for transforming KOGAS into an entity trusted by people through a vibrant corporate culture and integrity and ethics management.
In accordance with rapid environment changes surrounding KOGAS, such as recent deepening competition of internal and external energy markets, KOGAS President Choi unveiled a new management vision to nimbly cope with them and shared its blueprint with her executives and staffers.
The new management vision calls for improving people's welfare by securing stable and economical energies, securing future growth engines by aggressively implementing overseas businesses, strengthening financial soundness through intensive self-rescue measures and ramping up energy innovation leadership through realizing of social values, led by spearheading of ESG management.
President Choi said, "The great power behind KOGAS's supplying natural gas to every nook and corner of the nation and growing into a global energy company is owed to all of people who has offered endless concern and support for the past 40 years."
KOGAS will be reborn into a people's public entity, serving as an energy watchman sending warmness beside people and a strong power, she said.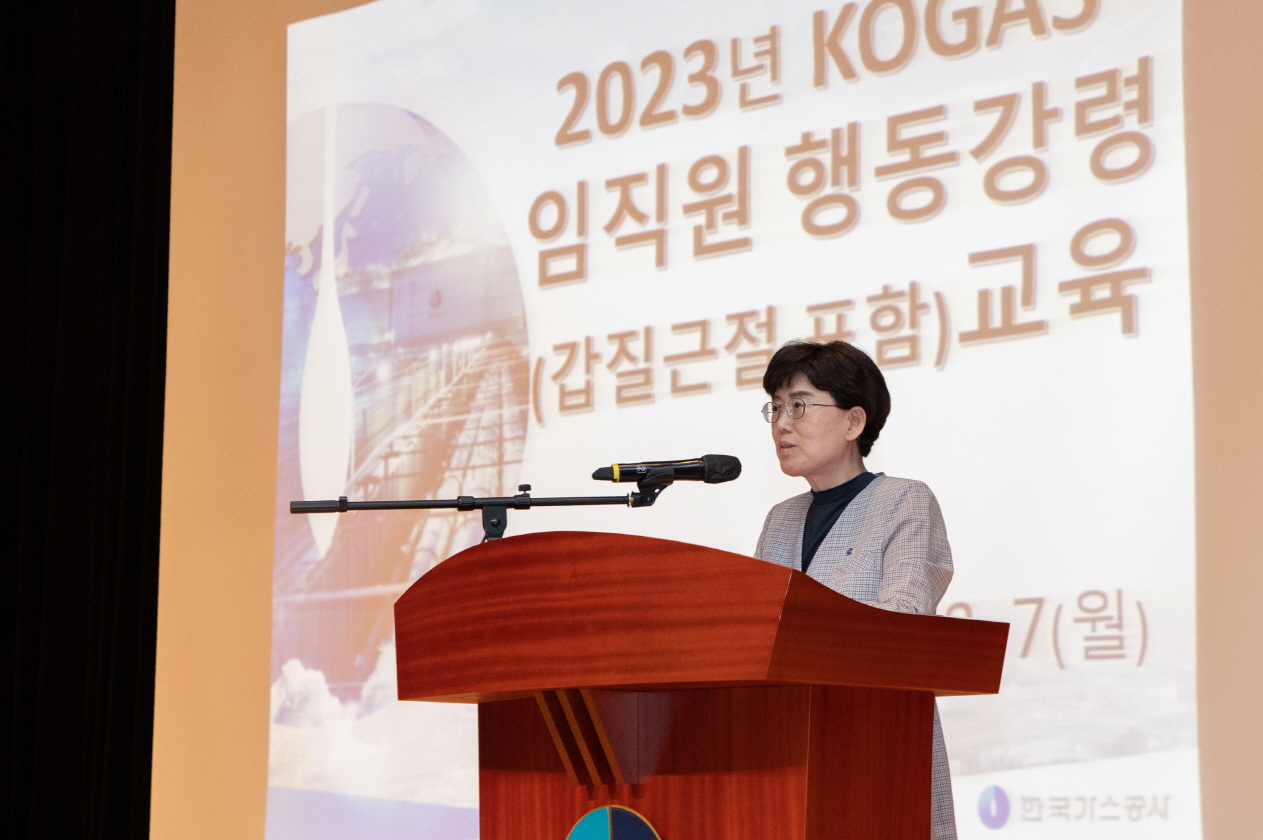 KOGAS President Choi Yeon-hye stresses integrity and ethics management at an integrity leadership education program targeting ranking KOGAS officials at KOGAS headquarters in Daegu on Aug. 7.
KOGAS Sees 2023 H1 Operating Profit Decline 34 Percent Year-on-Year
In a consolidated financial statement for the first half of 2023, Korea Gas Corp. saw its operating profit plunge 34 percent compared to the same period of the previous year.