Chairman Koo Ja-eun of LS Group. (Photo: LS Group)
LS Group posted the best-ever business performance on the back of surging conventional mainstay and new businesses last year.
The business group is expected to concentrate investments into the distribution board business for the second half of this year.
LS is one of the conglomerates which had achieved outstanding business performances despite hard business conditions last year.
LS Group logged 17,491.3 billion won in sales and 670.9 billion won in operating profit last year, posting their best-ever business performance.
The business group's best-ever business performance is owed to Chairman Koo Ja-eun's two-prolonged business strategy of focusing on the conventional mainstay businesses, such as electric and power and material businesses, and maxing out synergetic effects by nurturing the competitive edge of leading future technologies, such as battery, EV, semiconductor (distribution board), AI, big data and IoT.
LS Group enjoyed an outstanding business performance for the first half of the year again thanks to the two-prolonged management strategy.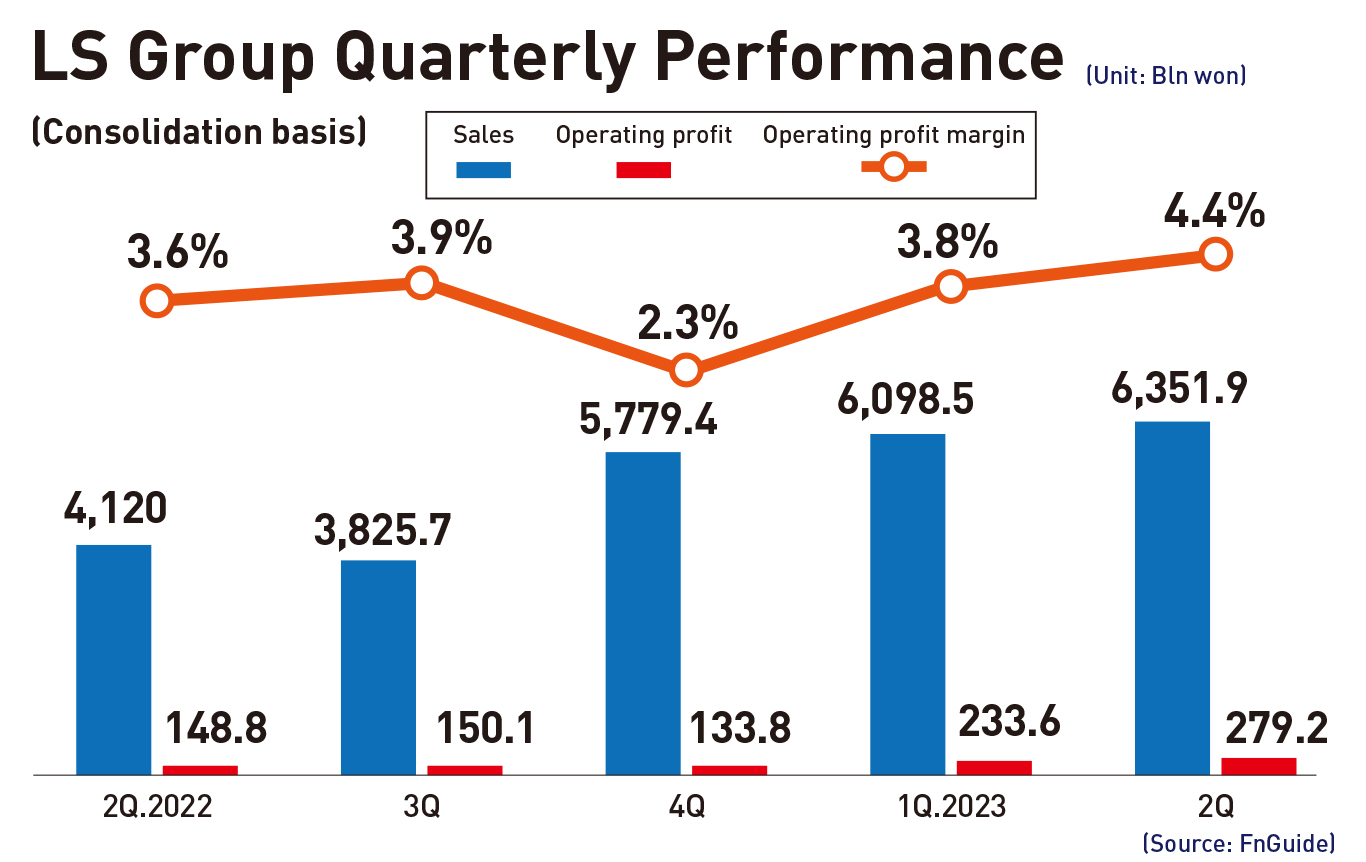 LS Corp. chalked up 12,607.8 billion won and 519.8 billion won in 2023 H1 sales and operating profit, respectively, having already reaped two-thirds of the 2022 business performance in the first half.
The "Vision 2030," released by the business group this year, calls for fleshing out details and focusing its investment on the distribution board business.
The vision demands for nurturing future growth engines, such as carbon-free electricity and distribution board sectors by investing more than 20 trillion won by 2030.
Security industry circles said Chairman Koo's Vision 2030 is expected to be materialized in the second half of the year.
LS is fleshing out a plan to make a massive investment in the secondary battery sector.
The business group recently established a joint venture with LF, a secondary battery precursor maker, and it plans to hold a ground-breaking ceremony for a 1,840.2 billion won precursor plant project at the Saemangeum Industrial Complex in the second half of the year.
Under the deal, LS MnM will supply nickel sulfate to the precursor joint-venture company and LF, receiving precursor, will produce anode products.
As a result, LS Group will establish an industry value chain connecting nickel sulfate, precursor and anode products.
Chairman Koo said, "The Saemangeum Industrial Complex in which a precursor plant will be set up will be a core center of LS Group's secondary battery business."
LS with the best competitive edge in the nonferrous sector and LF, an anode leader, will spearhead the future growth of the so-called "K-battery" industry by establishing the nickel sulfate-precursor-anode value chain with homegrown technologies, he added.
LS recently became the second largest shareholder by acquiring a 49.9 percent stake ES Mobility for 43 billion won to make an inroad into the EV bus market.
LS Group Conducts Diverse Social Contribution Activities as a 'Strong Partner of Patronizing Dreams of Future Generations'
LS Group said on Aug. 29 the business group has been conducting diverse social contribution activities to become a company trusted by society under its management tenet of a "strong partner of patronizing dreams of future generations."
LS Group gave a helping hand to the underprivileged at neighborhood communities of its operations and sent a college students' overseas volunteer group to Vietnam this year when global heat records hit the world.
Hansung PC Construction, a subsidiary of Yesco Holdings, is engaged in a social contribution activities for shared growth with the neighborhood regional society of its construction site.