Chairman Lee Jay-hyun of CJ Group. (Photos: CJ Group)
KCON LA 2023 took place at Crypto.com Arena and the LA Convention Center in Los Angeles from Aug. 18 to Aug.. 20, attracting a record of 140,000 spectators.
CJ ENM, the host of the festival, said in a news release, "KCON LA 2023 proved to demonstrate its power as the world's largest K-culture festival with an 11-year history in the United States, the birthplace of KCON."
KCON LA 2023 attracted a daily average of 45,000 spectators, CJ ENM said. KCON LA 2023 saw the number of spectators swell to 140,000, which is 50,000 more than KCON LA 2022.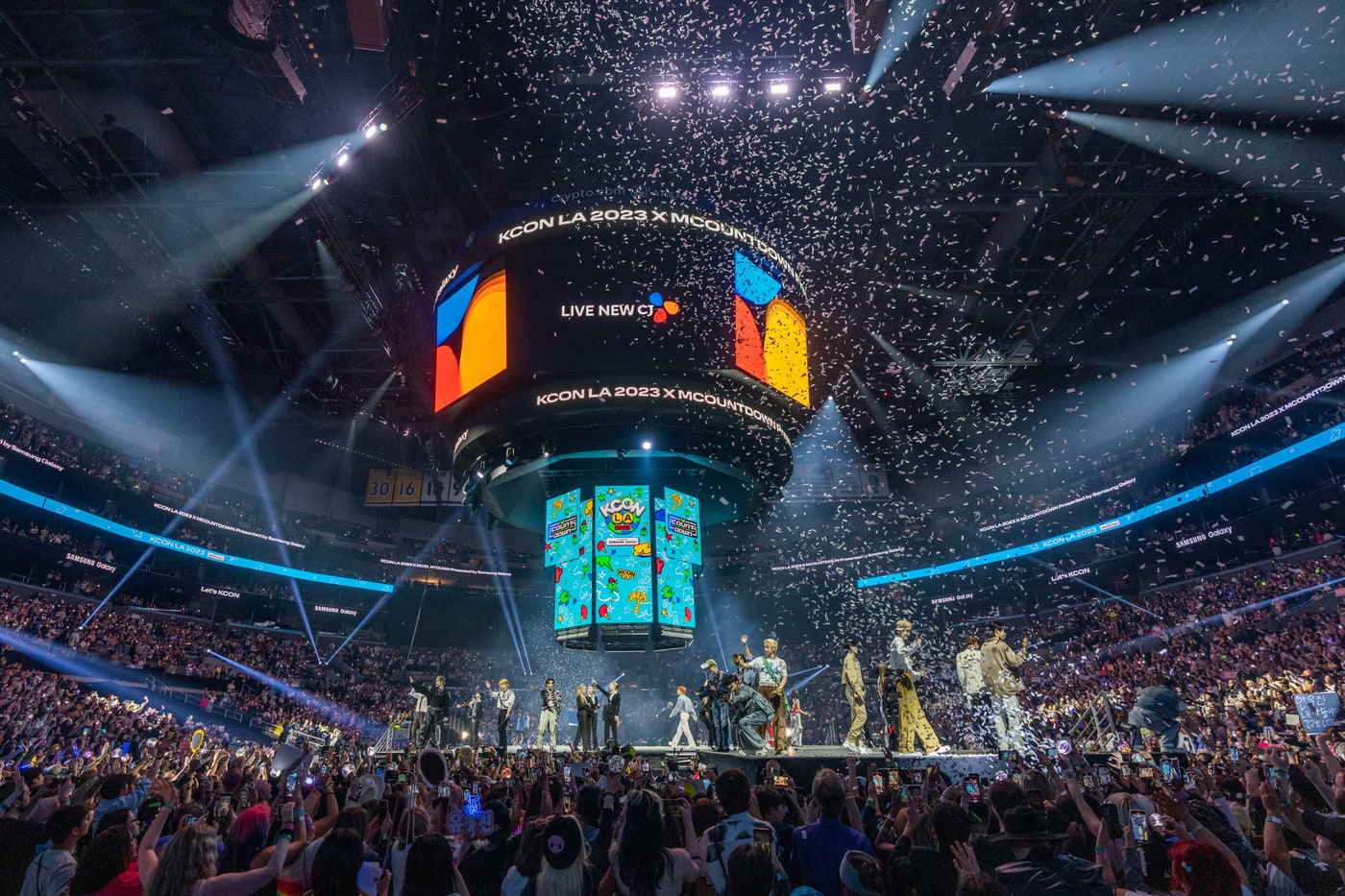 A view of KCON LA 2023, which took place in Los Angeles from Aug. 18 to Aug. 20.
The latest figure renewed the previous record of 123,000 spectators, who assembled for KCON Japan 2023 in May.
CJ ENM said the latest K-culture festival also attracted about 5.9 million online spectators from 176 countries and regions.
The latest K-culture festival was streamed live over Korean OTT "Tving."
KCON LA 2023, expanding from the two-show format to a three-show one, offered a broader lineup of show experiences.
Crypto.com Arena, one of the two venues of the latest festival, was filled with shouts of about 20,000 spectators and cheer light poles.
KCON LA 2023 hosted three shows, a step to differentiate KCON from other concerts through a variety of segments, including artists' collaborations and activities that reflected the audiences' wish list and maximized audience satisfaction.
The Korean idol boy group "Zerobaseone" made its debut in July, but the boy group was one of the hottest artist groups, who received heavy cheers from local fans.
Zerobaseone said, "A memory of Dream Stage will be never forgotten." KCON LA 2023 saw Dream Stage make a comeback.
Dream Stage was an event that invited the audience onto the stage, and which gained a favorable response when it was first introduced in KCON 2022 LA.
Dream Stage is a show program found only at KCON, where K-pop artists and fans come up onto the stage to give a performance.
Artists' powerful performances on the 360-degree stage attracted local K-pop enthusiasts' rapturous ovation and responses.
Among the 21 teams who performed on the stage were Ive, Zerobaseone, Itzy, Ateez, Cravity, Everglow, (G)I-DLE, INI, Lapillus, Nmixx, Rain, Stray Kids, Taemin,
The BOYZ, WayV, XG, and xikers.
CJ ENM, which has spearheaded the spread of K-culture globally, saw its music business bear fruitful outcomes with the label "Wake One" taking the lead.
Two years ago, the company declared a vision of the music business based on the Music Creative ecosystem (MCS), an IP ecosystem.
CJ ENM saw overseas content sales jump 30.8 percent year-on-year in the first half of the year.
The overseas music business accounted for 39.3 percent of the company's overseas total revenues.
During KCON LA 2023, exhibitors set up 278 convention booths while 153 companies and brands held diverse sessions tailored to meet their needs.
Fifty Korean companies participated in "K-Collection," a project to help Korean firms enter overseas markets and showcased K-life style and brand power.
Audiences were given the chance to have a first-hand experience K-beauty, K-content and mobile gadgets at the LA Convention Center.
Samsung Galaxy, the title sponsor, gave audiences of KCON LA 2023 the opportunity to try on its latest new smartphone versions, such as Galaxy Z Flip 5 and Z Fold 5.