President Lee Kwang-hyung of Korea Advanced Institute of Science and Technology (KAIST). (Photos: KAIST)
A Korean research team has developed a three-dimensional scanning camera, which would replace the plaster cast process for dental treatments.
The latest camera is predicted to be utilized at diverse areas, including use as an endoscope and microscope.
KAIST said on Sept. 9 that a research team consisting of Prof. Jeong Ki-hun of the Bio and Brain Engineering Department and Kwon Jae-myung, a PhD candidate, developed a super-small, deep light field camera suitable for a three-dimensional dental scanning camera.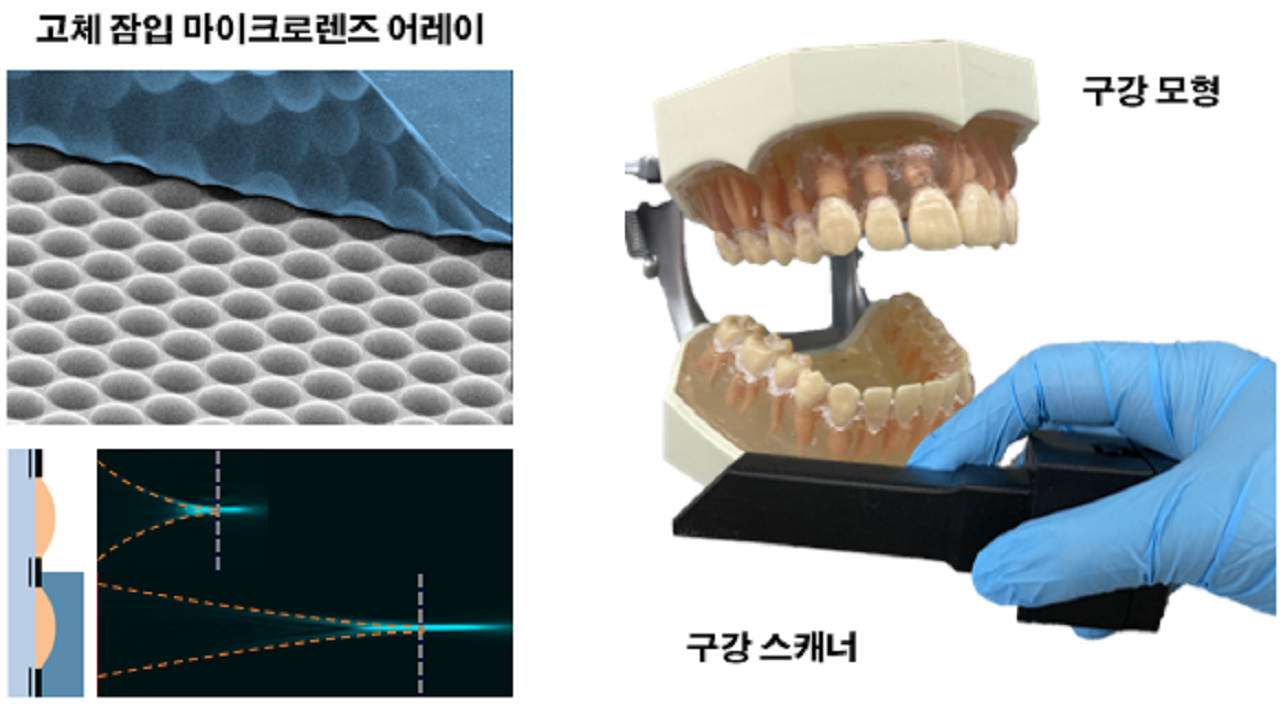 Views of solid, deep micro-lens array, a dental scanner and a dental model.
In the past, there were devices available for a three-dimensional scanning, instead of impression taking for casting the shape of the mouth, but they were less useful due to their heavy size and lower precision rate.
They needed to be smaller and have problems, such as noise, corrected.
The light field camera, developed by the research team, has fixed such problems by placing an array of micro-lenses before the image sensor.
The general camera, with only the image sensor, records the intensity of the light reaching there by unit of pixel.
But the research team distinguished the direction of the light by inserting an array of micro-lenses, arrayed with scores and hundreds of ㎛ minute lenses, so shooting once can obtain three-dimensional optic science images to make it super small.
The research team has succeeded in obtaining clear 3D dental images, sans noise, by creating a portable dental camera based on a super-small, deep light field scanner.
Prof. Jeong said, "The camera can be utilized not only for dental scanning, but new platforms for in-vivo, 3D imaging, and it is expected to be used not only for diverse bio and medical care sectors, such as endoscope and microscope, but also for 3D industrial inspection equipment."
Outcomes of the research were carried at the international academic journal :APL Bioengineering" on Aug. 28.
KAIST Releases Earth Observation Images of NEXTSat-2, Payload of Nuri
KAIST released new earth observation images from the second next-generation small satellite (NEXTSat-2), the payload of the third launch of Korea's homegrown rocket Nuri, made in May.
KAIST's Satellite Technology Research Center (SaTRec) said on Sept. 5 the early operation of the NEXTSat-2, the main satellite of the third launch of the Nuri, which lifted off the Naro Space Center and placed in 550-km orbit carried out all things, such as checking of functions of the satellite, payload and ground station, system stabilization and payload observations.
SaTRec succeeded in test-shooting several places of the world via the synthetic aperture radar (SAR), the main payload of the satellite.
The images released on the day were taken in the course of test-operating the SAR, and they were characterized by capturing the world by microwave, rather than visible rays.
SAR is not influenced by night and day light since images are taken by microwaves, bouncing back from the earth, so earth observations can be made regardless of weather conditions, such as clouds.
The test-operation of four payloads, including an earth space radiation equivalent dose map acquired by the close-earth orbit space radiation measurement equipment LEO-DOS, developed by Korea Astronomy & Space Science Institute (KASI) and GPS/Galileo integrated navigation receiver showed that they were confirmed to work normally.
KAIST SaTRec President Han Jae-heung said, "The NEXTSat-2, developed by KAIST, has the main satellite and payload, made with homegrown technologies, and the images revealed this time take on significance that they were earth observation photos taken by the localized SAR."