Chairman Kim Seung-ho of Boryung Group. (Photos: Boryung Group)
Boryung's diabetes combination tablets "Trubuddy 10/30 mg" and "Trubuddy 10/15 mg" obtained approval from the Ministry of Food and Drug Safety (MFDS).
Trubuddy is an improved new drug that combines the SGLT-2 inhibitor "dapagliflozin" and the thiazolidinedione (TZD) "pioglitazone." It is the first time a composite drug containing two ingredients has been approved.
Dapagliflozin and pioglitazone are used to treat Type 2 diabetes, which accounts for 90 percent of diabetes patients.
They have an effect of lowering blood sugar: a common strength. The combining of the substances has synergetic effects: lowering blood sugar and offsetting side effects.
Boryung said the pharmaceutical company named the new drug as "Trubuddy" after the combination of the two substances meaning "True" and "Buddy".
The company said the name reflects their determination for the drug to become a companion between medical staff and patients in the diabetes treatment market.
The two substances have an additional effect of lowering blood sugar since they have a different mechanism to do so.
Dapagliflozin has an effect of improving impaired insulin secretion in the pancreas, increasing re-absorption of glucose in the kidneys and decreasing glucose absorption in muscle, part of factors that cause diabetes, while pioglitazone has an effect of improving impaired insulin secretion in the pancreas, increasing glucose production in the liver and declining glucose absorption in the muscle, so the combination of the two substances are more effective in lowering blood sugar.
Apart from the effect of lowering blood sugar, it could reduce cardiovascular deaths, cardiac infarction, other diseases, and blood pressure.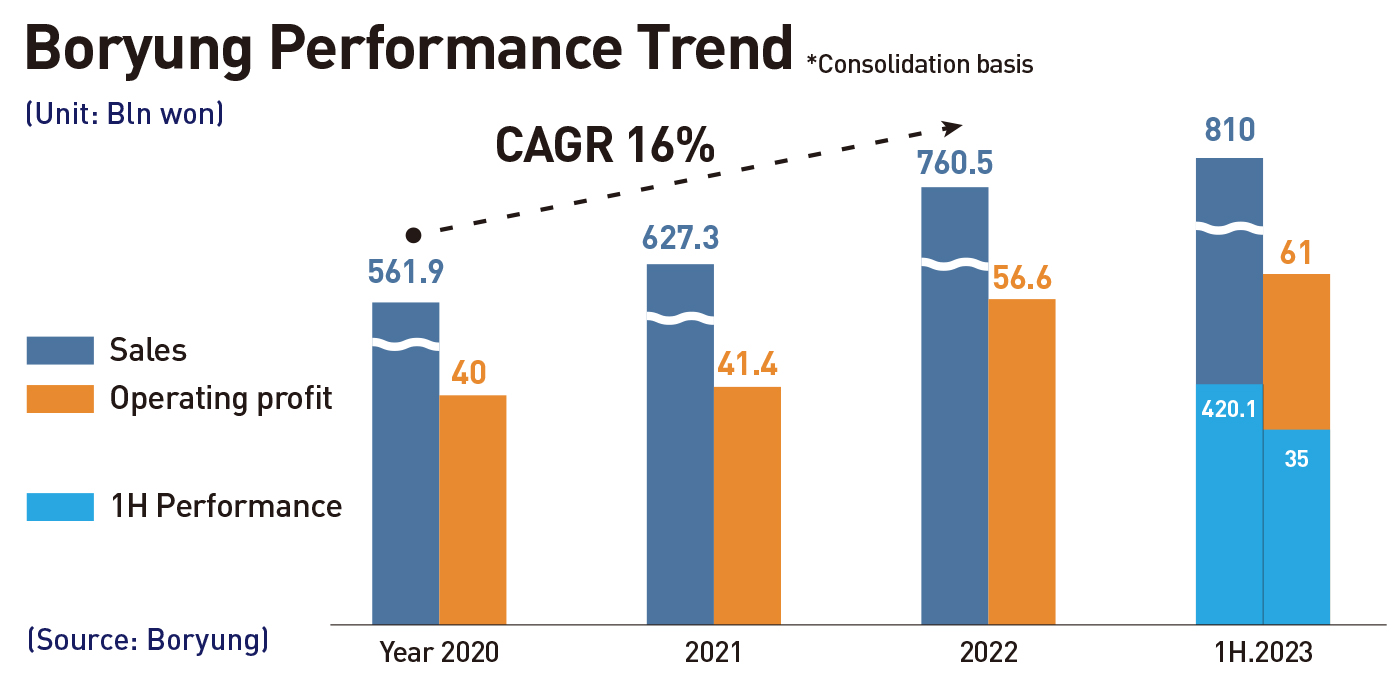 Boryung Predicted to Log 1 Trillion Won in Sales in 2023
Boryung, one of the nation's major pharmaceutical companies, is posed to chalk up over 1 trillion won in annual sales this year.
In an electronic filing, released on Aug. 14, Boryung posted 420.1 billion won in sales and 35 billion won in operating profit in the first half of this year, surging 16 percent and 14 percent year-on-year, respectively.
Unlike many other pharmaceutical companies which posted one-digit growth rate, Boryung logged a double-digit growth rate: the best-ever sales and the best-ever operating profit in the first half of the year.
Boryung's best-ever performance is owed to the pharmaceutical company's chronic disease medicine product portfolio tailored to aging society. Seven line-ups of the anti-hypertensive drug Kanarb posted 69.5 billion won, a 9 percent year-on-year increase over the first half of last year.
The anticancer business chalked up 106.1 billion won, a 48 percent year-on-year jump, topping 100 billion won in sales for the first time on a half year basis.
The surge is attributable to Boryung's LBA strategy in which the pharmaceutical company acquired domestic rights of global anticancer drugs, such as anticancer drug "Gemzar" and non-small cell lung cancer drug "ALIMTA."
Boryung has built a wide range of anticancer drug portfolio, including both synthetic drugs and biosimilar alternative anticancer drugs.
Boryung saw the anticancer drug business post 160.6 billion won last year, a 61 percent year-on-year jump, to rank first in the Korean anticancer drug market.
Boryung President Jang Doo-hyun said, "Boryung will continue to maintain a high growth rate by developing diverse new products and expanding portfolio, and we plan to achieve the goal of posting 1 trillion won in sales as early as possible by building a business structure armed with top profitability on the back of Kanarb and anticancer drugs and do our utmost such a fruit can be invested into future growth engines."
A view of Kanarb products.