Minister Chung Hwang-geun of the Ministry of Agriculture, Food and Rural Affairs (MAFRA). (Photos: MAFRA)
Korea Agriculture Show 2023 will take place in September.
The fair will deal with diverse themes, such as the history of the agriculture industry, the insect industry, agro-food job creation, and agricultural villages, to name a few.
Spectators will be given the chance to look at all processes of making bread products with rice flour and taste bread made with rice flour.
Visitors will be allowed to try agricultural tools and equipment and experience agricultural jobs.
The Ministry of Agriculture, Food and Rural Affairs (MAFRA) said on Aug. 30 Korea Agriculture Show 2023 will be held at aT Center in Yangjae-dong, Seoul, from Sept. 14 to Sept. 17.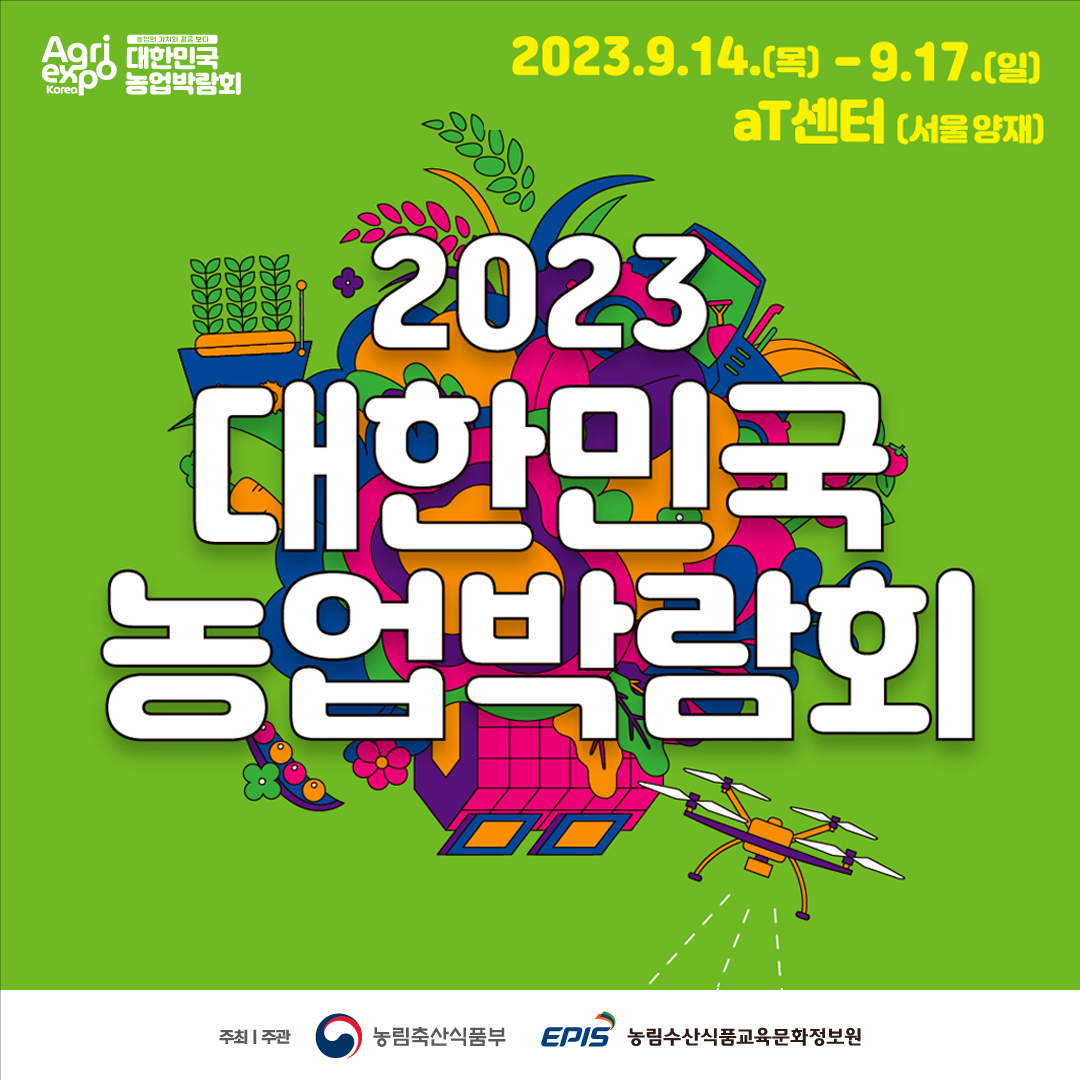 A poster to publicize Korea Agriculture Show 2023, to be held at aT Center in Yangjae-dong, Seoul, from Sept. 14 to Sept. 17.
The exhibition will be hosted by MAFRA and organized by the Korea Agency of Education, Promotion and Information Service in Food, Agriculture, Forestry and Fisheries (EPIS).
Korea Agriculture Show 2023 is the fifth rendition of the fair.
The exhibition has been held off-line and online annually since 2019. Korea Agriculture Show 2022 took place in October 2022 online and offline for the first time in three years. The fair of the previous year attracted about 80,000 spectators.
The fair will be held under the catchphrase "Find Our Agriculture Industry's Values and Dreams."
Exhibitors will showcase their latest products and technologies at exhibition zones, which will divided under five themes. The most eye-catching booth will be "Rice Pavilion."
Earlier, MAFRA developed bread products made with rice powder in a contest targeting Korean bakery craft masters and regional masters.
Nineteen bakery houses across the nation participated in the contest. They included the famous bakery house "Sungsimdang" and Grand Hyatt Seoul's The Deli.
Entries, evaluated highly by consumers, will be on display. Among the prize-winning products on display will be the top prize winner, "Chocolate Castella" made by Kim Tae-min Fermented Rice Bakery in Gyeongsangnam-do, the most outstanding prize winner, "Rice Madeleine" by Essenbrot in Gyeonggi-do, and "Classic Brand" by High Ground Seoul.
Spectators will be given the opportunity to taste homemade beer made with rice powder.
Rice flour, different from ordinary rice varieties, can be ground like wheat. Attempts to substitute flour for rice have been made, but they have failed. Rice flour varieties are evaluated to take on flour.
Spectators at K-agriculture Pavilion will be given the chance to look at things, such as K-food, under the global highlight, and "K-rice Belt" policies.
The K-rice Belt initiative is designed to transfer homegrown rice varieties and agricultural technologies to African countries which depend on rice, a staple, but lack self-sufficiency.
To this end, in July, Korea struck an MOU with ministers of eight African countries, including Ghana, Senegal, Cameroon and Kenya.
Participatory programs will be allowed to help all people enjoy the event together. Visitors will be given the chance to taste foods, such as rice flour, and enjoy experiences in the insect industry sector, as well as the 'petting zoo' sector.
Rice flour and other processed product buyers will be given discounts.
A view of the exhibition hall of Korea Agriculture Show 2022.