New President Han Moon-hee of Korea Railroad Corp. (KORAIL) gives his inaugural speech as he took office as 11th president of KORAIL in Daejeon on July 24.
Former President Han Moon-hee of Busan Transportation Corp. took office as the 11th president of Korea Railroad Corp. (KORAIL) at KORAIL Office in Daejeon on July 24.
In his inaugural speech, President Han said, "I'm committed of making the railway beloved by people through omni-directional innovation to attach top priority to ensure safety."
President Han signaled overall innovation for safety-oriented institutional reform and corporate culture. He said, "the latest railway accidents indicate the greatest cause of the current crisis we're facing (is) that people do not buy KORAIL's competence."
He urged his executives and staffers to carry out their duties with a sense of pride and responsibility so that KORAIL's capabilities can be recognized by people and passengers.
President Han put forward major management tasks, such as concentrating all organizational capabilities on safety as a top value, pursing fiscal soundness through intensive management & building a sustainable system, reinventing digital-oriented customer services, establishing core future capabilities, and realizing exciting worksites filled with a sense of pride.
In particular, President Han emphasized human-oriented safety management. "It is important to make facility investment and introduce new IT technologies, but the most fundamental thing is each railway site staffer's understanding of each other's duties and roles and fulfilling responsibilities by oneself," he said.
Han stressed unlimited liability toward safety, saying that basic causes of accidents are complicated like corporate systems, corporate culture and command system, so KORAIL, knowing the railway sector the most, has to take steps and solve them."
President Moon gave words of encouragement to his executives and staffers, citing an example that they had managed to solve several problems by demonstrating their competence and concentration to open the high-speed railway KTX network on time back in 2004.
"We overcame hardships like a war-like situation and KORAIL has ample competence and innovative DNA," he said.
In his first meeting with reporters on Aug. 1 following his inauguration, President Han said, "KORAIL will set railway standards, and we, seeing our jobs as standards, will pursue technology development and establish safety regulations."
He said KORAIL cannot talk about the operation of all railways, as it did in the past.
He explained that the Railroad Administration was restructured into KORAIL and Korean National Railway, and the operation of railways was divided into urban railway and private operators on top of inaugurating diverse railway services, such as high-speed railway KTX and GTX.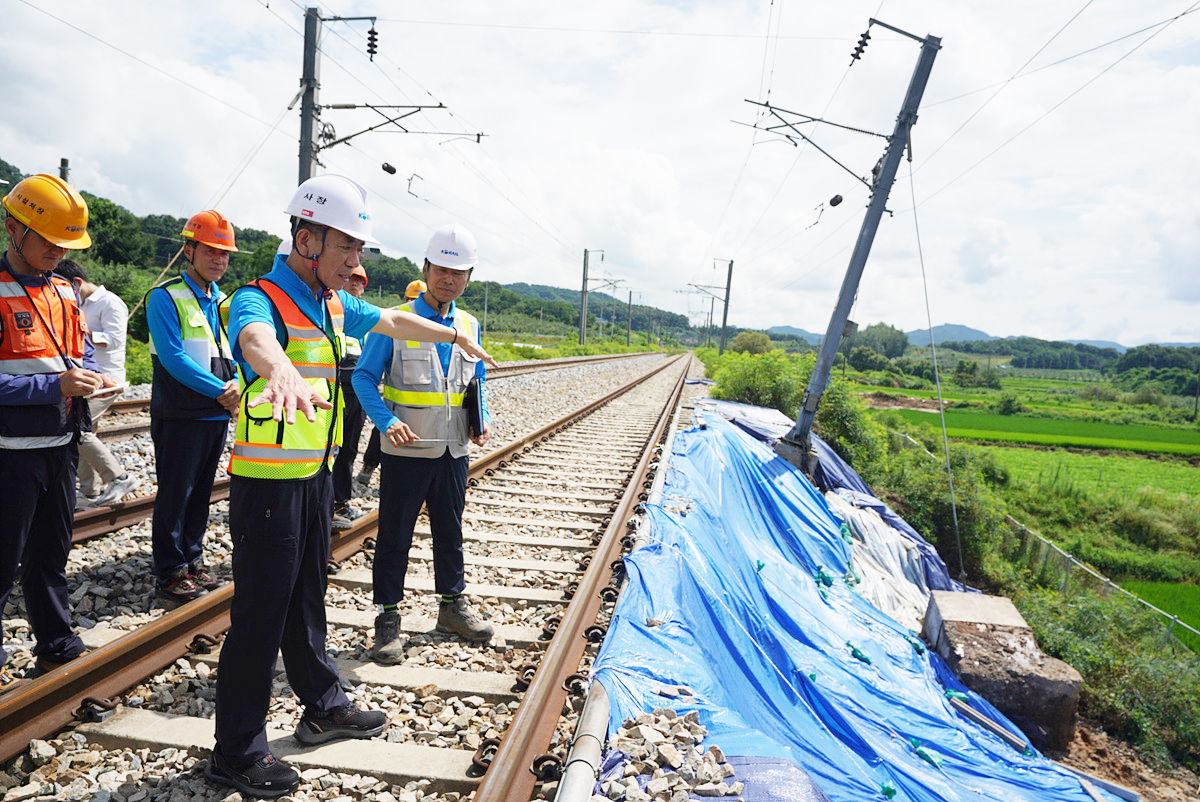 New KORAIL President Han Moon-hee makes an inspection tour of the lost rail bed of the Chungbuk Line, caused by downpours. (Photos: KORAIL)
Basically, it is natural and efficient for high- and low-speed railways to go together, but with the complication of railways like the GTX, the government is pondering how to cope with the issue, President Han said. KORAIL cannot claim only its interests, as it did in the past, and the government has to face the task of finding KORAIL's standing in a big picture, he said.
President Han is a seasoned railway expert who has been with the railway sector for 30 years. He entered the Railway Administration after graduating from a railway high school.
Han passed the 37th higher administration examination in 1993 while working with the Seoul Regional Railroad Administration.
Han held KORAIL's positions, such as head of the Management Innovation Office, chief of the Personnel and Labor Affairs Office, head of the Planning Coordination Office, chief of Seoul Headquarters and head of the Management Support Headquarters.
Han applied for the KORAIL presidency in May as he served as president of Busan Transportation Corp. since November 2021. President Han's term is three years until July 2026.